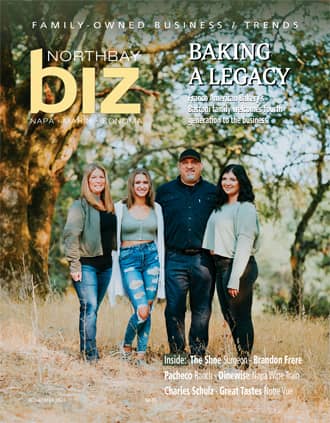 I'm thrilled to share news, personal additions and acquisition announcements at NorthBay biz magazine and our parent company Amaturo Sonoma Media Group.  For the past six months, our assembly of radio, digital and print media have been literally moving parts.  Never easy, always challenging but often fruitful, changes within our company have drawn our attention toward new product offerings for customers and new opportunities for our entire team.
As October ended, so did our months-long FCC application process to acquire the majority of radio stations from Redwood Empire Stereocasters.  Their prized brand, KZST, along with country station "The Bull," a rocker known as "The Wolf" will be acquired by ASMG on December 1.  We will also oversee the sales efforts of jazz legend,  93.7fm KJZY.  The responsibility to manage each of these formats is no small feat; thank goodness our operations director, Jim Murphy,  is here to guide us!
It's also my pleasure to welcome Jason Walsh as our magazine's new editor-in-chief. Jason will oversee and direct each of our 15 yearly issues, supervise our  team of on-staff and contributing writers and coordinate our graphic designers,  photographers and support staff.
Jason is especially interested in migrating stories from our printed pages to our digital and broadcast realms. Why shouldn't a story be expanded from our magazine to our News/Talk station, asked Jason upon our first meeting.  He believes we can bring a story to life by interviewing writers and their source-material contacts. Our readers and listeners will also participate in each story by adding their own perspectives and information to stories that impact their daily lives.  Indeed, Jason will personally "story share" on News/Talk KSRO with his own regular appearances. He has a wealth of reporting experience across all three of our North Bay counties. He began as a news and features reporter at the Marin Independent Journal covering stores in business, politics and entertainment. The Pacific Sun weekly magazine recognized Jason's talents and quickly hired him as editor, but only long enough before he advanced to serve as editor and associate publisher at the Sonoma Index-Tribune and SonomaNews.com.
One of our long-time writers, Bo Kearns, reached out personally to Jason to encourage him to join NorthBay biz upon Karen Hart's departure.  "I've led multiple news rooms with three common objectives: improve content, increase digital presence, and expand staff morale. I will bring the same energy, ideas and leadership to NorthBay biz and couldn't be more excited to do so."
In addition to reporting the news, one of Jason's most important goals will be to investigate the news. In our communities like every other, leadership in business, nonprofit and government often leads to abuse of this power. Regrettably,  "advocate media" may see these abuses but choose to ignore them for what they consider "the greater good." We'd like to upset this apple cart and you'll notice a more circumspect writing approach to the activities of others in the coming months.
Finally, allow me to introduce you to Julia Jakus, one of our new investigative reporters at NorthBay biz magazine. Raised in Idaho and now "commuting" between Carlsbad and Istanbul Turkey, Julia is furthering her education in International Relations at Bogazici University. Julia's writing has taken her to Northern Africa, Central Asia, Europe and throughout the Americas. She's photographed and written extensively on armed conflicts in Colombia and remains fascinated with geo-politics and human rights.
You'll find her first report for NorthBay biz magazine regarding former Sebastopol resident Brandon Frere and his life-shattering crimes upon thousands of student-loan recipients around the nation. This is a slimeball by anyone's definition who trafficked in false and illegal loan repayment scams by preying on the needs of those with burdensome student loan payments.
Brandon Frere is a poster child for this destruction, and now serves out his 42-month sentence in federal prison after deceiving thousands of clients with his scams. Few business names sounded more empathetic than Frere's "Financial Education Benefits Center," and the "American Financial Benefits Center" but boy did he screw folks over! Julia's coverage details what went wrong, how Frere and others built their tower of deceit and how we can look out for these scams in the future.
As always,  I welcome your thoughts and ideas; they are the lifeblood of all we do!