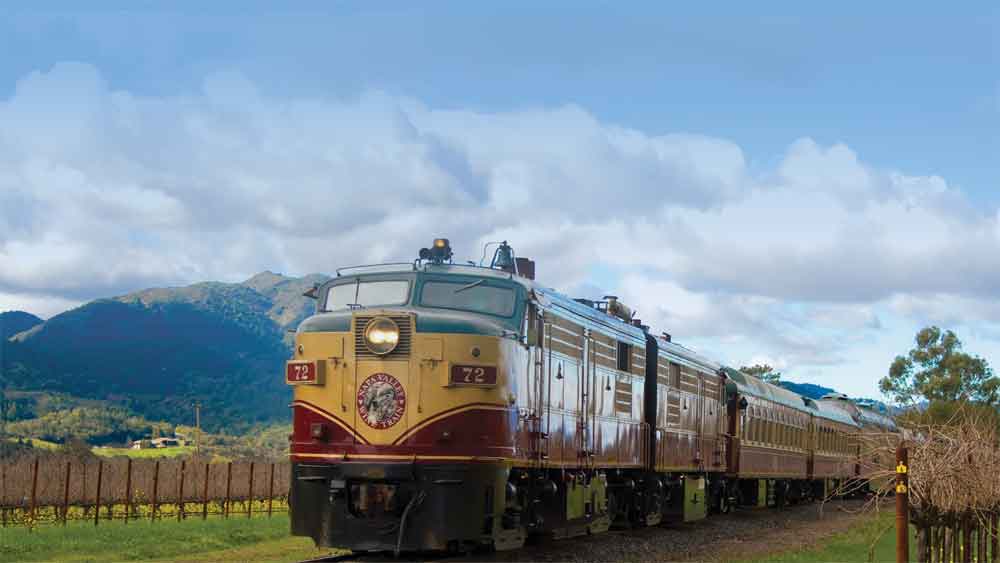 Napa Valley is considered one of the best winegrowing regions in the world, and a major tourist destination. According to Visit Napa Valley, the region attracts nearly four million visitors each year.
With so many iconic wineries, amazing restaurants and a vibrant arts and culture scene, it's hard to know where to begin on a Wine Country getaway. Perhaps a scenic ride on a vintage train and a gourmet meal is a good place to start.
An icon of Napa Valley, the wine train has a long and rich history. Built in 1864 by San Francisco's first millionaire, Samuel Brannan, it was first used to transport visitors to his spa resort in Calistoga.
The train went through a few changes in ownership, from the California Pacific Railroad to Southern Pacific, and continued to be used as a means of travel and to transport goods. In the 1930s, the automobile became the primary means of travel, and the train's passenger service was discontinued. The Great Depression also took a toll on freight, which impacted the train's continued use.
In 1984, Southern Pacific decided to sell the property. A group of Napa Valley residents rallied to preserve the train for continued use. They formed the Napa Valley Wine Train, Inc. and searched for an investor to back their efforts.
In 1987, San Francisco resident Vincent DeDomico, inventor of Rice-A-Roni and former owner of Ghiradelli Chocolate and Golden Grain Pasta, purchased the property and became the Napa Valley Wine Train's president and CEO.
The rail cars were renovated in an elegant antique fashion, and today, the Napa Valley Wine Train is a premier tourist destination in the Napa Valley, with nearly 70,000 passengers each year. Packages include lunch and dinner excursions, afternoon tea and even themed trips such as a murder mystery.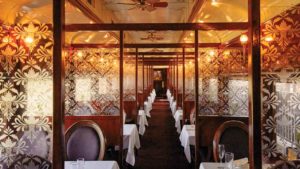 On this warm autumn day, my best friend, Jamie, and I embark on the Gourmet Express, which is a three-hour journey from Napa to St. Helena and back, complete with a three-course meal. To begin the journey, we wait in line on the small footbridge in front of the train to have our photo taken before boarding. Known as Love Lock Bridge, hundreds of passengers have symbolically sealed their love here with a signed lock.
We are led inside and seated in plush blue armchairs that swivel to take in views from the large windows lining either side. The car is lined with dark wood, and glass panels with frosted detailing peek out from the upper corners of the ceiling. Vintage oil paintings and elegant sconces adorn the walls.
We begin with a splash of JP Chenet Blanc de Blanc Champagne Brut. Dry and crisp, it features bright notes of green apple and citrus. The train starts moving, and we sip as we glide through downtown Napa and out towards the vineyards.
To pair with our Champagne, we each receive a charcuterie platter featuring assorted fruit, cured salami, olives, cornichons, aged cheese and French bread. Toasted to perfection and lightly buttered, it pairs well with a dollop of sweet fig jam. We take in views of vineyards set against a backdrop of mountains and redwood forest. A bike trail runs parallel to the train tracks, and cyclists and pedestrians wave to us as we pass by.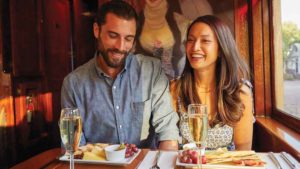 The train passes through the quaint towns of Yountville and Rutherford, full of charming shops and restaurants and cozy tasting rooms. The streets are bustling with life and families sit outside at picnic tables, eating and conversing in the sunshine.
We come to a stop in St. Helena, where the engine of the train is rolled up to the caboose so the train can change directions on the track. We are escorted into the dining car, where we will be enjoying our meal. It's divided into several compartments, complete with tables and chairs.
Our server for the afternoon is Priscilla, and she offers the choice of salad or soup as a starter. We opt for the lobster bisque. Garnished with chives, this dish is creamy and salty, with a hint of tomato. Served with a basket of warm French bread, it is a rich and savory starter.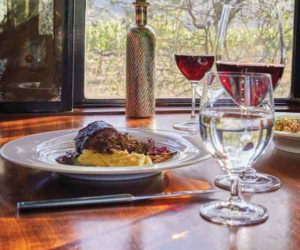 As we eat, I pick up bits of conversation around me—a couple from Connecticut is celebrating their five-year wedding anniversary. A woman is taking her friend out to celebrate her birthday. A couple from San Francisco enjoys a Wine Country weekend and an escape from the cold and fog of the city. Everyone is in high spirits, and it's hard not to smile as I take it all in.
For our entree, we enjoy a plate of grilled beef tenderloin with cauliflower mousseline, applewood-smoked bacon, forest mushrooms and vegetables. Topped with a dark creamy gravy, the beef is tender and juicy. The bits of bacon elevate the smokiness of the beef and add a touch of salt, while the cauliflower mousseline brings a creamy balance to the meal.
For dessert, we order the crème brûlée. The custard is baked to a golden brown and garnished with berries. The hard sugar seal crackles as I dig in with my spoon and take a bite. The custard is sweet and creamy, and the hard top layer adds a satisfying crunch. Priscilla serves us coffee with cream, which balances out the sweetness. We sip and gaze out the window, taking in Rutherford and Yountville again as we make our way back to the station.
A trip on the wine train is more than simply a ride from one town to another. It's truly about the journey. Taking in the expanses of vineyards, the leaves tinged with red and orange in early autumn, and the rolling hills and mountains covered with redwoods, it's easy to see why so many are drawn to the experience. It uncovers the heart and charm of this famous wine-growing region in just a few hours. Combine scenic views with delicious food and wine and your loved ones, and it's sure to be special.
Napa Valley Wine Train
1275 McKinstrey Street
Napa, Calif. 94559
(707) 253-2111
winetrain.com
Wine/Beer/Cocktails
Experiences: $165-$325 per person