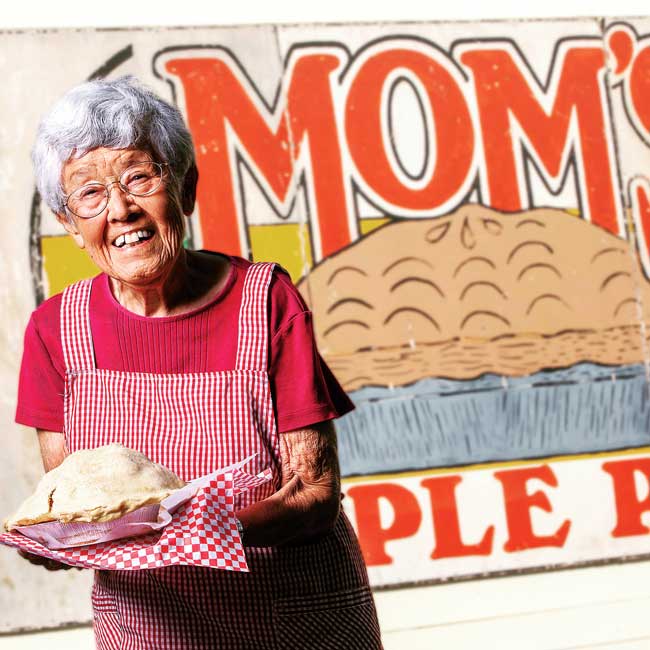 A 1902 article in the New York Times described pie as the American symbol of prosperity. Decades later, when WWII soldiers were asked about their motivations for fighting, they would often give the same response: "for mom and apple pie."
The apple pie has become one of the truest symbols of Americana. Likewise, nothing hits the ethos of the so-called American Dream like taking risks in the name of opportunity.
Sonoma County's Betty Carr has exemplified both as owner of Mom's Apple Pie in Sebastopol, where the 92-year-old entrepreneur has been baking up sweets for nearly 40 years.
Betty Carr, a native of Nagoya, Japan, was still known by her given name, Michiko Kameshima, when she left a Tokyo women's college in the late 1940s and headed to the U.S. in pursuit of an American education. With her family's blessing, she took a freighter across the Pacific that touched in San Francisco in 1948, and began her life in America.
Michiko attended North Central College in Naperville, Illinois, where she studied home economics and began learning to bake pies. While acclimating to American society and learning English, her peers began calling her Betty—and when it came time to acquire a social security card, the name had stuck.
Betty met her husband Harry Carr in 1960, and the two of them moved to Sonoma County soon after. They hit the ground running, establishing multiple businesses that eventually led up to Mom's Apple Pie.
First, they purchased five acres for a chicken ranch in Sebastopol. Betty lead the operation of gathering and selling their eggs from a roadside trailer, three young boys in tow. By 1970, they scaled down the ranch and opened a Fulton-area grocery store called the Egg Basket, where they sold eggs and produce. They sold the store in 1975, and a year later opened Carr's Drive-In in Forestville, where Betty baked, cooked and pretty much did it all.
After selling Carr's Drive-In in 1978, their final and lasting business venture was the purchase of a fruit stand named Hilltop that they converted to a small deli. They didn't have any desserts on the menu, but with an abundance of apples grown right behind the shop, Harry encouraged Betty to bake pies to sell. When the pies became one of the deli's top sellers, she changed the name of the business to Mom's Apple Pies.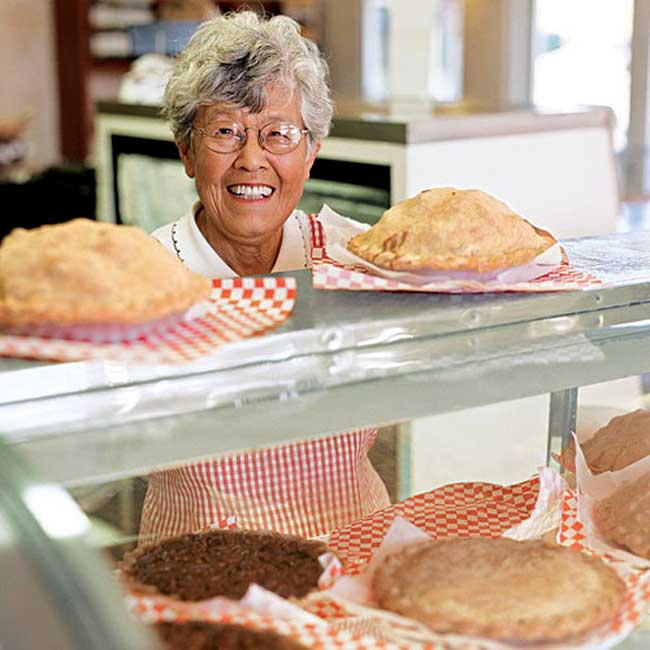 Harry, or "Mr. Mom," was the driving force behind the business, says Betty, who credits him with its early success. Harry died in 1992 and Betty has run the show solo since, with additional help from her sons Harry, David and John.
Mom's bakes a range of double-crust fruit pies, as well as decadent cream and meringue pies. There are also gluten- and sugar-free options, and all of the fruit pies are vegan (the crust has no butter), just the way Betty learned in her home economics classes long ago.
Harry Jr.'s favorite is the mixed berry, while Betty–you guessed it–favors the apple.
When in-season, Mom's uses Gravenstein apples from the orchard behind the shop. For the rest of the year, Granny Smith will do, as their tartness is ideal for the pies' not-too-sweet flavor. The apple pies are piled high with a mountain of fresh fruit. As the pies bake, the fruit shrinks, yet the crust holds its steep dome throughout. The result: An exceptional dessert with a flaky crust and soft filling that's perfectly sweet and spiced. It's no secret why these apple pies have captivated Sonoma County residents for so many decades.
Forty years operating a thriving business aside, Betty's proudest achievement is the family she's raised. She recalls chasing her three sons around their orchard, and how they would run so far up the property's hill that it looked like they had disappeared. Today, her sons continue to inspire her as she carries on the pie-making legacy her family started all of those years ago. She wouldn't be "mom" without them.