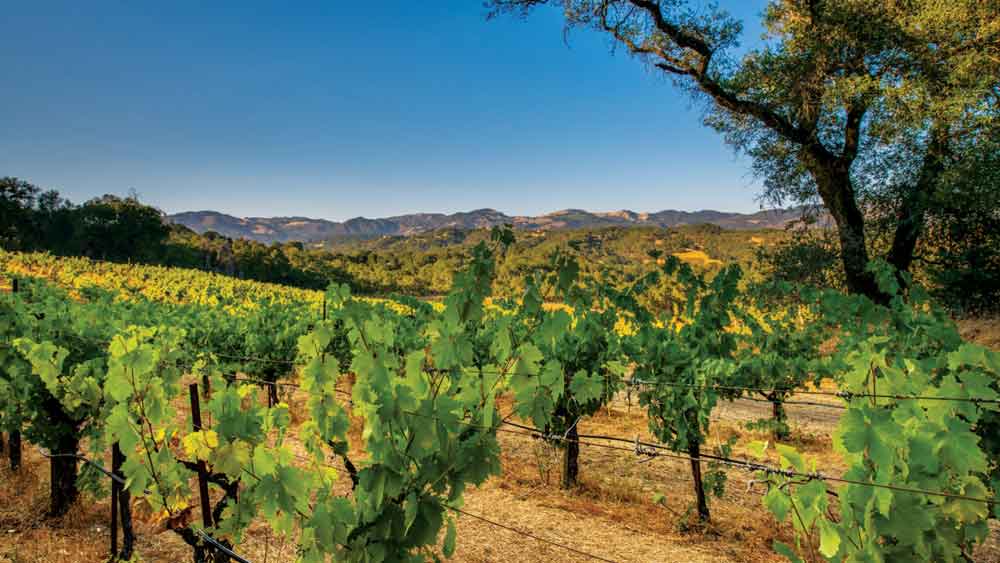 The winemaking journey has been off the beaten path for Lorraine and Michael Barber, co-proprietors and winemakers of Barber Cellars in Petaluma. What started on a whim in 2005 has grown into a thriving operation with estate vineyards, a lively tasting room and a loyal local following.
From farming their winegrapes to running their tasting room, Lorraine and Michael are hands-on through the entire grape-to-glass process. Years of dedicated research and labor have resulted in a brand that speaks to their values as a couple, and produces wines that reflect those values.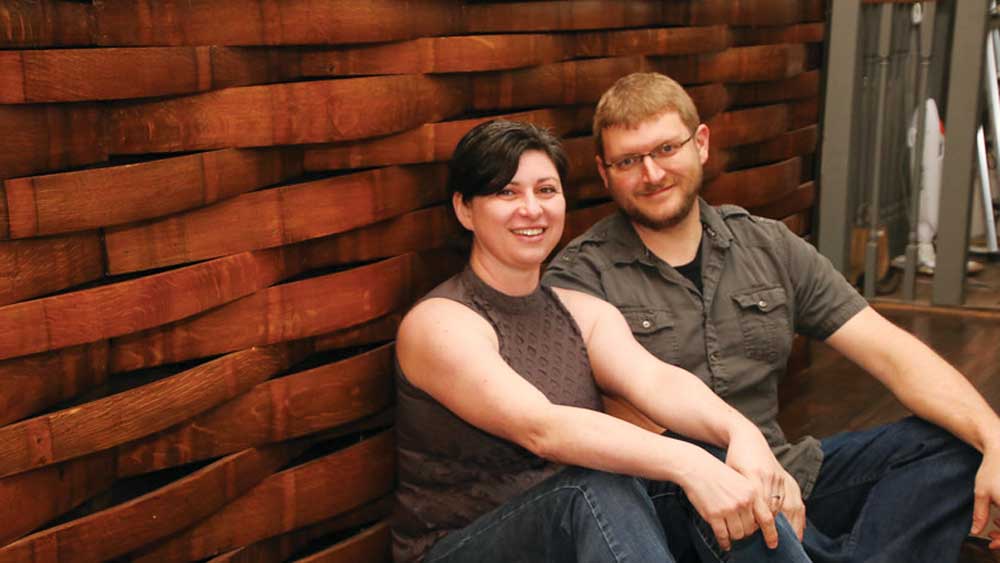 The Barber Cellars brand was conceived nearly 17 years ago from a moment of sudden inspiration, recalls Lorraine, who formerly worked in the construction industry. "I came home from work one day, and [Michael] said, 'I want to make wine!'" After reading though UC Davis coursework on viticulture and enology, they started experimenting right there in their San Francisco apartment.
It was in that kitchen where they processed their first wines, fermenting in a closet and rehydrating half barrels in the bathtub. Not long after, in 2007, they produced their first commercial vintage and established Barber Cellars.
The Barbers opened their Washington Street tasting room in 2015, located on the ground floor of the historic Petaluma Hotel. The space is cozy and elegant, with ample natural light and comfortable seating. Having two young children, the Barbers aimed to create a family-friendly environment, with a selection of games available for all ages to enjoy, plus, an old-timey arcade game and a foosball coffee table.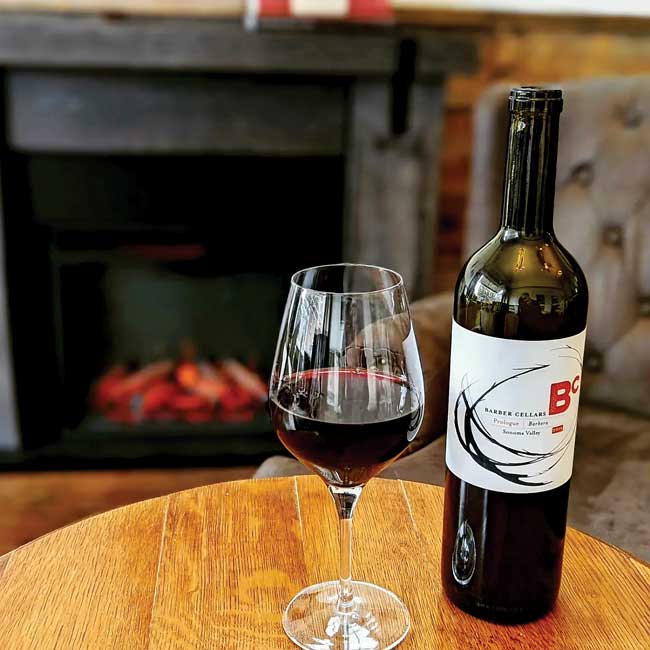 Hanging from the walls are dozens of personalized wine glasses with the names of each wine club member etched in the glass. Members are welcome to a complimentary glass of wine each time they visit the tasting room—in their personalized glass, of course. "It tastes better with your name on it," says Lorraine.
A typical tasting experience consists of five wines. Although their whites and rose have sold out at the time of this tasting, they expect to have a Chardonnay available in January of 2023, and plan to offer a rose of Sangiovese soon after.
I start with the 2019 Sangiovese, named "Il Grosso Piccolo" after the two primary clones of Sangiovese grapes: Sangiovese Grosso, and Sangiovese Piccolo. The name translates to "The Big Little,"a nickname they have also coined for their eldest son. This wine is fresh and acidic, displaying notes of cherry and tomato, complemented by a subtle earthiness.
Next, I try the 2020 Sangiovese. Their Sangiovese grapes hail from the Carneros AVA, which Michael says experienced a long, cool growing season to produce this vintage. This one is a bit brighter and more concentrated than the 2019, but equally luxurious on the palate with notes of chocolate and dark fruits.
Lorraine and Michael discuss their sustainable farming practices, as environmental consciousness is a core value of the brand. They focus on regenerative farming, which leaves the soil structure intact to maintain biodiversity and nutrient density. All of their farming is done organically; and they do not fine their wines, a process that sometimes employs animal byproducts, leaving a vegan product. They also head-train their vines—limiting pruning to promote spurs at the top of the trunk—which protects the grapes from sun damage.
The Barbers also strictly dry farm their grapes. This is a less-common technique in the county, particularly within the Petaluma Gap AVA, where the majority of the vineyards they farm are located, including their two estate vineyards.
The Barbers prefer dry farming not only for its gentler impact on the planet, but it also results in what the couple believes is better flavor. Dry-farmed wines display higher minerality and more expressiveness, says Michael. Lorraine agrees, adding that "flavor comes from struggle." This technique results in higher-acidity wines with lower alcohol percentages, and makes the plants more resilient to heat.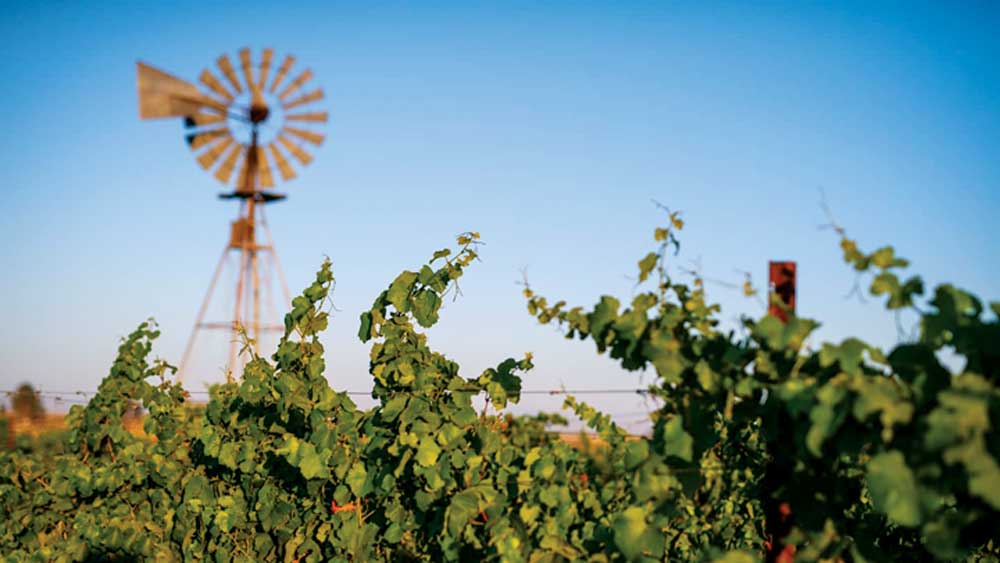 Next, I taste the 2020 Zinfandel, their flagship wine. Named "Mr. Beast" after their late, beloved vineyard cat, this wine pairs excellently with most foods—just like their feline friend did. Each Barber Cellars wine is named after a loved one or special moment for Lorraine and Michael, which adds to the personal connection the two feel to their craft. The Zinfandel is ultra-smooth on the palate, tasting of jammy fruits like blackberry and raspberry.
The tasting concludes with the 2020 Zinfandel Reserve, "Zin Master." If the Barbers disagree on which barrels make the cut for a reserve, they will not make one at all. They aren't afraid to skip a year, says Lorraine. This wine is elegant and bold, displaying well-integrated tannins and notes of spices like cinnamon and clove.
For Lorraine and Michael, winemaking is personal. They pride themselves on being thoughtful caretakers of the land, and trust that the efforts of their stewardship will be reflected in the wines they produce. They strive to make wines they enjoy, wines that represent their lives and experiences and complement the joyous moments in life.
Mr. Beast would be proud.
Barber Cellars Tasting Room
112 Washington St.
Petaluma, CA 94952
(707) 971-7410
barbercellars.com
Hours:  Thursday through Saturday, 1 to 7 p.m; Sunday, 1 to 6 p.m.
Tasting Fee:  $20 per person
Wines Available: 2019 Sangiovese, 2020 Sangiovese, 2020 Zinfandel, 2020 Zinfandel Reserve.
Reservations: Encouraged but not required
Picnics: Yes
Pets: Yes, on a leash.
Did You Know?
 Just next door to the Barber Cellars tasting room sits Barber Lee Spirits, a distillery and tasting room owned by the couple and their business partner, Aaron Lee. Opened in 2019, the distillery primarily produces whiskies, but also crafts absinthe, rum and an apple brandy made with the juice of Gravenstein apples.