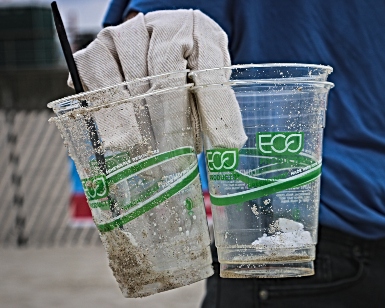 Restaurants and other food retailers in the unincorporated areas of Marin County will be required to use reusable and compostable materials for to-go packaging and dine-in use starting in November 2023. Now, in another step toward diverting plastics and other noncompostable single-use materials from landfills, the County of Marin is seeking consistency throughout Marin and encouraging towns and cities to adopt its 2022 ordinance.
The movement to ban plastic foodware has been partly fueled by reaction to a Marin public online survey in 2019 that showed 90% support for requiring food vendors to use foodware that is reusable, recyclable or compostable. Plastic comprises a large portion of the debris polluting rivers, streams and the ocean. Encouraging re-use and recyclable or compostable materials improves environmental conditions worldwide.
Most food vendors in Marin are already near compliance and are saving money on supplies, according to the Marin County Community Development Agency (CDA). Studies have shown that businesses save money by switching from disposables to reusables for dine-in use.
The County has long been considered a leader in sustainability practices and adopted the ordinance in May 2022. It offers an 18-month grace period so food vendors have time to adjust and deplete their inventory of noncompliant products, especially plastics that take centuries to decompose. The ordinance requires the use of reusable and compostable foodware materials such as plates, bowls, cups, utensils, and trays at restaurants, grocery stores, delis, bakeries, carry-out vendors, minimarts, farmers markets, food trucks and other food outlets.
So far, Tiburon and Fairfax have adopted the County's model ordinance and several other cities and towns–most recently Mill Valley–took steps to adopt it by May 2023. Previously, San Anselmo, Fairfax and Sausalito had already adopted similar single-use plastic reduction ordinances.
Some are learning that materials marketed as compostable might contain harmful toxins and are not compostable in Marin. Only a limited percentage of synthetic materials can be composted in Marin; the rest goes into landfills. The county's largest waste product processor, the WM EarthCare Compost Facility at the Redwood Landfill & Recycling Center north of Novato, does not accept many commonly labeled compostable materials such as bioplastics. For example, plastic-lined paper "compostable" plastics cannot be placed into green carts because they jeopardize a waste hauler's ability to bring any compostable materials to the landfill. The standards ensure that WM EarthCare can produce high-quality compost certified for organic agriculture.
Food facility inspectors from CDA's Environmental Health Services Division (EHS) are being trained now in preparation for ordinance enforcement that begins in November 2023. Enforcement will only affect only those businesses in unincorporated areas plus in municipalities that have passed their own foodware ordinances and entered into an enforcement agreement with EHS. Staff from EHS is taking a proactive approach in educating retail food facility owners about reusable foodware options and plans to only take enforcement action if necessary.
In 2009, the County banned polystyrene foam in food packaging by restaurants, retail food vendors, and County facilities within the unincorporated areas of Marin. Fairfax, San Rafael, Novato, Mill Valley and Sausalito subsequently adopted their own bans.
The CDA website includes information of food facilities, plastics and bioplastics, ordinance features, suggestions for customers who want to use reusables, and a table that shows ordinance progress among local jurisdictions. Email the County staff with other questions.