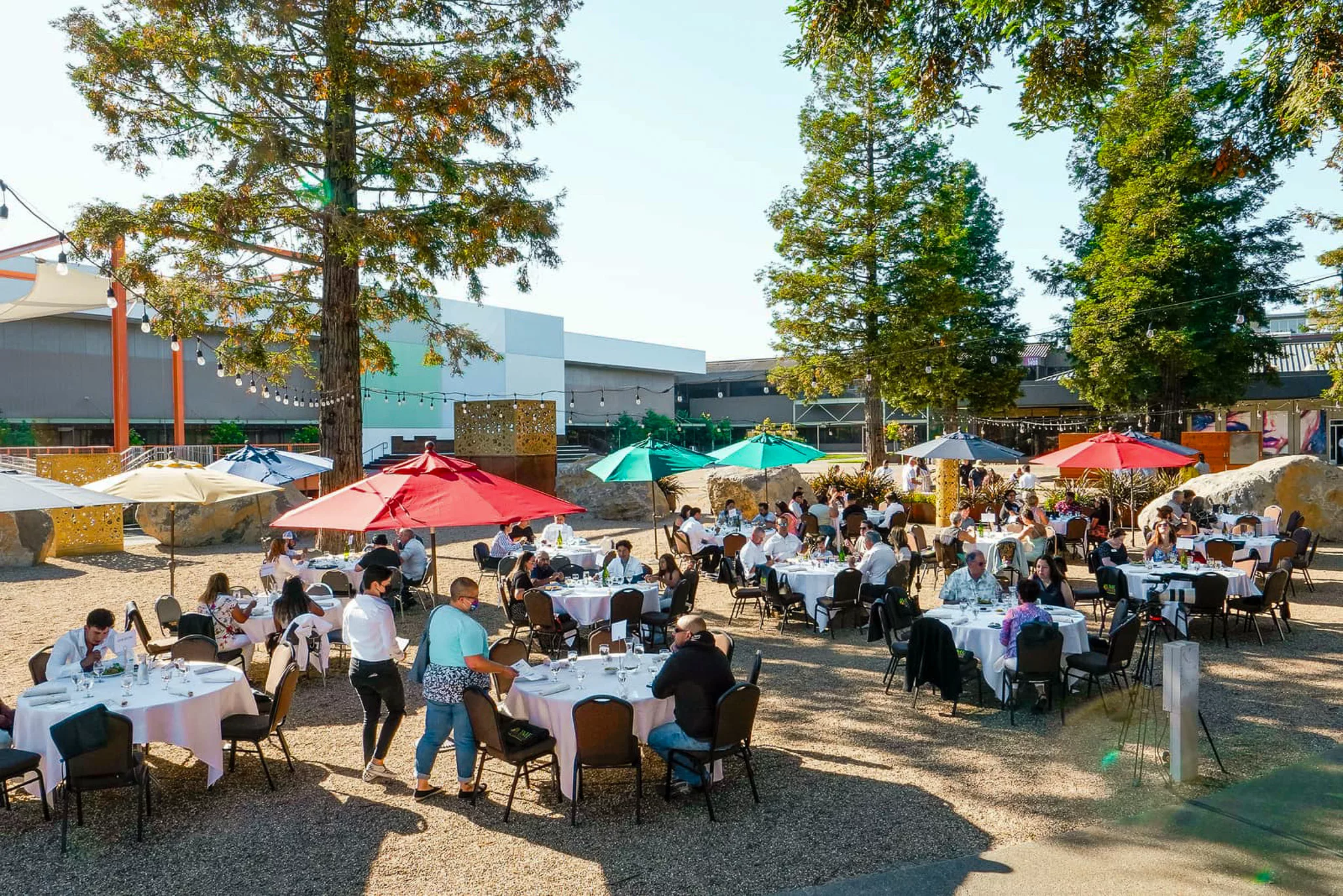 Sally Tomatoes provides a picturesque outdoor area for onsite events.
There's no Sally in Sally Tomatoes, but there's a lot of great taste and they seem to do everything. They sell the parties, run the parties, produce the parties, prepare the food, serve the food and even clean up afterward. Sally Tomatoes, in Rohnert Park, voted by NorthBay biz readers as the Best Catering Service for 2023, does it all––including the most important thing: They please the client. For the client, who may be facing one of life's most important, challenging and potentially disappointment-prone events—such as a wedding––Sally Tomatoes is all about doing everything right and keeping the management simple. That's what keeps clients happy.
We have a lot of pride in what we do," says Gerard Giudice who, with Bill Pettibone, co-founded the business in 2005. "It's a family run business, so we're very responsive to our clients' needs." Since the "Sally" team is in charge from start to finish, there's no disconnect between a client's first encounter and a happy "thanks" at the end of the event.
As clients' needs vary, Sally Tomatoes has learned to be flexible. "We have three distinct, separate types of products," says Giudice. "One is a full-service catering application, which means we go in advance with a full team, and we set up all the tables and the chairs and the food and the bar and we execute the entire event, and then clean up [like] we were never there." That's their full catering service. Then, there is their simple catering delivery to a place or event which they're not themselves running. "We have trucks that go out. We drop the food, and then we leave," he says. They also cater here at their own event center in Rohnert Park's SOMO Village—a new and developing community designed for a sustainable live-work-play experience. The SOMO Village community plan includes residential areas, office space, restaurants and bars amidst parks, open space and including an event center. "Within the event center, we have three separate rooms that we sell," he says. "And we have an outdoor courtyard for events from comedy to rock 'n' roll concerts to all kinds of stuff."
Sally Tomatoes offers full-service catering for events in other area locations such as Flying Cloud Farms in Petaluma, Silver Gardens in Sebastopol, the Mountain Home in Mill Valley, Highland Estate in the Yorkville Highlands Valley and many other places. They like to be flexible and to be able to respond to clients' various needs. One client may want a wedding at a winery. Another client may want a few trays of lasagna for a party in Lake Tahoe. Another may want a small room with everything set up for a bridal shower.  "It's all about pleasing the client," he says. "We try to be able to meet their needs." Sally Tomatoes wants the client to feel calm, knowing their event is in good hands and that, in the end, they will be satisfied. "We have flexibility of space," say Giudice. "The client doesn't have to do anything. We take care of the rentals, the tables, the chairs, the setup, the breakdown, the ceremony site––all of that we do here."
Laughs Giudice: "That's kind of why god created the event center!"
But there is one more thing. "I just think we're nice," he says. "I get letter after letter saying how easy we were to work with and how flexible we were." Plus, as they say, the food is delicious.