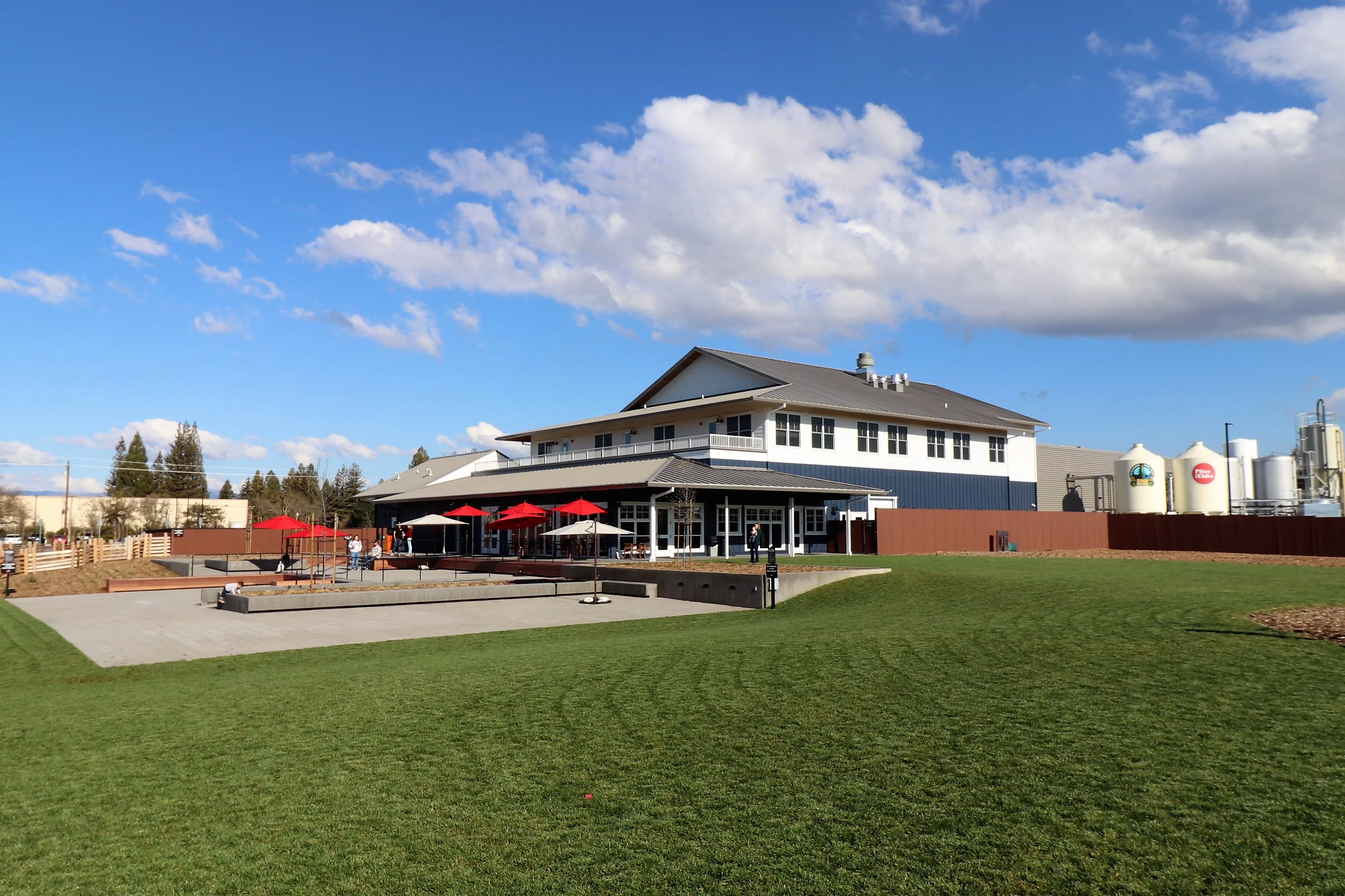 Russian River Brewing's Windsor location opened its doors in 2018.
There's no shortage of exceptional breweries in the North Bay, but topping a lot of people's "favorites" list is Sonoma County's Russian River Brewing Company. NorthBay biz readers have voted this brewery this year's Best Local Brewery in the North Bay–the fifth win for this beloved local hotspot.
Founded in 1997 by Korbel Champagne Cellars, the early operations of the brewery took place in the winery's facility. In 2003, Korbel left the brewing business and transferred all of Russian River's business ventures and ownership to their brewmaster Vinnie Cilurzo and his wife Natalie. The following year, they opened the doors to their first brewpub location in downtown Santa Rosa, which remains a Sonoma County staple today.
Russian River Brewing has two Sonoma County locations—the original 4th Street brewpub in downtown Santa Rosa, and the Windsor brewery and pub that opened in October of 2018 at 700 Mitchell Lane. Both locations offer dozens of expertly crafted beer options and tasty food menus to be enjoyed in their lively indoor and patio spaces.
Since its inception, Russian River Brewing has won various awards from the World Beer Cup and the Great American Beer Festival, and the Cilurzos have earned prestigious honors like the "Brewers Association Recognition Award" in 2017.
Russian River boasts an impressive portfolio of brews ranging from Belgian-inspired ales to imperial porters, puckery sour ales and a slew of IPAs, like Pliny the Elder IPA, one of the first commercially-brewed double IPAs brewed and popularized in America. A collection of their beers are aged in wine barrels from Sonoma County wineries—some even fermented with local wine grapes– which adds a complexity and richness to the finished product.
While all of Russian River's beers are showstoppers, by far the most renowned is its Pliny the Younger IPA, a strong yet smooth triple IPA that is released once a year for a two-week-long stint in February. This beer is so sought after that it has attracted international acclaim—some fans go as far as camping outside of the establishment to get the first tastes of the coveted IPA.
Pliny the Younger's popularity bolsters the Sonoma County economy with each year's release. According to the Sonoma County Economic Board, which partners with the brewery to tabulate the IPA's economic impact, last year's Pliny the Younger release brought in a whopping $6.1 million to the local economy including lodging, transportation and, of course, food and drink. According to the survey, "40,000 bottles of Pliny the Younger were produced, all of which sold out within the two-week release period."
Nearly 12,000 visitors flocked to each location from 42 different states; but, of course, locals love it too.
A favorite of the North Bay and beyond, Russian River Brewing Company excels in its craft and pushes the envelope with creativity and precision, continuing to raise the bar for all North Bay breweries.