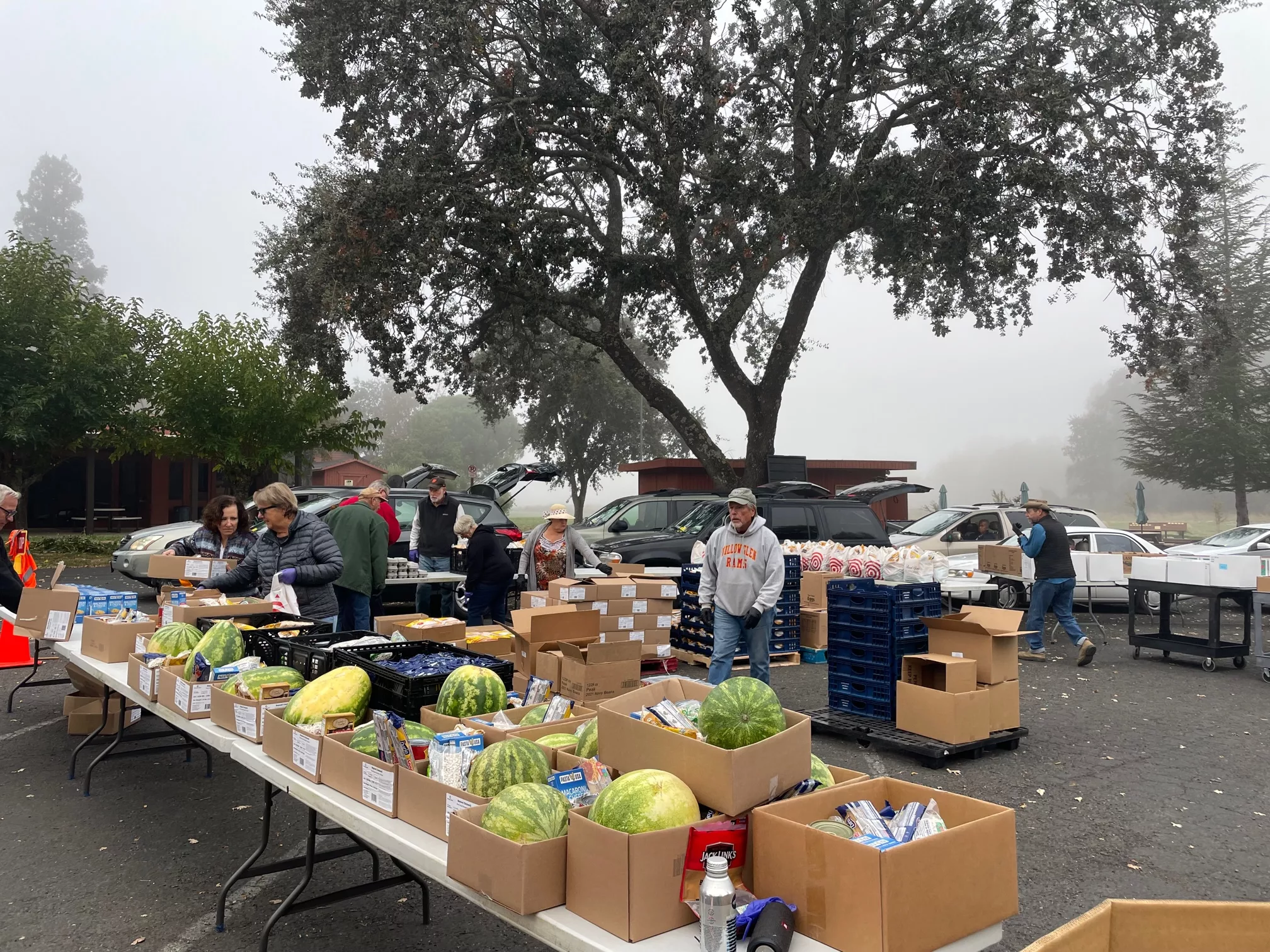 Redwood Empire Food Bank operates 350 monthly distribution sites in Northern California.
The Redwood Empire Food Bank holds a strong presence in Sonoma County and surrounding communities. The barrels with the green-and-white apple logo can be found in many local grocery stores, and the large trucks are spotted throughout the community, bringing loads of food donations to its many distribution sites.
Since 1987, the Redwood Empire Food Bank has been feeding low-income individuals and families in need and leading the community to end hunger. The Redwood Empire Food Bank has more than 350 monthly distribution sites in Sonoma, Lake, Mendocino, Humboldt and Del Norte counties, making it the largest hunger-relief organization in the area.
"It's hard to imagine that for over 117,000 people across Sonoma County, the dinner table has food from the Redwood Empire Food Bank," says CEO David Goodman. "And the only way the food reached those homes was with the generous support of our community." Goodman adds that the past year was especially challenging for many families. "Just as our community was breaking free from the dissonant grip of the coronavirus, the faltering economy impacted households everywhere," he says. "Given the strain that people had already been experiencing, the economic downturn was the final burden that caused many to finally seek help. Fortunately, the Redwood Empire Food Bank's staff, donors and volunteers were there to help."
The organization serves its recipients through three strategic hunger-relief initiatives. Every Child, Every Day operates four programs to provide nutritious meals for children including a summer lunch program, after-school cafe and food pantries at local schools. Senior Security allows 13,000 low-income seniors monthly access to an abundance of quality produce and grocery items. Neighborhood Hunger Network is a vast emergency food system in Sonoma County and beyond, serving individuals and families through access to food pantries, groceries to go, and more.
The Redwood Empire Food Bank could not operate to this extent without the support of an incredible team of volunteers. In 2022, the food bank relied on the help of 10,378 volunteers, who served 110,060 hours. That equates to 126 volunteers per staff member. The organization also works with many community partners that donate food and other resources, and offer space for distribution sites. These volunteers and community partners sustain the organization's programs, allowing them to reach thousands of people each year. With such a great impact on the community, it's easy to see why the Redwood Empire Food Bank has been recognized as Best Nonprofit in NorthBay biz magazine's Best of the North Bay readers' poll.
"We are honored to have won," says Goodman. "However, the credit must be shared with our community, who we rely on for support throughout the year. We thank them for helping improve the lives of others."