The history is as subtle as the wine at Sula, the new upscale restaurant and lounge at Cavallo Point in Sausalito.
Sula restaurant and its adjacent Sula Lounge opened last fall—along with its adjacent more casual eatery Farley Restaurant—at the resort located on the grounds of Fort Baker, the former U.S. Army base just past the Marin end of the Golden Gate, that served as coastal defense from 1902 to the mid-'90s on some of the most pristine acres of real estate on the planet.
By its very situation at Fort Baker, Sula is unlike almost any fine-dining restaurant in the North Bay—simultaneously retro and modern, teetering the fence between old school and hip, and landing somewhere perfectly down the middle. The views from the front deck, meanwhile, are timeless—the green-lined Sausalito hills sloping down to converge visually with the Golden Gate Bridge. A neat Manhattan seems made for the moment.
Sula opened last October as the reimagined dining destination at Cavallo Point, where its predecessor Murray Circle had been the signature dining spot since the lodge debuted on the historic grounds in 2008.
Its interiors were envisioned by , which struck a delicate balance between honoring the unique legacy of the area's military history—Baker, along with the Presidio, various other forts and the Nike Missile Site—to present a fascinating slice of 20th century SF/Marin milieu, without glamorizing its wartime underpinnings.
The result is what designer Yoko Ishihara (partner in the firm with Mark Wilson) has described as a "utilitarian beauty"—carpeting reflective of 1920s Bauhaus décor, dining space reminiscent of officer clubs with olive-green, deep-wood color schemes. Even the menu of Executive Chef Michael Garcia features a smattering of Mad Men-era classics, with Parker rolls to sop up any remaining lamb c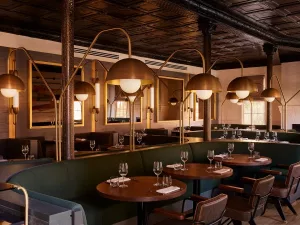 hop gravy. Nouveau Marin meets Jackson Square, indeed.
We started our evening in the Sula Lounge, a less-formal space outside the dining room, scattered with tidy modernist sofas and cozy, private nooks ideal for setting an evening off with cocktails and small plates. A warm fire crackled near the entrance, natch. On a server recommendation, we started with a Royal Blush, a mix of Hangar 1, Broker's gin rhubarb, lemon and a splash of sparkling wine—a crisp and fresh elixir perfect for the balmy spring evening of our visit. We accompanied the cocktail with a starter of five-spice duck bao. The lightly doughy bao was packed with a teasing combination of sweet and savory, as the hoison-basted duck played against a dash of spicy togarashi—a promising start to the meal.
The lounge works as a relaxing companion to the restaurant, a sitting-room starting point where lively chatter and busy servers create that sense of "buzz" that's at once energizing and soothing. It's the type of transition between the parking lot and the main course that's too often missing in restaurants more concerned with table turnover than genuine experience.
Once seated at a cozy booth in Sula, we continued the meal with a salad featuring satsuma and chioggia beet under a subtle white balsamic ($18)—the candy-stripe beetroot particularly sweet—and a small plate of Hamachi crudo ($22), a savory blend of yellowtail, red onion, caper and crisp shallots enlivened by a hint of lemon. Both the lounge and dinner menus, while concise, offer a variety of influences—from the Mediterranean vibe of the seafood entrees to such pan-Asian items as bao, Hamachi, maitake and bok choy—presenting a banquet of international flavors reflective of diversity of cuisine surrounding the San Francisco Peninsula. (In fact, Sula draws its name from "peninsula.") The tastes at Sula seem both worldly and local.
In a carnivorous mood for our entrees, we sampled the garlic lamb chops ($45) and Niman Ranch beef filet ($48). The former, served with purple potatoes and cumin-laced carrots, was a tender, savory meat made even more flavorful by an artichoke soubise—one of the more effective complementary sauces we've enjoyed in a while. The filet was an equal highlight, with its brandied mushroom sauce and bone marrow butter giving the beef a delicate buttery quality. The entrees didn't last long, but offered just enough room to finish off the meal with a shared sticky toffee ($16), partnered tastefully with an orange-zest ice cream.
Sula and its lounge were still lively with patrons as we ended our Friday evening visit—a promising sign more than six months after opening. As we bade our leave, we paused by the south wall in the lounge
to admire a painting of mid-20th century servicemen playing volleyball on a Ft. Baker lawn, with the loping Sausalito hills in the background. (The artwork is based on an old photo, apparently.) It's a prime example of Sula's balance of old and new, reveling in history and modernity with equal measure. Past is prologue, a promising writer once said. At Sula, it's more like a toast to what was, and what can be.
And we'll drink to that.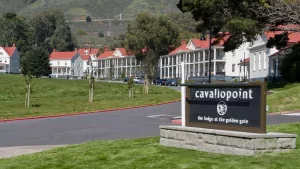 Sula restaurant & Sula Lounge
at Cavallo Point—the Lodge at the Golden Gate
601 Murray Circle
Fort Baker, Sausalito
Entrees: $32-$48
4% surcharge on food, distributed to kitchen staff
Wine/beer/cocktails
Restaurant, Thursday to Saturday, 5 to 10 p.m.
Lounge, daily, 4 to 10 p.m.