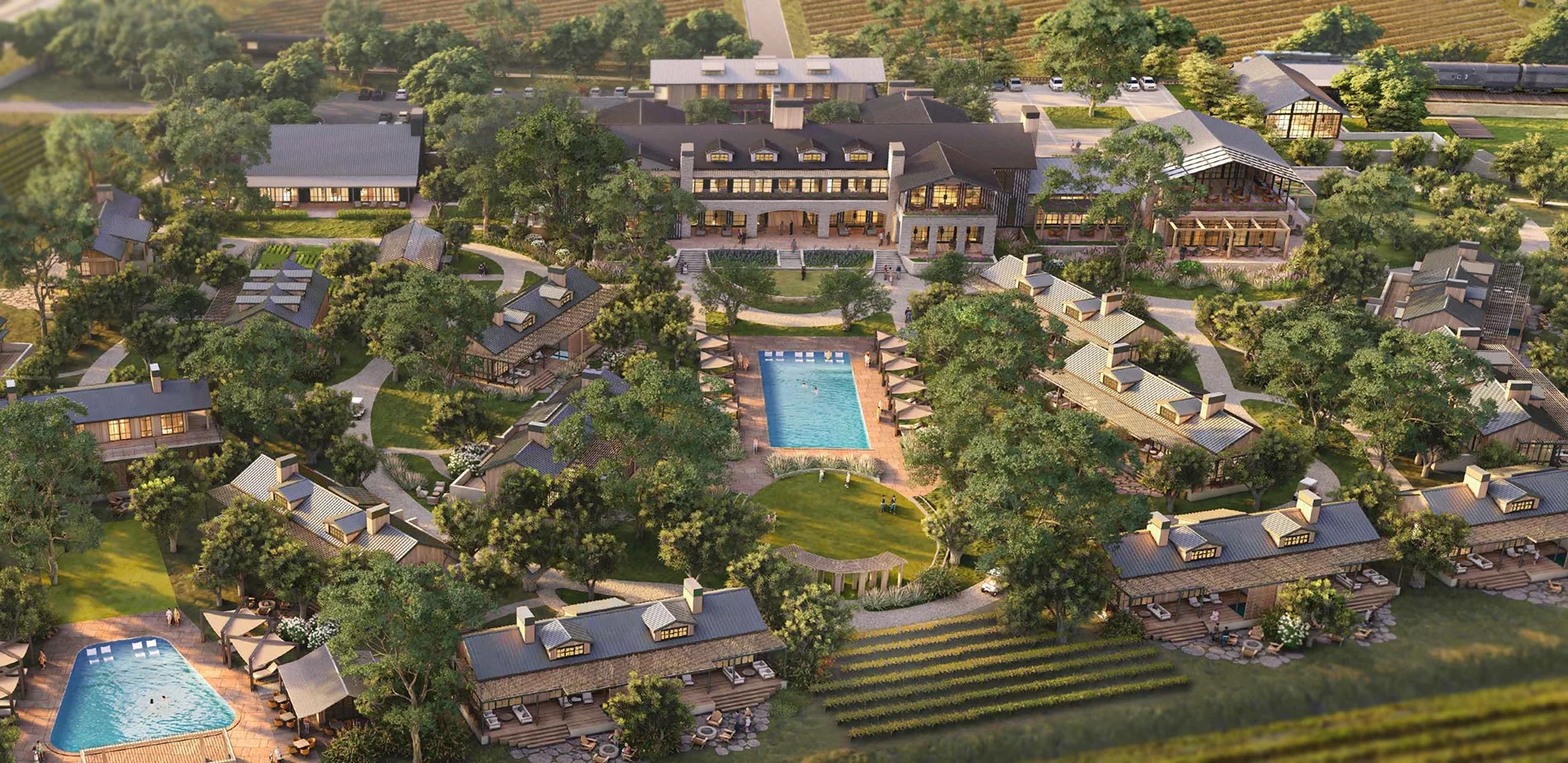 A digital rendering of the proposed 52-room resort in Napa County.
A proposal for a new 52-room resort in St. Helena may soon be coming before city officials. The project, proposed by Noble House Hotels & Resort—which owns the Napa Valley Wine Train and the River Terrace Inn—could potentially generate over $2 million in tax revenue for the city, according to Noble House officials. The resort would be developed on 8.5 acres of land currently not in use on the Charles Krug Winery property at 2800 Main St. A 1-acre landscape buffer would be incorporated to separate the winery and resort. Noble House would enter into a lease agreement with Krug to construct the project.
A website— sthelenaresort.com—dedicated to the so-called St. Helena Resort includes digital renderings of the company's vision for the project—though no plan has yet been submitted to the city for review. The onsite facilities would include a two-story estate house with 12 guest rooms; 38 guest rooms spread out among 17 single-story villa buildings; and two guest rooms in refurbished, historic train cars facing the Napa Valley Wine Train tracks that bisect the larger winery property.
According to the project website, the resort has the potential to generate, "more than $2.05 million in total annual taxes in year one of operations, growing to $3.46 million in total annual taxes anticipated in year three of operations." The site doesn't specify upon what it's basing its projections.
According to Noble House, several resort amenities would be available for both the public and for visitors-only. The project includes an organic culinary garden, olive tree grove, restaurant, meeting and event spaces, as well as swimming pools and an onsite spa. If approved, the St. Helena Resort project will offer a new stream of revenue to the city as well as improvements to the essential services i.e., streets, sidewalks, and water and wastewater treatment plants. Construction of the project along the Napa Valley Wine Train would also provide connectivity to other parts of Napa Valley.
Though the project has not been formally submitted to the city, applicants have met with members of the St. Helena City Council, the city manager and the city's community development director, the website says.
To provide feedback on the potential 52-room resort, head to sthelenaresort.com to fill out a questionnaire.