Oh, the taste of a decadent, handcrafted truffle made with Belgium chocolate; the feel and intoxicating scent of a buttery-soft leather handbag; the framed photograph of a grapevine, captured in lusty purples, greens and reds; or the delicate, hand-tooled necklace with seaside details. Luxury goods are the ultimate, feel-good retail therapy and the reason discriminating shoppers bypass mass-produced, readily available products.
We buy luxury goods for a variety of reasons based on our personal preferences, priorities and the strong emotions we attach to them. We indulge ourselves because sometimes¾whether we're financially comfortable or not¾quality and authenticity matter. There are a number of unique, artisan retailers of luxury goods and gourmet foods in the North Bay. Here are some exclusive boutiques and retailers to explore.
Bohemian luxury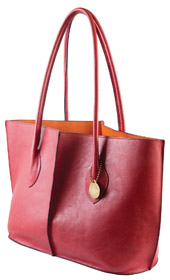 Bohlux, located on Fifth Street in downtown Santa Rosa, offers custom-designed, couture products and accessories in soft, supple leathers, but the shop is especially known for its handbags. Bohlux offers purses that look, feel and behave like those made in France, Italy and London. They're luxurious and unconventional, yet timeless in style—what proprietor LuLu Comora likes to call "bohemian luxury," which inspired the shop's name. A designer and master leather artisan, Comora opened the store September 2015, and, if you pass by her shop window, chances are you'll see her hand-stitching leather or meeting with a client to design a purse.
What is bohemian luxury? "A bohemian bag has no edging or lining, but a Bohlux bag is 'notched up' with rolled handles, piping and feet on the bottom [to protect it]," says Comora, who's been sewing since she was a young girl. She also studied with a master leather artisan (who once worked for Hermes) for more than two years in intense training. She works with a stunning palette of colors¾turquoise, purple, fuchsia, lavender, silver, mustard and more, and the combination of colors are sometimes surprising. A fuchsia messenger bag, for example, is paired with straps in a vibrant tangerine; a silver wedding clutch is lined with a lavender plonge (a French term referring to the tanning process). There are also neutral colors such as black, chocolate brown, silver and bronze. Comora also works with exotic leathers such as alligator, lizard or ostrich (which is considered skin, not leather).
All work is hand-crafted and custom designed to suit individual preferences. Bohlux products are both functional and beautiful, meant to be worn and displayed. Leather products include handbags, messenger bags, wedding clutches, commuter bags, belts, cord keepers (for smart phones or iPads) and leather wristlets. Prices range from $550 to $2,500, depending on the details.
How does Bohlux survive in a world of mass-produced handbags? "Customization sets us apart," says Comora, "and the sewing is European." She uses a slanted stitch, so it won't unravel and a knot to secures it. It takes two to three months to complete a handbag, and all work is guaranteed with the registered owner for a lifetime with normal use.
Most Bohlux clients are professional women, but Comora often gets walk-ins who see her working in the storefront window. "Designing and making patterns¾this is my passion," says Comora, sitting at a table, stitching a strap for a purse. "The magic happens here, one beautiful piece at a time."
Chocolat
Woodhouse Chocolate, located on Main Street in St. Helena, offers European chocolates with an American flair. One customer favorite is the assorted caramels with fleur de sel—a touch of salt—a French confection that's become popular in the United States. "Salt on chocolate is unique, but Americans love salt. We used to get calls telling us we'd made a mistake," Proprietor John Anderson recalls, pausing to laugh. (And, though those customers thought the chocolatier had mistaken salt for sugar, they admitted they loved the taste.)
Each piece of chocolate from Woodhouse is sweet, luscious perfection. There are hundreds of items to choose from¾brown butter ganache, mocha cream, pecan caramel, wild cherry, fresh mint as well as small packages of milk chocolate toffees covered with almonds, gooey caramel pecan clusters and more. Beautifully wrapped boxes in their signature Woodhouse blue, with a brown ribbon offer small pieces of heaven in assorted flavors, and each candy cup is stamped with the company's elephant logo. (A nod to John's wife, Tracy, who's fond of them.)
Every chocolate produced by Woodhouse is made onsite in the kitchen behind the store. "We use the freshest ingredients, and we try to source local, organic and sustainable items," says Anderson, who operates the shop with Tracy. "Our cream and butter are local."
Sometimes their ingredients are extremely local. "Our mint often comes from our backyard, and our Meyer lemons come from [a tree in] the front yard," he adds. But some ingredients travel a further distance. Cherries, for example, come from Italy, and the chocolate is from Belgium. "We're in the perfection business," says Anderson.
Woodhouse also creates customized chocolates at the request of clients.
The Andersons opened Woodhouse Chocolate 12 years ago. Their passion for chocolate began as college students traveling abroad in Europe, when they spent a semester in London and traveled through France. "The first thing we discovered were the chocolatiers," says Anderson. And though he and Tracy spent most of their young lives indulging in Snickers and Hershey bars, their experience with European chocolates was a defining moment. "When you first try a local European chocolate, it changes you," says Anderson. "The experience is transcendent."
They talked of one day being chocolatiers, but they had no money, no experience and no background making chocolate confections. Being practically minded, they graduated from college and went to work at the family winery. When the winery sold, they began considering what their next adventure would involve. The movie, Chocolat, was another defining moment. The Andersons opened Woodhouse Chocolate in 2004 and their chocolates continue to be a favorite in St. Helena for both locals and tourists. Their chocolates are $100 per pound, but there's always a line at their shop and most of their business is selling chocolate piece-by-piece.
According to Anderson, business is mostly driven by holidays, with Christmas being the busiest time of the year. "People tend to buy more chocolate to give, rather than consume. We do 25 percent of our business the first three weeks in December." Valentine's Day and Mother's Day are also busy times.
Despite economic upturns and downturns, business remains steady at Woodhouse Chocolate. Their internet sales are vibrant, and much of the business comes from walk-in tourists, but the locals have embraced the treats as well. "We're catering to people who care about their chocolate," he says. "We make a product that no one needs, but everyone wants."
Poetry of artisans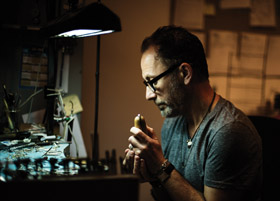 When an artisan goes "to the bench" to craft jewelry by hand, using the ancient art of lost-wax casting, the approach is similar to the work of a poet. "This is poetry of the artists," says Bonnie Powers of Poet and the Bench in Mill Valley. Powers and her husband, Jeffrey Levin, are the proprietors of this boutique, and Levin creates many of the pieces himself. Poet and the Bench, which opened last year, is located on Locust Avenue⎯known as the town's design district⎯and offers handcrafted jewelry for women and men, as well as pottery, fine art and other distinctive home goods.
Born in South Africa, Levin discovered jewelry at age 12 when his father became a partner in the family jewelry business. The jewelry he crafts by hand today is a study in contrasts⎯classic yet modern, organic yet sophisticated, and edgy yet elegant. The original bench where Levin once created his pieces is still on display in the shop.
Levin creates customized jewelry for clients and maintains a collection of unique items in the store, ranging in price from $50 to $2,500. For women, there are large oval wood rings and pendants set with a single white diamond, stacking rings, flat skinny ring slices with pave diamonds, brass and bronze dome rings, labradorite bracelets and more. For men, there are braided leather and sterling silver bracelets, leather wrap bracelets, sterling silver and black diamond bands and necklaces. Each piece of jewelry is a unique work of art, but you'll also find wheel thrown ceramic vases and bowls, contemporary art and the "I Married Me" kit, featured on CNN, in Cosmopolitan, Time and more. "I Married Me" includes a self-wedding ceremony and vows, a roadmap to celebrate all that is fabulous in its recipient and a handcrafted ring by Levin.
Levin and Powers also sell work by other artists, including Jacqueline Hardy, a jewelry designer in Los Angeles, who's inspired to reinvent new designs from history (ancient Egypt being her greatest influence); Danielle Welmond, a jewelry designer who specializes in embellishing gems with woven precious metal threads in the centuries-old European crocheting technique; Bob Dinetz, a ceramist, whose pottery is simple, but modern, and includes hand-made details such as variations in size and artful drips on glazed surfaces; and Adele Crawford, a mixed-media artist the couple discovered during her residency at the de Young Museum, who investigates and reimagines discarded objects and images.
Since opening, Poet and the Bench draws mostly North Bay residents from Mill Valley, Larkspur, Tiburon, Corte Madera and San Rafael as well as San Francisco, and beyond. How do they survive in a world of big-box stores? Says Levin, "We hope our passion around the craft of art-making comes across, and the stories our artists tell through their individual works inspires people to come to Poet and the Bench for something unique. We're not mass. Our items aren't readily available in other stores."
"We're also not overwhelming the space with a lot of artists at one time," adds Powers, who has a passion for design and serves as shop curator. "We're practicing a slow-curation model so each artist gets a spotlight. Jeffery's collection is also constantly evolving, so there's always something new, even one-of-a-kind pieces, so customers experience us a bit differently each visit."
Capturing magic with photography
There is a split second of perfection when a photographer captures an image on film, which is the inspiration behind the name of Capture Gallery, located on the plaza in Healdsburg. "Capture's slogan 'Emulsion to Emotion' says it all—taking a feeling and conveying it in an image," says Proprietor Storm Jones, who opened the gallery in 2006.
Capture is mostly a photography gallery, offering a collection of distinctive, high-end artwork, including Bay Area landscapes, panoramic vineyards and landmark settings such as Dr. Pierce's medical discovery barn near Healdsburg. But the gallery also carries sculpture, lamps and exotic furniture made of palm wood from Fiji. Most of the gallery's customers are visitors to the area. Says Jones, "Healdsburg is a small town with international attraction. We draw an affluent buyer. About half of the customer base is
Bay Area local 'day trippers' and overnight guests to Wine Country." The other half of the gallery's client base comes from out-of-state and international visitors.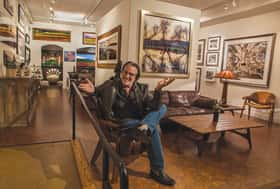 "For many people, buying art is a touchstone piece for the trip," says Gallery Director Jaz Fabry. Both Jones and Fabry are landscape photographers, and their work is available at the gallery. Jones' landscapes reveal the breathtaking beauty of nature, including views of the bay, waterfalls, vineyards and more. "I shoot from the heart, and I still shoot with film, because I feel I'm getting the best results," he says.
Fabry's passion for art comes from nature as well, and he often ventures out at sunrise and sunset to capture those brief moments of enchanted illumination. "I'm painting landscapes with the camera," says Fabry, who also works with paint. His photography showcases a bright, saturated palette of colors. "My work is more like a painting than photography. It's done in a 'painterly' style."
Other artists at Capture Gallery include Patty Mulligan, who creates one-of-a-kind pieces using gold leaf Orotones; Christopher Burkett, a museum-level photographer who works with large-format color transparencies to provide a glimpse into the sacred in nature; Thomas Barbéy, who creates surreal photomontages using black-and-white film in the dark room; Bill Atkinson, who believes photography begins in the mind and eye and whose work celebrates the wonder of nature. Prices range from $100 to $10,000, and the gallery offers full art services, including in-home consultations, framing, delivery and installation.
Jones is the first to admit it's not always easy surviving in a world of mass-produced art, but he and the other artists continue to be driven by their passion for creating unique work that speaks to their clientele. "Creativity is about discovery," says Fabry. "It comes from a source outside of yourself. And sometimes images appear that you never knew were there."
Says Jones, "Ultimately, it's the heart and soul, rather than the camera, that captures the perfect moment."
Casual luxury
Sarah Greenberg is the first to admit that she dreams in jewelry (both in her waking and sleeping life), and her life revolves around her craft. "I adore creating pieces that people are inherently drawn to," says the 33-year-old designer, originally from Massachusetts. "Pieces that are gifted with great thought and emotion. Pieces that become heirlooms." Her design studio and boutique shop¾Sarah Swell¾is located on Caledonia Street in Sausalito.
Greenberg originally went to art school to study painting but switched gears after working in a jewelry store and taking a class in jewelry making. She dropped out of art school, moved to San Francisco and attended a jewelry trade school. She and her husband, Scott, opened the design studio and boutique showroom in 2014, and she's been busy since, creating upscale pieces that are natural and organic. (Scott also works as a boat captain, and much of Greenberg's inspiration comes the shapes and textures she finds in nature.)
Greenberg's jewelry mostly appeals to clients who are physically active and passionate about the natural world. She works with sterling silver, 14-karat gold and sustainably mined diamonds. Jewelry that's practical, beautiful and captures the natural world¾particularly the ocean¾is her inspiration. "It's casual luxury," she says. "And I want my pieces to be easy to wear but interesting." Her collection includes precious metal treasures, including rings inspired by Big Sur, which includes dots of sand; a weathered collection of jewelry she hammers with metal on a beach stone; and a fern dell ring that's reminiscent of the feathery, leafy fronds. There's also a fishbone collection, naturally inspired by bones.
A significant amount of her work involves creating lovely, ethereal custom wedding rings for bridal clients. And appealing to the practical side, Greenberg sets diamonds in bezels (rather than prongs) so the rings don't catch on fabrics. "The brides I work with are looking for an alternative wedding ring," she says. And while name-brand jewelers provide an abundance of mass-produced wedding rings, the competition poses no problems for Greenberg. "Our clients are a different customer; they're looking for something different."
The majority of her clients come from the North Bay, visiting Sausalito for the day, but Greenberg also has a strong online presence and has had customers make a special trip to her store while visiting the area, traveling from as faraway as Australia and Japan.
As for Greenberg, she continues to do what she loves doing most¾creating unique, nature-inspired jewelry that, as she says, "makes her creative heart beat with joy."
A celebration of food
Dean & DeLuca, an upscale grocer in New York's SoHo district, was the backdrop for the Today show for years seen routinely by millions of viewers. So when a branch of the store opened in St. Helena in 1997, it became a natural draw and popular stop for locals and tourists alike. "We offer customers a sumptuous celebration of food. It's a place to experience all the pleasures cooking and eating can bring," says General Manager Barry Dinsmore. "There's nothing like it in the valley. It's an extraordinary shopping experience."
Dean & DeLuca encourages customers to find their inner chef, slow down and savor food. "Everyone is a closet chef these days," says Dinsmore. "People are more engaged in the kitchen." So what draws customers in? With pastry, it's all about the babka (a loaf-shaped coffee cake in cinnamon or chocolate) and the macarons (a French sweet meringue-based confection). In the cheese department, customers love the local products such as Cowgirl Creamery or Pt. Reyes Blue cheese, but the most popular cheese is Delice D'Bourgonne from France: a triple cream Brie.
Customers also return for prepared foods such as the turkey bacon avocado sandwich and the Italian sandwich. The home-style chicken tenders (made with buttermilk batter) and chicken curry salad are also popular items. The most popular product sold with a lid is Chili Crunch; for $14 you wouldn't think to buy it, says Dinsmore, but once you do, you're hooked. Chili Crunch is sampled in-store on bread, and people buy it to add to eggs, chicken or whatever gastronomical creation they care to enhance. The espresso bar is another popular stop and the espresso shake (espresso, chocolate and gourmet ice cream), which was once an underground favorite for the lucky ones who knew to ask for it, has been officially added to the menu.
How does Dean & DeLuca compete with discount grocers? "We're a luxury retailer," Dinsmore explains. "We survive because as much as folks love to save, they also love to 'splurge' on themselves. We offer products of quality and distinction with incomparable service. So many of our customers come into the store, not even knowing what they're looking for, but they intend to buy something. Our job is to help them identify what it is they may want."
About 30 percent of business is from locals, but the majority of clientele are Wine Country tourists from Southern California, out-of-state or international visitors. "Each subset of tourists has a slightly different need in terms of why they're at D&D," he adds. "We're usually their first stop from the airport or the last stop before heading home.
Did you know?
In 2014, global expenditure on luxury goods amounted to slightly more than $1 trillion. (Of that, ultra-expensive cars accounted for $438 billion.) The market for personal luxury items such as perfume, jewelry, clothing and accessories performed strongly the same year, particularly in the United States where an estimated $81 billion was spent.
Source: www.forbes.com