Time is money, as the saying goes. That's particularly true in corporate aviation––also known as business aviation. It can eliminate hours of time lost traveling to and fro on commercial airlines. Furthermore, thousands of dollars can be saved on hotel rooms, rental cars, meals and other expenses incurred when using slower modes of transportation over several days.
To save time and make traveling more efficient, many members of the North Bay business community have earned pilot certifications and own airplanes. Flying gives them the freedom to climb into the cockpit when necessary to conduct business in other parts of the state and across the country, sometimes on short notice. Even better, they can land their planes at almost any small airport nationwide and bypass the hassle of screenings by the Transportation Security Administration (TSA).
Business trips in one day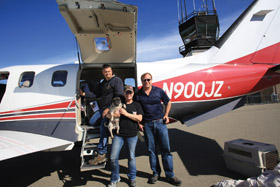 Most of these local pilots developed their passion for flying at an early age, but some were late bloomers. John Jordan was only 17 when he earned his private pilot license, "and now I pretty much have all the certifications you can get, including commercial and ATP (airline transport pilot)," says the CEO of Jordan Vineyard & Winery in Healdsburg. "I always fly myself when I need to go anywhere. I fly for business about once per week, on average."
Jordan earned a degree in economics from Occidental College in Los Angeles, where being certified to fly made him a popular guy. "I'd rent a plane and take my friends to Las Vegas," he says. He'd already achieved ATP certification by the age of 23. "I've been flying for so long I don't remember what it's like to not fly," says Jordan (who also holds a law degree and an MBA).
He currently owns an 11-passenger Gulfstream, which he's had for about seven years, and a five-passenger Socata TBM that he's owned for 18 months. He keeps both in a private hangar at the Charles M. Schulz-Sonoma County Airport. In addition to his pilot certifications, he holds a license specific to the make and model of each of the planes.
"The Gulfstream requires two pilots to operate. It's a legal and physical requirement. So on those flights, David Carmack, our winery's director of aviation, is my co-pilot," says Jordan. "But I can fly the Socata by myself."
Jordan frequently flies his staff to business events and wine festivals in southern California, Colorado and the East Coast. "By flying, we can usually make it a day trip, so we save money by not having to buy seats on commercial airlines and on hotel rooms and related costs. It helps our staff to be in more places, more efficiently. We also use the planes to bring in special customers and media to the winery."
Keeping all his licenses current requires a commitment of time and energy. "I have to requalify for the Gulfstream type rating every year, and I do my training in Long Beach." Jordan once had the certification to teach and gave flying lessons many years ago. "I let that certification lapse, but I could renew it pretty easily."
Old or new, he says, most aircraft have nearly infinite lives. "They're nothing like cars, which wear out. If maintained properly, my planes can go on forever."
Helicopter hopping
As winemaker for eight different wineries as well as her own label, La Sirena, Heidi Barrett of Calistoga appreciates the time she gains by routinely flying her four-passenger Robinson R44 helicopter over Napa Valley vineyards and beyond. She began private pilot rotorcraft training a few years ago and earned her license in 2010.
Barrett's fascination with flying began when she was a child, watching her father pilot both helicopters and fixed-wing aircraft for the military. "I was able to ride with him many times, and I thought it was just amazing—like a real-life magic carpet ride," she recalls.
But her lifelong dream of learning to fly wasn't in the cards. "Not until I was an adult with grown kids," she says. "So when my youngest daughter went off to college, I asked myself, 'If not now, when?' So I started my pilot training in 2006."
For Barrett, the helicopter is a huge time-saver, particularly during harvest season. Because many of her clients' vineyards are in the hills overlooking Napa Valley, she's able to land near each vineyard, inspect the grapes, then jump back into the helicopter and move on down the ridge. "By car, I wouldn't be able to get to all of them in a day, but by flying I can hop along the ridgeline, check six different vineyards in the morning and then take care of other winery business in the afternoon. It makes for a very efficient day."
Unlike a fixed-wing aircraft, Barrett can set her helicopter down in any appropriate flat area near a vineyard. "The landing spot doesn't have to be paved––it can be dirt or even gravel. I'm landing mostly on private property and have the permission of the owners to do so. I don't get complaints about noise or intrusion. The helicopter is fairly quiet, and I fly respectfully over private property."
Maintaining certifications
One of Barrett's winery clients is located in Napa, and it takes her only 15 minutes to fly there from her home near Calistoga. "I usually fly between 90 and 110 knots (about 104 to 126 miles per hour), and the helicopter's top speed is 130 knots (nearly 150 mph). By car, that trip to Napa would take an hour. This aircraft has been a great tool for my business," she says.
She typically reaches 1,500 to 2,000 feet altitude. "I land at the Angwin air field sometimes, because it's one of my fuel stops, and it sits just above 1,800 feet. So I have to ascend to about 2,500 feet for good clearance to land there."
Her husband, Bo Barrett, winemaker and CEO at Chateau Montelena in Calistoga, has been a pilot for about 40 years. When his wife decided to pursue helicopter training, he joined her to make that license an "add-on" to his existing certifications. He's now certified to fly both fixed-wing and rotorcraft. Though licensed to fly only helicopters, Heidi says she may pursue her fixed-wing certification soon.
The Barretts own two aircraft: the Robinson helicopter, which they keep at their home near Calistoga, and a Cessna P210 Silver Eagle that's hangared at the Sonoma County airport.
Heidi Barrett says it's "a big deal" to maintain certification to fly. "You're required to have a flight physical every two years and be tested on emergency procedures," she explains. "You have to stay current and fly regularly to maintain your skills. It's not something you can let slide and then pick back up again when you feel like it."
To L.A. and back by lunch
Craig Schulz learned to fly soon after graduating from high school and earned his first license in 1973. "So when thinking of a career, well, I'd always been into aviation," says the president of Charles M. Schulz Creative Associates in Santa Rosa and son of the legendary cartoonist. "I received helicopter training in Oakland right after the Vietnam War ended, but eventually I chose to go back to flying fixed-wing planes." He earned his instructor rating and went to work for a local flight company called Nation Flight Service.
In 1982 Craig suggested to his father that the cartoonist's business might benefit from owning an airplane. "So we bought a Cessna Citation 1, a small six-passenger jet, and I flew dad on many trips to Los Angeles and back. And that way he could set his own schedule and bring friends along at no extra cost."
Craig and his father chose private aviation instead of relying on commercial airlines because there are more than 4,000 airports in the United States, he explains, and the airlines only serve about 250 of those. "With your own plane, you can go more places, land on more runways and visit smaller towns than the airlines reach," he says, adding that, "My father liked the idea of one pilot, one plane and great maintenance all under his control—you don't get that with airlines.
Schulz was able to fly his father from Santa Rosa to Los Angeles in about the same time it takes to reach the Golden Gate Bridge by car enroute to San Francisco International Airport to board a commercial flight. "Dad used to joke that he was willing to go anywhere in the world as long as he could be back home by lunch. In many cases, the Cessna let him do that," he says.
In 1990, Charles Schulz bought a larger aircraft, a Citation V, which was used until his death in 2000 and later sold. "In 1991, I flew into Las Vegas, saw a new airplane sitting on the tarmac and told my copilot that I'd sure like to pick up one of those when I retire," says Schulz of the French-made Socata. "So after dad passed away, I bought a Socata TBM 700, and I've owned three other Socatas since." His current planes include a Socata TBM 900 that he uses frequently for business and an old biplane that he "plays around in." He flew the Socata extensively when working on The Peanuts Movie, which he co-wrote with his son, Bryan.
Schulz has nearly every available flying certification that can be earned, including the ATP license and the helicopter rating. He keeps his instructor certification current, too, though he's doing less training than in the past.
"The certifications last forever," he explains. "But to keep them current you have to do quite a few things, like takeoffs and landings and instrument approaches. Insurance companies also require that you go every year for training for the type of aircraft you're flying."
No TSA slowdown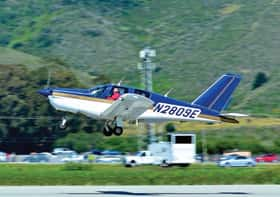 When life seems to be weighing him down, Michael Fish takes to the sky in his Trinidad TB20, a single-engine high performance aircraft built by Socata. "You climb into that plane, climb to 10,000 feet and look down at all the little cars down there," he says. "Then you realize how insignificant all your problems are and just relax."
Fish is a partner at Merrill Arnone & Jones law firm, which he joined in 2012. He frequently works out of the Novato office, which is close to Gnoss Field, where he's hangared the Trinidad for 15 years.
"I used to watch Sky King on television when I was a kid," says Fish. "So I was always telling my family that I wanted to fly." While working in the 1980s as a managing partner in another law firm, Fish represented Marin Air Services. Out of that relationship, he received flight training and earned his license in 1987.
Fish flies the Trinidad regularly for business throughout California, Nevada, Oregon and Washington. "For instance, I've been involved in a trial in Los Angeles recently, and every time I go there I need to take several boxes of files along," he says. "So I can pull up to the hangar at Gnoss Field, pull out the plane and load the files onboard. There's no TSA slowdown, no baggage check-in and no concern about transporting my important and confidential files, so off I go."
From an economic standpoint, Fish says his time spent flying on firm business is billable and certainly less expensive for a client than if he traveled on a commercial airline. "But it saves clients money to have me use my own plane and not fly commercial. It can chop one or two days of travel off the bill, and I can accomplish a lot more for them—faster."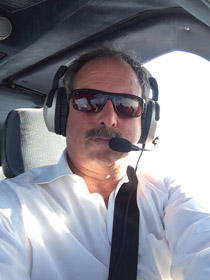 Fish is also active in Rotary International and frequently flies himself to Rotary conferences and speaking engagements across the western states. Once in the air, he cruises at between 10,000 and 12,000 feet, with an air speed of about 182 miles per hour. "The typical private pilot is flying at altitudes between 4,500 and 7,500 feet, but I usually climb higher than that. The sky isn't as crowded up there."
He recalls a memorable flying experience when heading to Las Vegas from Novato. "East of Bakersfield, pilots have to fly within a specific corridor because of restricted military airspace. I was flying there at about 9,500 feet when I saw a Boeing 707 coming from the other direction and below me, at about 7,000 feet. It was surreal, but it wasn't unsafe. You just don't expect to be flying at a higher altitude than a commercial jet."
Close calls or near misses in the air are extremely rare for private pilots. "If you're trained correctly and consistently, the sky is a very safe environment," says Fish. "But there's always someone who makes it look bad for all of us—all said, there's no better way to travel."
Jordan agrees: "If you do everything right, you don't have close calls."
Some say flying is hours and hours of boredom mixed with seconds of sheer terror. Schulz counters: "If you plan correctly and fly correctly, it's supposed to be boring." However, one day last year he had a few hair-raising moments when his biplane's engine conked out and he was forced to land in a field.
Charters and cattle drives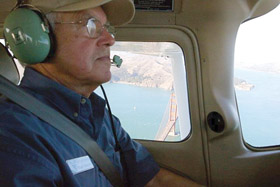 Mike Whalen, a Sonoma resident who works at the Napa Jet Center in Napa, first learned to fly in 1973 when he owned a farm equipment dealership in Cedarville, Calif. Because of the town's remoteness in the far northeast corner of the state, it was a hardship for Mike to drive to manufacturers' meetings throughout the western states. He needed a way to get to those places much faster, so he took his pilot training in Cedarville and later received his instrument rating in Redding. He trained for and obtained his commercial license at the Napa Jet Center in 2009.
"I own a 2005 Cessna CT182T, a turbo-charged, four-seat airplane that I bought when times were good," he says. "We use the plane at Napa Jet Center for charters and scenic air tour business, and I also fly it for my part-time work providing secure executive transportation during sports and concert events in the western United States." He prefers to keep the identities of these clients confidential.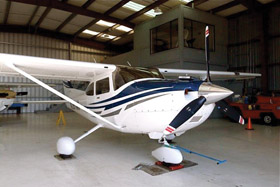 Whalen also flies the Cessna to Cedarville a few times every year to assist in the operation of the =X Ranch, his family's cattle business on a large ranch in nearby Lake City. "Sometimes I use the plane to spot cattle and check on water resources for our cattle drives," he says. In spring, the cattle are driven by horseback from Lake City to feed at the Home Camp range, a 250,000-acre expanse in Nevada. The cattle are then moved back to Lake City in late summer.
"The obvious advantage to flying myself is the time savings," says Whalen. "I can also go places the airlines don't go. I can beat total travel time when compared to using airlines and also avoid TSA security and luggage hassles."
Precious hours gained
There are additional benefits from corporate aviation besides just saving time, says Schulz. "The income that comes into the community from private planes is immense. In the early 1980s, there were only two private jets on the field at Sonoma County airport––ours and one belonging to Korbel Champagne Cellars. Now there are dozens that bring money into the region."
Still, saving time by flying their own aircraft is paramount to these busy professionals. "Someone once said that the one thing in life you can't get more of is time," says Schulz. "Well, the way to get more time in your life is to own an airplane. It lets you have those precious hours you wouldn't have had otherwise. An airplane is essentially a time machine."
Over the Moon in a Biplane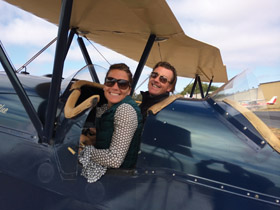 When the Moon Mountain AVA along the high ridge of the Mayacamas mountains was approved in 2013, Bruce MacKay of Vin de Luxe Tours had an idea for a one-of-a-kind experience for visitors. So he asked his friend, Captain Bob Berwick, a former airline pilot and operator of Coastal Air Tours, if he could fly visitors over the new AVA in his historic biplane to first acquaint them with the lay of the land. Back on the ground, Bruce would then transport them to winery properties they saw from the air, where private tastings and gourmet lunches awaited.
Called "Over the Moon," the tour has been a big hit for MacKay and Berwick, who hear from people all over the world wanting to arrange the air-and-land tour before they arrive in Sonoma County. "We combine their experience with what they see from the air and they connect the dots, to then see those same places at ground level," says MacKay.
"For many, it's an 'occasion' tour––like a honeymoon or anniversary," adds Berwick, who lifts couples into the air in a restored 1926 Travelair open cockpit biplane that seats two adults plus the pilot.
"It's the oldest biplane model in the world," he says. "Only 100 or so are still flying, because most of these models live in museums. But this one is in perfect shape and is flown continually." Berwick flies the biplane from the Skypark airfield in Sonoma.
It's not a thrill ride, he points out. "These peaceful, old planes fly stately, gracefully and slowly. And because it's an open cockpit, you don't feel closed in."
Becoming a Pilot: Levels of Certification
In the United States, the Federal Aviation Administration (FAA), a branch of the Department of Transportation, regulates pilot certification. Earning certification to fly aircraft is determined by privilege levels. At each level, pilots are rated to fly aircraft of specific categories. Certificates are listed below, in order of increasing privilege.
Student pilot—an individual who's learning to fly with a flight instructor and is permitted to fly alone only under specific, limited circumstances.
Sport pilot—an individual who's authorized to fly only light-sport aircraft, such as certain gyroplanes, balloons, gliders and powered parachutes.
Recreational pilot—an individual who may fly aircraft of up to 180 horsepower and with four seats in the daytime, for pleasure only
Private pilot—an individual who may fly for pleasure or personal business, generally without accepting compensation.
Commercial pilot—an individual who may, with some restrictions, fly for compensation or hire.
Airline transport pilot (ATP)—an individual authorized to act as pilot for a scheduled airline