soy scents
"There's nothing quite like the warmth of a deliciously scented candle," says Christine Holt, co-founder of Penelope Co., handmade soy wax candles. For Holt, candles are more than just a cozy scent—they're at the root of her thriving business started from her own living room in Oakland, and named after her adored Boston terrier, Penelope.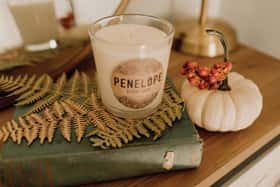 In 2013, Holt, along with her husband, Matt, took on the candle biz with a mission to enhance the quality of candles for consumers, as well as create enticing scent combinations that tantalize the sense. With great success, the Holts moved production to a warehouse in Oakland, where they handcraft scents such as bourbon apple haze, bubble bath, hibiscus showers and gardenia tea.
Penelope Co. uses all natural ingredients such as soy wax and 100 percent cotton wicks to ensure a safe experience. "It's important for health. Paraffin releases black smoke creating soot. It also burns faster whereas soy wax burns clean and slow. It's a better value all around," she says.
Another added benefit—a cocktail glass. Once the candle, labeled with recycled craft paper, burns out, the remaining glass tumbler can be placed into a freezer to help the remaining wax separate from the glass walls. "I chose a tumbler glass so my customers can re-purpose it and enjoy a nice cocktail at the end of a stressful day," she says. Penelope Co. candles are available at Dean and Deluca in St. Helena, Wunder Boutique & Salon in Napa, and dozens of locations throughout Oakland. Visit www.penelopeco.com to order your very own Penelope candle.
Dealcoholized Drinking—Still a Fine Wine
Ariele Vineyards, a premier producer of dealcoholized Chardonnay and Cabernet Sauvignon, is leading the nonalcoholic trend. The wines are made at a sustainable winery in Paso Robles, both using stainless steel cooperage and oak barrel aging, leaving less than 0.5 percent alcohol by volume.

At $9 a bottle, Ariel wines are a perfect choice for non-drinkers who still want the flavors of the grape harvest. Enjoy paired alongside foods such as grilled mahi mahi with the Chardonnay and wood-fired pizza and carne asada with the Cabernet. Or, simply enjoy a glass on its own. Local retailers include: Mill valley Market, BevMo, Sonoma Market in Sonoma and Whole Foods in Napa and Mill Valley.
For more information, visit www.arielvineyards.com/wines/cabernet_sauvignon.html
Kick the Sugar, Keep the Candy
If you love to indulge in something sweet, but could do without all the sugar try SmartSweets, which has only 3 grams of sugar per bag. Founder Tara Bosch started the company after forming an unhealthy relationship with food and seeing the negative effects on health. She loved candy, but didn't love the sugar.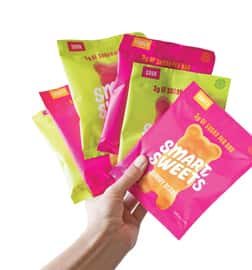 SmartSweets include gummy bears, sweet fish and sour blast buddies are just the right amount of sweet and fun to eat. They're also high in fiber, free from artificial sweeteners and colors, they are peanut and tree-nut free. Additionally, they're gluten free, GMO free and free from sugar alcohols.
For more information, visit wwwsmartsweets.com.