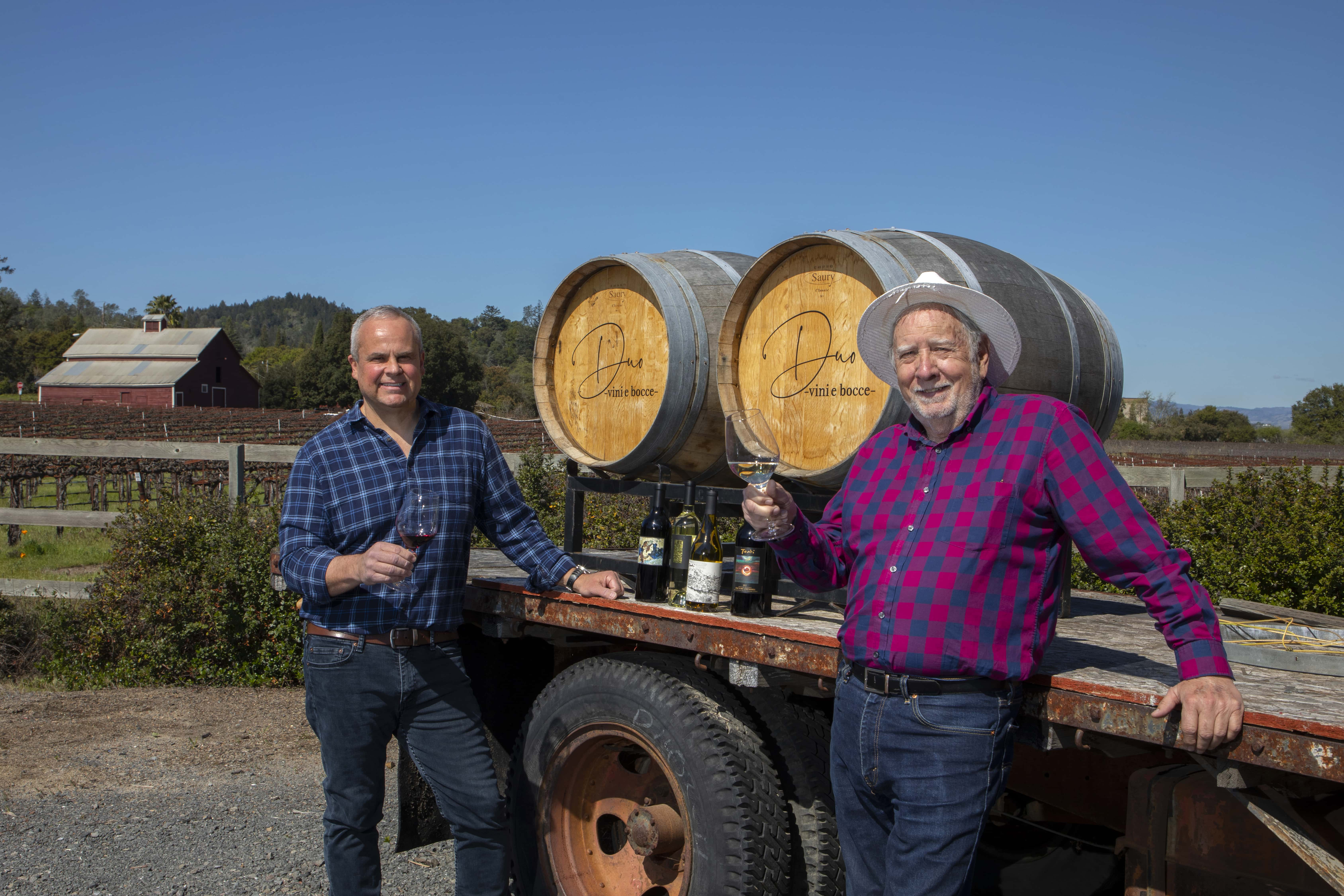 Last autumn, Duo-Vini e Bocce opened its doors to business, offering guests a one-of-a-kind tasting experience in the quaint, rustic hamlet of Geyserville. The name, Duo, is a nod to great partnerships in history and the Italian heritage of its owners—sixth-generation winemaker Agostino Gamba, more commonly known as "Gus," and Peter Tonti, who learned the art of Italian winemaking from his father as a young boy.
Though Geyserville has drawn visitors for more than a century, the charming hamlet has retained its timeless feel and pristine countryside. Visiting there is like stepping back into time, and it's easy to imagine the terrain remains similar to that enjoyed by visitors from a bygone era. Located next to the Geyserville Inn, the grounds surrounding Duo-Vini e Bocce showcase the first signs of spring. The apple trees are blossoming, and the wisteria growing on a nearby pergola is just starting to bloom. The view from the tasting room offers a spectacular view of the Mayacamas Mountains.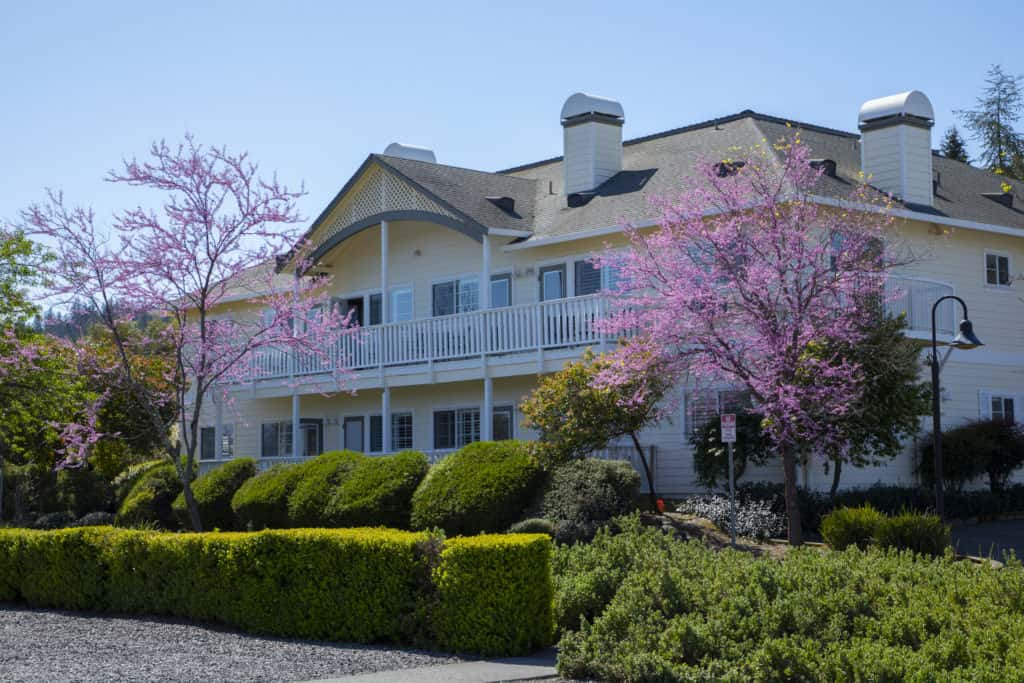 Wine tasting at Duo gives guests the opportunity to experience two brands of wines—Entrusca Wines and Tonti Family Wines, while enjoying a game of bocce. "It's one of the few sports you can play with wine in your hand," says Tonti with a nod and a grin. For Gamba and Tonti, Duo-Vini e Bocce is a passion project. The partners were looking for a place where they could offer a collection of their ultra-premium wines, paying homage to their Italian heritage. "It's limited production winemaking, sourcing the highest quality fruit," says Gamba, who considers himself a steward of the land. As a winemaker, his philosophy is to let the wine reveal the true expression of the vineyard where the fruit is sourced.
We begin with the 2018 Etrusca Natalia Rosé, a limited production wine named in honor of Gamba's youngest daughter. "This is an intentional Rosé, made from an old field blend," says Gamba. "It sings of spring." Crisp and fresh, this wine is a joy to sip and has a lush, creaminess mid-palette. While Gamba is well-known for producing a line of limited production wines under Gamba Vineyards and Winery, he co-founded the Estrusca Wine brand with his wife, Paulette. "The Etruscans were a wonderful, enigmatic culture that celebrated wine and carried the knowledge of winemaking to its Mediterranean neighbors," says Gamba. "They introduced winemaking to the French."
The 2019 Tonti Rosé is a crisp and lively dry Rosé, made from a Russian River Zinfandel. The label features a 1930-era pen-and-ink drawing of Forli del Sannico, the Italian village where Tonti's father lived as a young boy before the family immigrated to the U.S.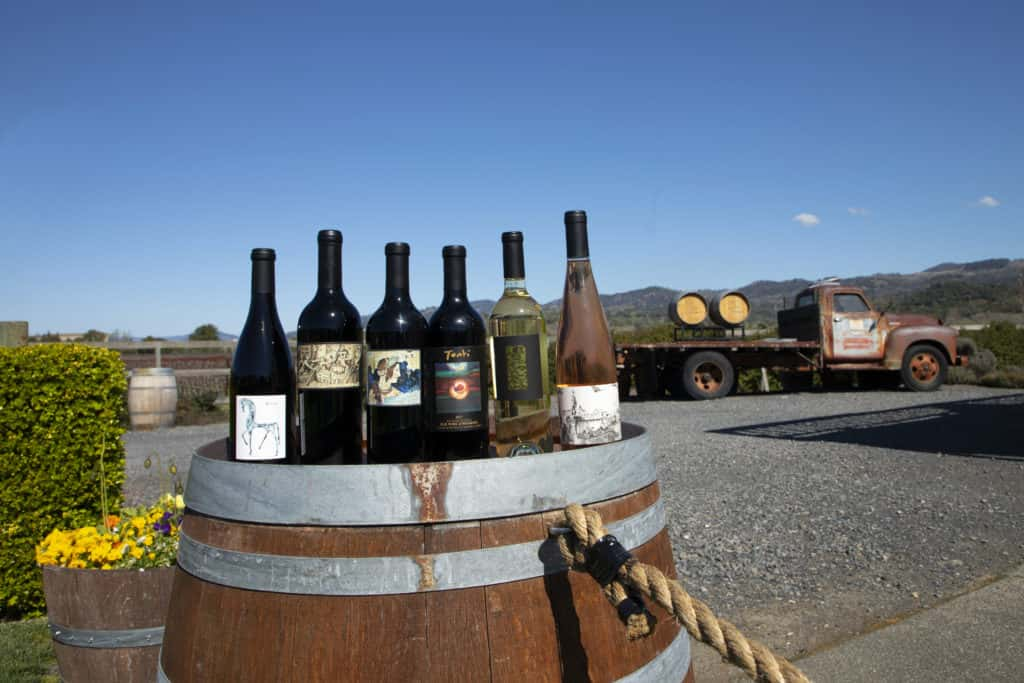 Next, we sample a splash of the 2019 Paoletta Sauvignon Blanc, which was just released. Clean and bright, the fruit is sourced from the Gamino Vineyard, known for producing small, flavorful clusters. This wine is true to the varietal, not grassy or herbaceous, with bright notes of honeydew, kiwi and white peach and a touch of minerality. "This is the expression I was always looking for," says Gamba. The label prominently features a tablet made by an Etruscan king.
Moving to the reds, we sample a generous pour of the 2017 Tonti Family Old Vine Russian River Valley Zinfandel. On the nose, this wine is beautifully fragrant and an indication of what is to come—a luscious fruit-forward Zinfandel with notes of bold spice. It's a great Zinfandel to sip on its own, but pairs well with food. "It's a sophisticated Zin and bold enough to pair with a steak or cioppino," says Tonti. It was awarded a double gold in the San Francisco Chronicle earlier this year.
Our final taste ends with the 2017 Etrusca Velia Proprietary Red Blend from the Russian River Valley, which was awarded a double gold in the San Francisco Chronicle earlier this year. "The wine is as unique, compelling and mysterious as Velia herself," says Gamba of the noble woman who lived in Etrusca in 450 B.C. Velia is an old vine field blend of Ancient Vine Zinfandel, Petite Sirah, Carignane and Alicante Bouschet—all fermented and aged in separate lots, allowing each varietal to fully develop before they're blended. Aromas of fresh, juicy dark berries and toasty oak notes, it's fabulous prelude of what's to come.
At Duo, wine is equal parts art and science. Each bottle has a story to tell and it's clear these partners have poured their heart and soul into each vintage. "We love to share our stories on how we make our wines and the history behind each of our wine labels," says Tonti. His partner Gamba adds, "People who stay here are discovering us for the first time." Next time you're in Geyserville, stop by Duo to experience extraordinary limited production wines of its proprietors in a low-key setting. Be sure to join the wine club because you'll want to return again and again.
Did You Know? Duo-Vini e Bocce is located in Geyserville. A popular getaway during the 1880s, it was once known for its hot springs, though there have never been geysers in Geyserville itself. Ulysses S. Grant and Theodore Roosevelt are just two notable guests who visited during that era. "Geyserville is one of Sonoma County's best kept secrets," says co-proprietor Peter Tonti. "It's one of the last rustic towns in Sonoma County." Co-proprietor and winemaker Gus Gamba adds, "It retains that old Sonoma County flavor and rustic charm."