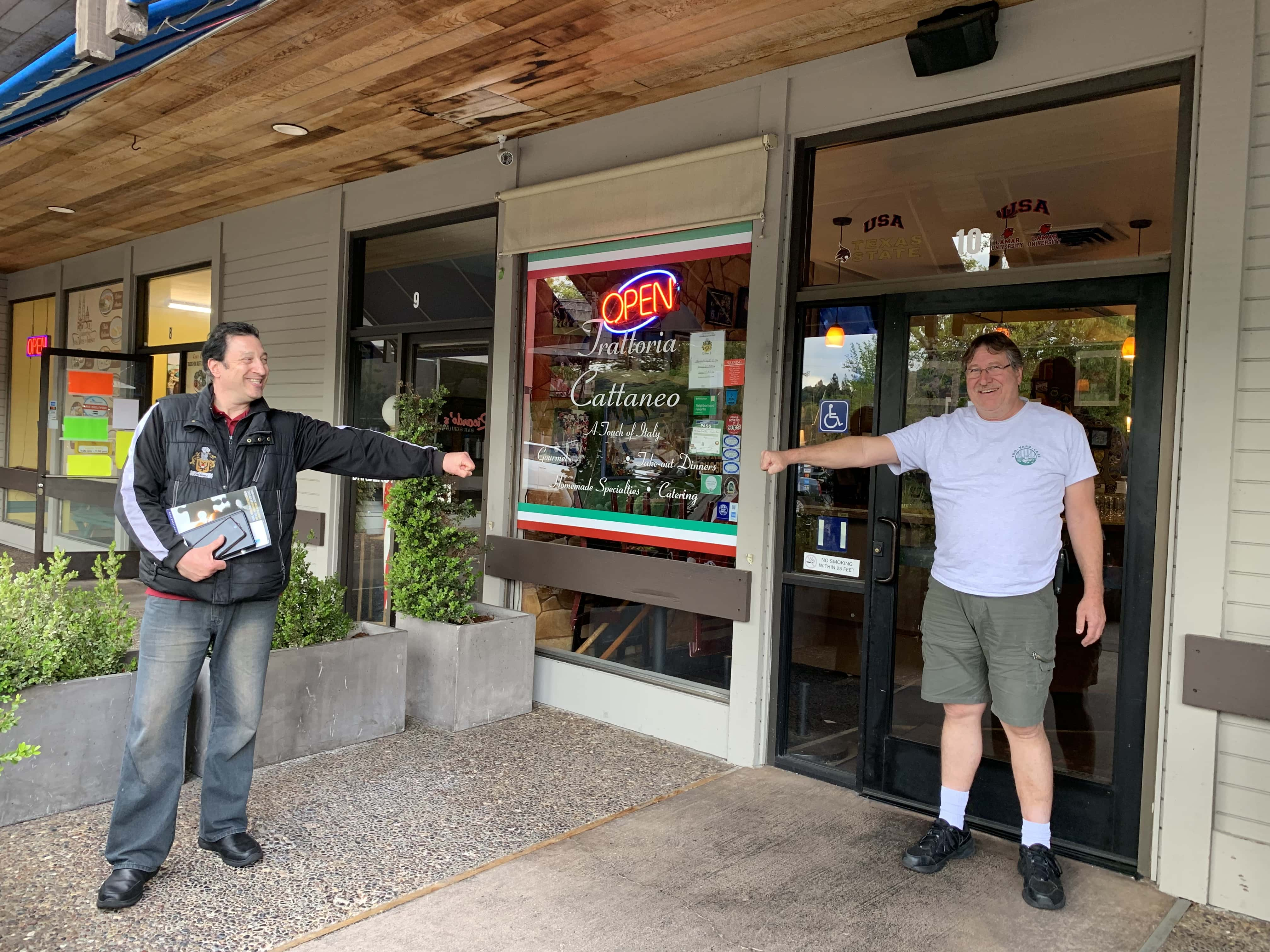 Family and tradition are at the core of everyday Italian life, and everything else revolves around food. Italians are passionate about it. Though there's not a drop of Italian blood in my ancestral roots, I consider myself somewhat Italian at heart and admit I take a certain pleasure when people assume I have some connection to the culture. Maybe because I tend to gesture a lot when I talk, or maybe because I tend to make a big pot of pasta with red sauce when times are tough. Italian cuisine is my go-to comfort food.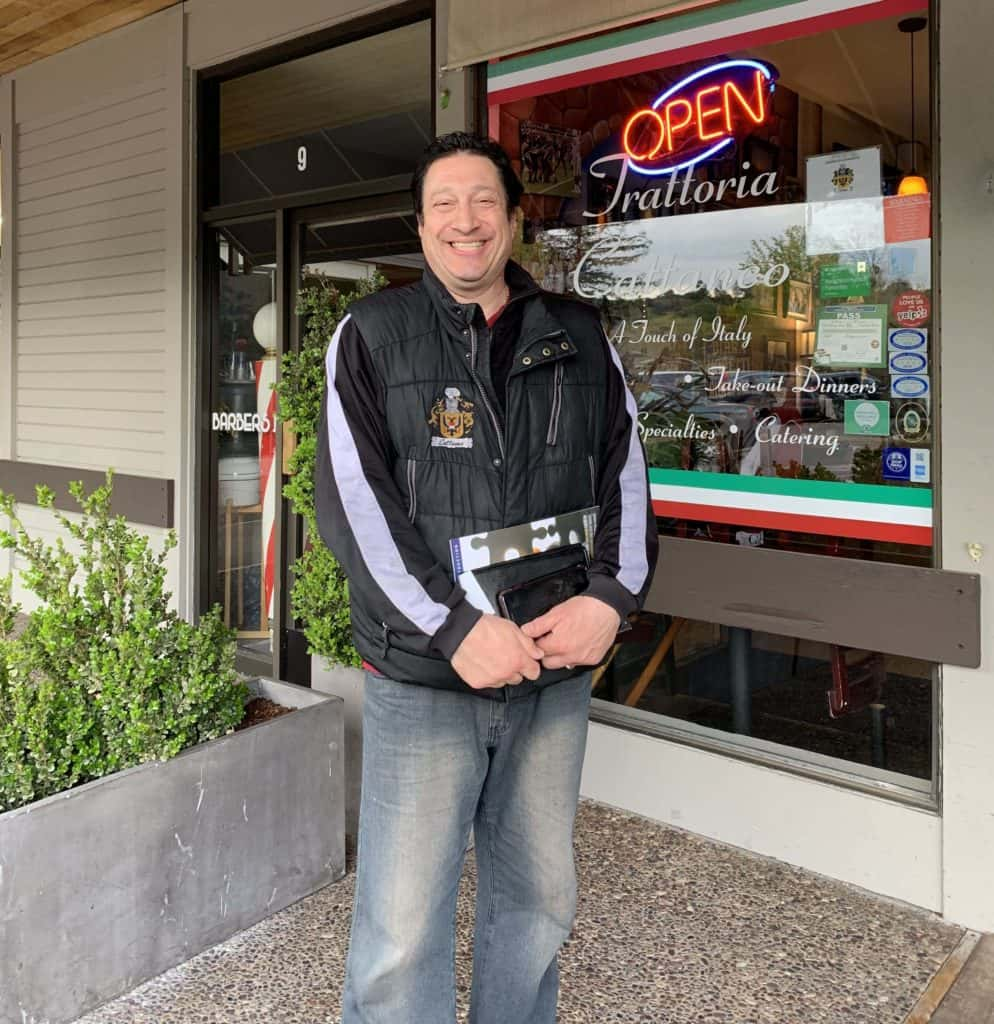 So three weeks into California's shelter-in-place order during the coronavirus pandemic, neither Alex nor I were up for cooking, and on the spur of the moment decided to call it a date night. He called and placed an order at one of our favorite neighborhood restaurants—Trattoria Cattaneo—and we ventured out together to pick it up.
Located on Yulupa Ave. in Bennett Valley, the restaurant was once a deli before proprietors Julie and Riccardo Cattaneo transformed it into Trattoria Cattaneo in 2009. Today, the quaint, Italian family-owned business is known for its house-made pastas, sauces, breads and desserts and draws a steady stream of patrons every day of the week. Chef Julie helms the kitchen, and Riccardo is usually working the front of the house and is there to greet customers as they arrive. Their grown twin sons, Giuliano and Dante, are also on hand to keep the business running. Whether it's your first visit there, or one of many, this is a neighborhood restaurant where everyone is treated like family.
Since we've patronized the restaurant countless times, we ordered a couple of our favorites—the eggplant parmesan and the chicken piccata. And while we sat in the parking lot to wait for our order, we noticed a steady stream of patrons stopping in for takeout. One patron we encountered, Brian Quinn, was there to pick up his usual—an order of fettuccini alfredo and a Caesar salad to accent dinner at home. "I do love the place," says Quinn, who's been a patron there for 10 years. "The salmon and steak specials are exceptional, and Riccardo always treats us well." On his way out, he gives Riccardo an air fist-bump.
Usually, I prefer to eat-in when dining out, especially at Trattoria Cattaneo, which always has a fun friendly vibe and is the sort of restaurant where you're likely to strike up a conversation with the diners next to you. But once our order was ready, we headed home to eat. The first thing I noticed when I opened the bag was a small box of their focaccia with their signature parmesan-and-olive-oil dipping sauce—so garlicky it has to be medicinal. When eggplant parmesan is molten hot, it's an oozy mess and I like to let it rest a bit before cutting into it. But once we plated our food, I found that it was just right. A classic Italian dish with breaded eggplant, smothered with red sauce and mozzarella, it was a welcome and familiar plate of food and came with a generous serving of penne pasta. The chicken piccata—one of Alex's all-time favorites—has a tangy-lemon butter pan sauce. Topped with spinach and salty capers, it was both savory and bright and included a little penne as well as sautéed summer squash.
There's still uncertainty as to what we'll face as a community in the weeks ahead, as we continue to navigate the new normal of everyday life, but remember to support your favorite neighborhood restaurants.
As for the Cattaneos, they're remaining optimistic. "We've been able to keep business flowing, but I'm hoping we can get back to normal," says Julie, who misses the regulars who stop in several times a week.
If you're looking for good Italian food at a moderate price, call Trattoria Cattaneo for takeout and enjoy a touch of Italy. As mild spring days brings bring hope and renewal, one day life in the North Bay will return to a normal routine. And when it does, Alex and I are looking forward to stopping by again to enjoy a homemade Italian dinner with friends.