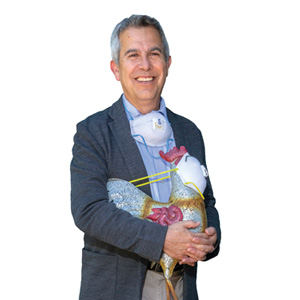 When his community was in need, Jesse Rael, M.D., didn't wait for others to take action—he set the wheels in motion himself. A radiologist as Sutter Santa Rosa, Rael started a grass-roots effort to gather personal protective equipment (PPE) for local health-care workers facing the COVID-19 crises. With the help of local media amplifying his voice, the campaign has yielded impactful results. A New Mexico native, Rael was first introduced to medicine by his grandfather, who was a curandero, or a healer, in Rael's hometown. Beyond his duties at the hospital and in the community, Rael enjoys mountain biking, travel, photography, skiing, and table tennis. He's also a musician, studying gypsy-jazz violin and playing music with his band, The Renovators Band. He makes his home in Santa Rosa with his wife, Linda Casey, who's also a radiologist. They have two children, Erin and Vlad.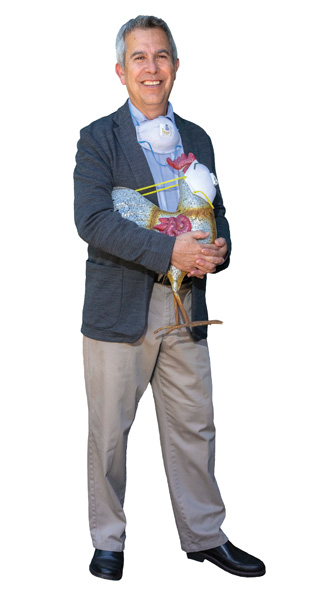 How encouraged were you by the positive response of your community outreach?
The coming together of our community to help out will be one of the highlights of my life. The outpouring of support of our health-care workers was unbelievable. I made it a point to meet as many donors as possible and thank them. I wish I could have shared that appreciation with the donors.
Are health-care workers still in need of PPE? If so, how long do you foresee that continuing?
Things have improved, but the need is still there.
What is a typical day like for you during the shelter-in-place order?
I'm still working as a radiologist for Sutter. I can either work from home, or go into the office. In my spare time, I exercise, cook for my family, practice my violin and bass, learn Logic Pro, watch old comedy movies and do house projects. I also try and contact old friends.
What did you learn from observing your grandfather practice medicine that helps you in your current position?
To be more accepting of differing cultures and beliefs, which may have alternative healing methods.
In what ways does playing in a band add to your quality of life?
Being in a band gives me a sense of wellness and balance. It takes me out of the medical world and gives me the ability to play music with some amazing people.
What is it like being married someone who's also a radiologist?
It's great. We're always sharing information and consulting with one another.
How do you describe gypsy-jazz violin?
Spirited and community-based music that can be challenging to learn, but ultimately very rewarding to play. It is a unique jazz sound consisting of improvised American swing music with the powerful gypsy jazz drive.
What instrument do you play in the Renovators Band? 
I'm the bass player. We play good old rock 'n' roll cover songs. Sadly, all of our gigs scheduled for the summer were canceled.
Where is your favorite area to mountain bike?
Annadel
What message do you have for the public during this difficult time?
I'm honored to be selected as a hero in this magazine. In reality, there are many heroes out there who equally deserve more attention and appreciation than me. If you can, stop for a minute and tell these people how much you appreciate them.
To donate PPE to Rael's cause, contact him at jesserael@mac.com.