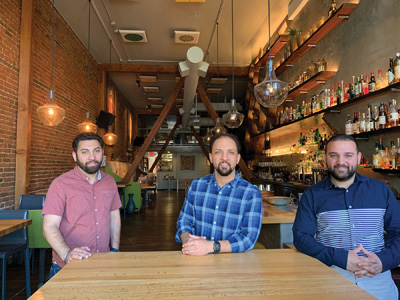 There is something completely intoxicating about Indian food with its mélange of spices and flavors. Over the years, it's become the go-to takeout choice and a comfort food for my family, despite our Midwest roots. So eight weeks into the shelter-in-place order, I was talking with proprietor Sonu Chandi and mentioned my passion for the cuisine and he said they'd be opening Bollywood Bar & Clay Oven in downtown Santa Rosa for takeout and delivery, and invited me to stop by for a trial run before officially opened for business. And just like that, the world suddenly seemed a little brighter early one evening, in the midst of a pandemic, when I arrived for a carryout order in mid-May with my mask in place, observing social distancing etiquette.
Indian food has a lot of soul, and it's usually a revelation when people try it for the first time. My youngest son, Davis, was introduced to chicken tikka masala when he was 10, and after that, he was hooked. When we'd order takeout, he had a habit of leaning over his plate to draw in the aromatic mix of spices before diving in with a fork, and when he finished, I'd look away, pretending not to see when he licked the plate clean (yes, like a dog), because honestly, if I was 10, I might've joined him with gusto. His older brother, Daniel, then 12, was also a great fan of the dish, but later moved on to other entrees during his teen years, such as lamb rogan josh, chana masala and mushroom matar.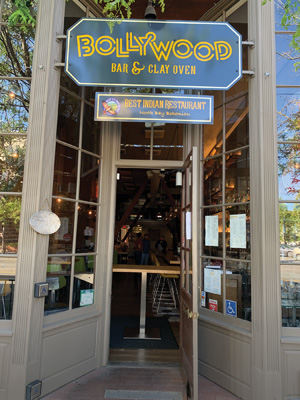 I've never had the opportunity to write twice about a restaurant in this column. In October last year, I wrote about my dine-in experience here, but unprecedented times call for novel approaches these days. So if you haven't tried Bollywood yet, it's my pleasure to introduce you to some of my favorite dishes and the restaurant's new dining-to-go menu, celebrating the flavors of India. Or, as co-proprietor and general manager Sunny Chandi describes it, "Indian food with a modern twist."
For starters or snacks, I highly recommend the crispy cauliflower, served with paneer, a signature dish at Bollywood, which can be ordered vegan-style, sans the paneer (a curd-like cheese). Other great starters include the yellowfin tuna behl, puffed rice mixed with tamarind chutney and cilantro; the rock shrimp aloo tikka, a concoction of shrimp, ginger, garlic, green onion and cilantro, fried potato-cake style; or the vadouvan lamb chops seared with a crust, thanks to a rich, savory paste of shallots, garlic, cinnamon and cloves.
Bollywood's takeout menu includes a variety of spirited beverage choices, as well as non-alcoholic options such as chai tea and lassi (a sweet, yogurt-based drink). But if you're looking for a cocktail-to-go, my personal favorite is the Bardoli Buck, a garden in a glass, made with vodka, bitters and ginger beer, which is bold, tasty and refreshing. Served in a Mason jar, there's plenty for two.
For families new to the cuisine and looking for adventure, try the family meal and introduce your kids to the flavors of India. It includes large orders of two entrees—chicken tikka masala and palak panner. The chicken tikka is made with chunks of roasted marinated chicken in a rich, spice curry sauce that is creamy and delicious and a great dish to try for first-timers. The palak paneer is a vegetarian dish. When translated it literally means palak (spinach) and paneer (cheese). With a spinach-tomato base and a range of spices, turmeric, ginger and coriander, this is so delicious that you'd never guess it's a power food, providing all sorts of nourishing goodness in each bite. The family meal includes rice, two orders of naan (plain and garlic), and two chutneys (the flavor enhancers of Indian food). The family meal serves four to six people and is priced at $77. If you want to try a side, try the charred corn, a crowd-pleaser.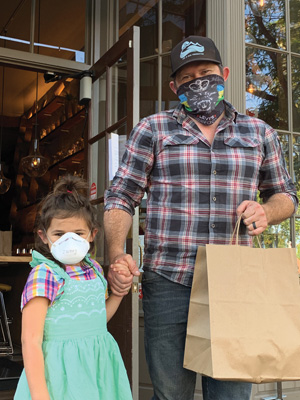 If you prefer to customize your takeout, there are numerous options online with descriptions, such as the turmeric marinated salmon, pan-seared and served in a butternut squash coconut curry sauce; and the lamb kofta, grilled lamb meatballs made with parsley, cashews, cilantro and red pepper.
This summer, as shelter-in-place orders are eased in phases, and the community adjusts to a new normal, remember to support local business. On the way out with my bag of carryout, I encountered father-daughter Chris and June Grabill, who stopped by to pick up mango lassis and chicken tikka masala, which made me smile and remember all those evenings when I took a break from cooking and my two young sons discovered the flavors of India. I'll be back soon when my sons arrive from LA and San Francisco for their annual summertime visit. They've already placed their request for carryout night, and it's Bollywood dinner.