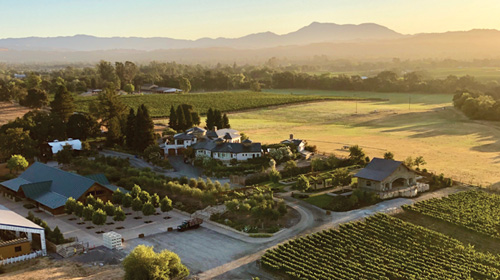 The team at Bricoleur Vineyards created the winery's moniker from the French word bricoleur, which translates to: "One who starts building something with no clear plan, adding bits here and there, cobbling together a whole, while flying by the seat of their pants."
The winery has been busy building for the last five years, but recently, it had to change plans in an instant.
Bricoleur was set to launch its stunning new Winery Barn and food program in April, just as the coronavirus altered life in the U.S. The team's nimble philosophy came in handy, however. During shelter-in-place orders, the winery shifted to virtual wine tastings and showcased its new kitchen and executive chef, Shane McAnelly with its "Quarantine Kitchen" virtual experience. When health restrictions were partially lifted just before Memorial Day weekend, Bricoleur was ready for that, too.
"Over the weekend, we had roughly 200 people," says Mark Hanson, chief executive officer and co-founder. "Most groups were two to six people. Everybody was probably 10 to 15 feet apart."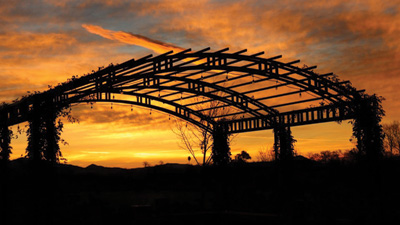 Bricoleur Vineyards could accommodate its guests thanks to its kitchen and expansive outdoor space. Located just outside the Windsor town limits and within the Russian River Valley AVA, Bricoleur has ample seating outside the Winery Barn and has more space at its expansive pavilion. A pond provides another area to sit and sip, as does a bocce ball court and adjacent rose garden. Those areas are far apart from one another, each with its own feeling of seclusion in a beautiful setting.
Hanson, along with co-founders Elizabeth Hanson and Sara Hanson Citron, plan to use their space for more than profit. Ultimately, the winery aims to host large gatherings of more than 100 people for family style, farm-to-table dinners that benefit local charities. "Whether it's the Redwood Empire Food Bank, or the Boys and Girls Club or local schools, wanting to help others, using wine and food, was the impetus for our whole project," says Hanson.
The winery's ultimate goals are in sight. Meanwhile, as the community inches toward a full return of the dine-in, food-and-beverage scene, Bricoleur Vineyards offers complimentary virtual tastings with select purchases. The winery also offers the service with a donation to charity, such as the Nashville Wine Auction, which supports cancer research, and SWFL Children's Charities.
In a Great Tastes first, I sat down, virtually, with Hanson, to taste a flight of four wines, sourced from Bricoleur's estate vineyards on Starr Road in Windsor and at Kick Ranch in the Fountaingrove District AVA.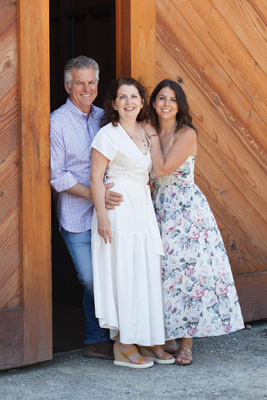 For our first taste, we try Bricoleur Vineyards' 2019 Rosé of Pinot Noir. Made with 100 percent estate-grown Pinot, its light, peach-colored hue invites a sip. After willfully giving in, a graceful texture carries satisfying elements of raspberry, leading to an elegant finish. The winery produced 254 cases of this varietal, guided by winemaker, Cary Gott, who's been in the business for more than 50 years. "He loves coaching or mentoring people at this stage. But he's completely hands-on," says Hanson. "He's working with myself and with Tom Pearson, our assistant winemaker."
Next, I pour a splash of 2018 Sauvignon Blanc. (Pouring my own wine is an adjustment from in-person tastings, but willfully embraced.) This is made with 100 percent Sauvignon Blanc grapes, grown at Kick Ranch. In fact, each wine tasted on this day is comprised entirely of varietal-specific fruit. For the Souvignon Blanc, Gott uses 25 percent neutral French Oak for aging, which is different than the conventional method of using stainless steel, giving the wine a surprising and smooth finish.
For taste No. 3, Hanson and I pour ourselves a sip of 2018 Unoaked Chardonnay. Bricoleur Vineyards allows the pure flavors of its Russian River fruit to be revealed by aging the wine in stainless steel tanks rather than oak, and the result is splendid. For those who don't care for oaked chardonnay, this is an absolute must try. It's easy to spot thanks to its distinctive bottle, with the Bricoleur Vineyards logo adorned in silver on a green label. All of the winery's labels are distinctive, in fact, with different colors on its lettering and design.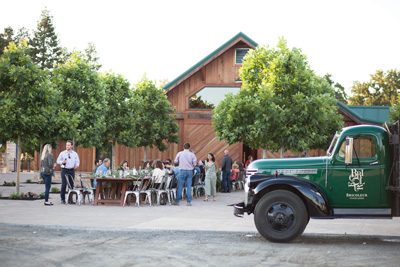 For our last virtual taste, I pour a drink of the winery's 2017 Russian River Valley Pinot Noir. This is a Pinot that lives on the edge. Picked on the last day of August in 2017 due to unseasonably hot weather, this drink appears darker than most Pinots and delivers an intense, deep flavor of stone fruit with broad tannins.
It also delivered critical acclaim, earning a double gold score of 96 at the 2019 Harvest Challenge in Sonoma along with a double gold score of 94 at the American FineWine Competition in Florida. Hanson expects Bricoleur's 2018 vintage to be even better, thanks to ideal weather that year.
There's a lot to be seen and experienced at Bricoleur Vineyards, and it's just getting started. Though they're still flying by the seat of their pants, what's most important isn't lost on Mark, Elizabeth and Sarah. "We like to favor the fruit," Mark says. "So many times people get carried away with oak barrels, and you don't taste the grapes." Their estate-grown fruit produced some refreshing, memorable tastes, and Bricoleur Vineyards has clearly built a winery to watch in the Russian River Valley.
Did you know? In addition to offering food pairing with its wine tasting packages, Bricoleur Vineyards employs an executive chef of note, Shane McAnelly. A veteran of the North Bay dining scene, having established Chalkboard restaurant and The Brass Rabbit in Healdsburg, McAnnelly spearheads Bricoleur's Atelier Bricoleur experience, a seven-course wine and food pairing, featuring local ingredients, including some from the winery's own garden.