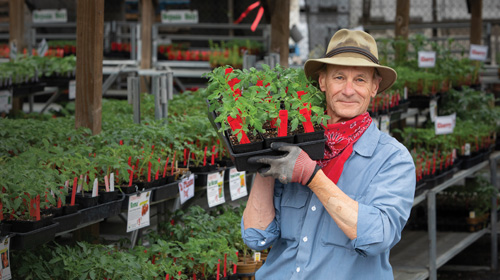 Until recently, shelter-in-place orders throughout the North Bay forced most businesses to close, leaving storefronts empty and the streets nearly bare of traffic. However, some goods were considered essential, including those found at farm supply stores or nurseries. And sales in that sector didn't just continue—they boomed. Seed supply companies began to sell out, and soil and plant starts were snapped up the day they hit shelves. Even still, nursery owners struggle to keep up with an overwhelming demand. What is happening?
The trend is yet another byproduct of the COVID-19 pandemic—a resurgence of the backyard vegetable garden, à la victory garden-style. Historically, victory gardens were planted during wartime to increase food production, in turn preventing food shortages and ensuring troops fighting around the world were well nourished. Governments in the United States, Canada, Australia, Germany and the United Kingdom encouraged citizens to plant victory gardens during World War I and World War II.
The idea worked. During World War I, 5 million victory gardens were planted in the United States, producing $1.2 billion worth of food by the end of the war. It became even more popular during World War II after public awareness campaigns by the U.S. Department of Agriculture. By 1943, 18 million victory gardens were planted in the U.S., producing approximately one-third of the total vegetable yield countrywide.
Despite not being in wartime, nor having our government specifically encouraging victory gardens, the trend has taken off amid a time of uncertainty, job-loss and insecurity. As food supply shortages quickly became apparent and people had more time at home, many turned to what they could control themselves—planting their own food.
Grow your own food
"The focus right now is on edibles—vegetable starts, growing your own vegetables, and growing your own food," says Rick Williams, proprietor of Harmony Farm Supply & Nursery, located in Sebastopol and Petaluma. "We can't keep them in stock. One day we brought in eight, five-foot-wide racks that were full of vegetable starts up to seven tiers high. By the next day they were all gone. The growers weren't ramped up, and we weren't ramped up. We just cannot grow enough veggie starts."
Other nurseries and farm centers experienced the same burst in demand since the shelter-in-place orders took effect.
"There's been a tremendous increase," says Joe Imwalle, owner of Imwalle Gardens in Santa Rosa. "Probably 100 percent or more. Everyone is going berserk. Just like they're buying toilet paper, they're buying vegetable plants. We cannot even keep up with demand. Even the growers I buy from can't keep up. Usually this time of year we have nice tall plants, but right now we can't get them to grow as fast as people want them."
Even seed companies are overwhelmed with demand and experiencing shortages, and stores and nurseries are sometimes waiting several weeks to receive seed orders. "Our sales are through the roof on our website," says Ellyn Mavalwalla, manager at Petaluma Seed Bank, which sells Baker Creek heirloom seeds. "In March we usually see about 2,000 orders per day, but we were well over 4,500 per day [this March]. Now we are easily reaching 10,000 orders per day. We've had to close our website three times since the shelter in place started, to catch up on orders and refill seed packets. There are quite a few varieties that we're out of for the season. The demand for seeds has been unprecedented. It's simply mind-boggling."
Keeping everyone safe
While the seed bank is considered an essential business, it closed to the public on March 18 due to several employees being immune-compromised. They continued with mail orders, and all other orders were referred to the website. Since then, the store developed a weekly prepaid, no contact pickup at their downtown Petaluma store that gets seeds and other items to its customers, while protecting the health of staff, customers and the community.
Protecting both customers and staff has been especially critical and challenging, balancing very high demand, while maintaining social distancing orders. Some retailers simply cannot sell certain items (See "Backyard Chickens are Back" on page xx) due to crowd-control measures; some have to restructure the way they do business. And some are simply doing the best they can, implementing social-distancing protocols. (See "Gardening for a Cause" on page xx.)
"It's challenging for the retailers," explains Williams. "Everyone is doing their best to keep their employees safe. All of the protocols that we have here are to keep employees safe and protected. Anyone coming in from the general public could be a carrier—we don't know." According to Williams, his crew has had to reduce nursery parking and then regulate it to limit the number of people coming in at any one time. And with the increased demand, customers are lining up alongside the road, creating an additional challenge for employees. "We have to do things to protect the public as well."
What's inspiring the trend?
The unprecedented spike in demand for vegetable seeds and starts likely has several factors driving it. One is simply the fact that, with some laid-off, furloughed, or working from home, people have more time on their hands and are finally getting to something they had considered doing, but never had the time to. With less work, less activities, no outside entertainment available and parks closed, gardening is one activity they can do outdoors in the sunshine and be productive to boot.
"People are taking this as an opportunity to do something they may have wanted to do for a while," says Trevor Frampton, owner of Santa Rosa-based Western Farm Center.
"Since more people are working from home, or unfortunately not working at all, they have the time, and gardening is a nice stress relief."
With financial insecurities resulting from the pandemic, money saved by having a backyard garden is another reason to grow food. In addition, having fresh vegetables at the ready can reduce risk of community spread and save time. Gardeners can stock up on non-perishables, eat fresh from their garden and vastly minimize trips to the store.
According to Mavalwalla, customers want to know their food is safe, and with interruptions in the food-supply chain, they're worried about food shortages. "So they turn to gardening for a safe, healthy, controllable food supply," she says. "The pandemic has made a lot of people think carefully about where their food comes from. When you start looking suspiciously at a head of lettuce—who harvested this? Who touched this after harvest? How many people touched this in the grocery store before I got here? Were they wearing gloves and a mask? Can I possibly disinfect it thoroughly? People get a little freaked out. They've seen how interconnected the supply chain is, and what happens when one link gets bent or broken."
Being resourceful
It's during times like these that food—something residents of the U.S. largely take for granted—suddenly enters the forefront of people's consciousness. When incomes are lost and items start disappearing off grocery store shelves, or shoppers are restricted to limited quantities, people start thinking about what they can do to take control of the situation.
"We're now in a time when the unemployment rate is as high as the Great Depression, and we don't know how long that's going to last. When people get fearful about the future, they do what they can to take care of what they need to, so they can have some predictability in their lives," says Williams. "If they go in the grocery store and see the prices going up on food or the lack of food on the shelves—they don't get scared because Americans are problem solvers. They think 'how am I going to solve the problem of hunger I'm going to face in the next several months?' Americans are very resourceful. Not panicking, but resourceful—thinking about the future, thinking about how they're going to take care of their families, being responsible."
As more people start backyard gardens, they will undoubtedly reap the other benefits a vegetable garden holds, including better health, taste and variety in diet. Most heirloom vegetables are virtually non-existent in traditional grocery stores, and can only be grown through seeds or vegetable starts at specialty nurseries, farm centers, and other gardening organizations.
Master gardeners recommend first-time gardeners start with "easy" seeds—those that can either be planted straight in the ground such as squash, beans and melons, or that can just be scattered on the soil with good success, such as some herbs and lettuces. Seeds that must be started early, in seeding trays inside, such as tomatoes, eggplants and peppers can be a bit complex for first timers and may be best purchased as vegetable starts.
"The most important thing for new gardeners to know is this: be patient with yourself as you learn, ask questions when you need to, and just jump right in!" says Mavalwalla. "There are many, many resources available online to help figure out problems, get assistance and ask questions. The best way to learn is by doing, keeping track of what you do and trying again. In the end, Mother Nature is in charge, and we're just along for the ride."