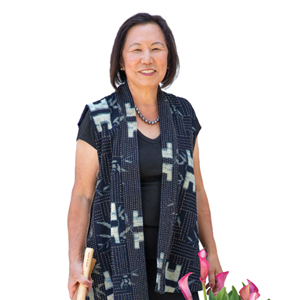 An Oakland-born, Santa Rosa resident, Sakaki is the president at Sonoma State University, a position she's held since 2016. She is a first-generation college student, ultimately earning her Ph.D. at UC Berkeley, and she's the first Japanese-American woman in the U.S. to lead a four-year college or university. She and her husband, noted lobbyist Patrick McCallum, lost their Fountaingrove home in the Tubbs fire and now reside in Bennett Valley. She has two grown sons, one a doctor and the other a teacher, and enjoys spending time with her three grandchildren in addition to cooking, baking, gardening and taking walks with her dog, Grit.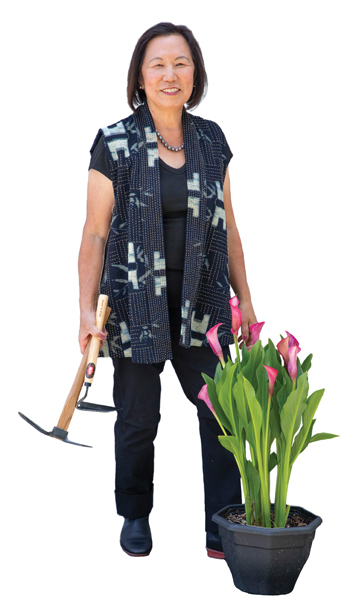 How is pandemic life treating you? What is a typical day like for you now?
Pandemic life is different and sometimes difficult. It takes a different set of skills to lead in these times. I miss interacting with students, faculty and staff. A typical day, since Shelter-in-Place (SIP), involves getting up, having breakfast, taking my dog for a walk and then going into my home office for a day full of Zoom meetings and email.
Where are some of your favorite places to go with Grit?
I love hiking the trails near our home and spending time in and around our garden and yard. I love playing Frisbee with her. Before SIP, Water Bark at Spring Lake was fun.
What's something that amazes you?
The caring community that we have on campus and in our larger Sonoma County community. So many people were kind, considerate and generous to those of us affected by the fires. People that I didn't know brought us clothes and food—when my husband and I had lost our home and virtually everything we owned.
What are a few of your favorite items to cook or bake?
I love cooking Japanese food. Sukiyaki, chawanmushi and udon. They remind me of my mom and grandmothers, and it brings me comfort. Recently, my granddaughter and I made mochi treats.
What sort of music do you like and do you have a preferred streaming service?
I listen to Pandora and enjoy listening to jazz, Motown, Rhythm and Blues, pop and even Disney!
What's your all-time favorite movie? How many times have you seen it?
The Sound of Music. Probably about 10 times. I even went to a screening that was a sing along in San Francisco. That was so fun and funny, too. Some people dressed up as their favorite character.
What's your favorite room in your home? Why?
My favorite is a room that I call my Japanese or Zen room. It has the few things from my parents and grandparents that survived the fire because they were on display in the Sonoma State library at the time. There are taiko drums, Girl's Day dolls, a suitcase that my grandfather used when he immigrated to this country, a barrack sign carved by my dad and items made by my mom when she was in the Internment camps during World War II including a flower pin made from cantaloupe seeds and tiny shells, buttons made from peach seeds. I feel a sense of peace and connection to my ancestors and culture in this room.
What is your favorite part of being a grandmother?
Being a grandmother is pure joy. I love their curiosity, energy and candor. Whether it's taking a walk, looking for lizards, playing a game, baking cookies or sleeping in a tent in the backyard, I absolutely cherish the time with my grandkids.
You're a trailblazer. How often do you reflect upon that?
Not much—I think about always doing my best, making a difference and being a good role model for girls and women, Asian Americans and other people of color. I think about giving back and lifting others so they can reach higher than they imagined possible. I'm grateful for the opportunities I've had. My parents did not have the opportunity to attend college. I never imagined that someone like me could be a university president. I want to encourage others to continue their education, so they can reach their dreams.