Tropical Vacation with Sparkale
Summertime is here, and 21st Amendment Brewery has just the drink to welcome the season, even if you're sheltering-in-place or social distancing. The brewery released its Tropical Sparkale in May, featuring crisp, tart pineapple flavor with delectable apple notes and a sweet coconut finish. It contains 4.2 percent alcohol by volume and is light on gluten, making it even easier to enjoy the refreshing, lively beverage.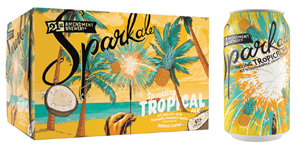 "We've always loved experimenting with fruit in our brews. Tropical Sparkale is our latest adventure. We source premium real fruit from our longtime purveyor partners, and we are excited to offer this new flavor profile," says Shaun O'Sullivan, co-founder and Brewmaster.
Throughout the pandemic, 21st Amendment Brewery has done more than simply provide refreshment. The company stands strong with small businesses, issuing a call to action for commercial lenders to institute a 60-day moratorium on interest payments so those businesses could retain their staff. The brewery also donated beer to St. George Spirits in Alameda for use in hand-sanitizer production.
First Beer Ad Ever!
The first known beer advertisement is 4,000 years old and was written on a Mesopotamian stone tablet, according to anthropologist, Alan D. Eames, who is known as the "Indiana Jones of Beer." In a pitch that is undoubtedly familiar to modern consumers, the ad featured an attractive woman with goblets of beer in each hand and the tagline, "Drink Elba, the beer with the heart of Lion."
Pliny Now Online

Sometimes, having plenty of beer on hand can actually be a problem. When Sonoma County began to shelter in place in mid-March, Russian River Brewery's tanks were full, though it couldn't welcome customers as usual. "We were sitting on a ton of beer," says Natalie Cilurzo, co-owner and president.
The brewery's predicament was the impetus for online sales, something Russian River had not done in 15 years. The move helped the company maintain its cash flow, and since online sales were such a hit, Cilurzo plans to continue the practice for the time being as the county reopens.
Brews available online change weekly, with four to six options to choose from on most occasions, though Pliny the Elder, in bottles, is always available. And just like wholesale beer shipments, only full cases are available, though in some instances, mixed cases with multiple beers are offered. An initial online option, Pliny for President, will be a semi-regular beer at Russian River's pubs and online through November.