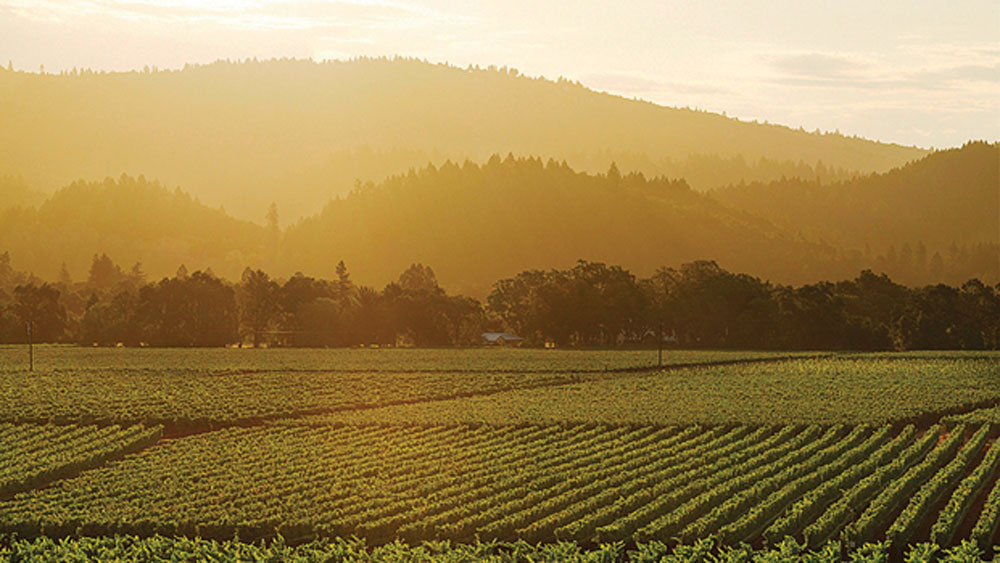 Celebrating its 125th anniversary this year, Larkmead Vineyards is one of the oldest wineries in Napa Valley that you may never have heard of, but it has a rich history, spanning the turn of two centuries. Nestled north of St. Helena in a narrow portion of the valley on a 150-acre estate with 110 acres planted with vineyards, the winery is flanked by the Mayacamas and Vaca mountain ranges.
The story behind Larkmead begins with Dr. Charles M. Hitchcock, who purchased 1,000 acres in Napa Valley in 1873, and later gifted a portion of the property to his daughter, Lillie, who named it Larkmead. "It's a Scottish affectation—a meadow of larks," says master sommelier Jay James, vice president and general manager, adding that the property is still inhabited by the small, ground-dwelling songbirds. Having spent the Civil War years in Paris, Lillie acquired a bohemian lifestyle. She was known to wear slacks and smoke cigars, and Larkmead became a haven for the famous artists, poets and writers of her time, who traveled there by train. Jack London was a guest, and though it's rumored Robert Louis Stevenson also visited, he never made it to the estate, but Lillie once visited him when he camped on Mount Saint Helena.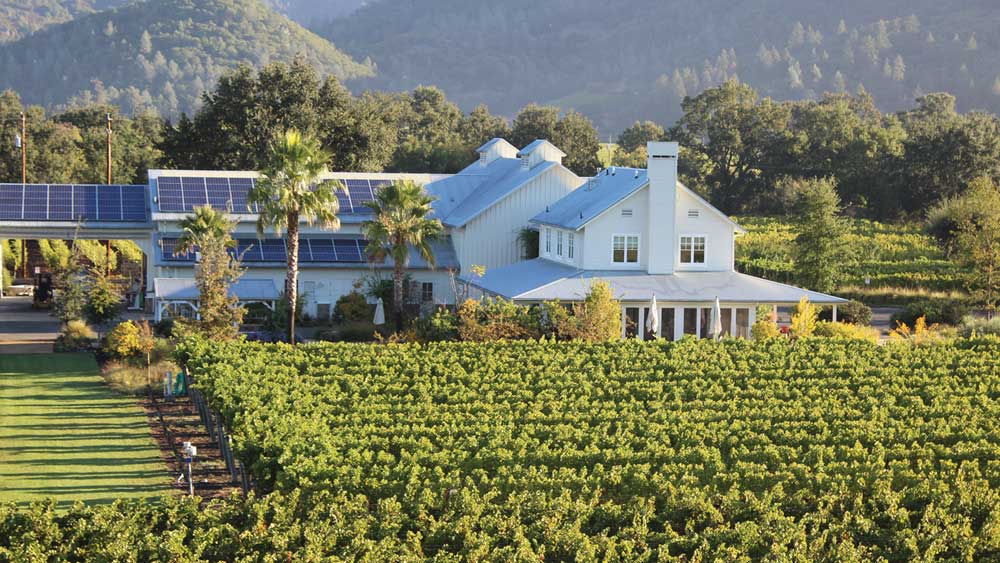 A winery on the property was leased by F. Salmina & Co in 1895, now considered the year of its founding as a family wine estate. By 1915, Larkmead was winning awards at the World Fair in San Francisco. Prohibition brought winemaking to a halt in 1920, but the Salmina family sustained the business by producing sacramental wine. In 1948, Larry and Polly Solari purchased the estate. An Italian immigrant from Tuscany, Larry played a significant role in California's emerging wine industry, and Polly managed the day-to-day farming and finances.
The Solari's daughter, Kate, and her husband, Cam Baker, acquired the vineyard in 1993. "We knew our vineyard produced some of the best fruit in Napa Valley, and we wanted Larkmead to be the great Napa Valley estate that it was destined to be," says Kate, an artist, known for her pastels, using her mother's ledgers as a source of inspiration for a collection of mixed media collages on display at the winery.
A tasting at Larkmead begins with a splash of welcome wine, the 2018 Lillie Sauvignon Blanc, and a tour of the property, courtesy of tasting room manager Daniel Stoch. A bright, fresh wine with aromas of guava, passion fruit and a hint of Meyer lemon, it's an elegant wine with a slight buttery finish.
On a bright, warm summer day, the vineyard is lush and green and though the winery and hospitality center were built recently under the stewardship of Kate and Cam, a walk through the property feels like traveling through time. "It is like stepping through a time portal," says winemaker Dan Petroski, who joins us on the Lark Room porch. In the distance, a jackrabbit relaxes in the shade, twitching its ears, as if to agree before loping away.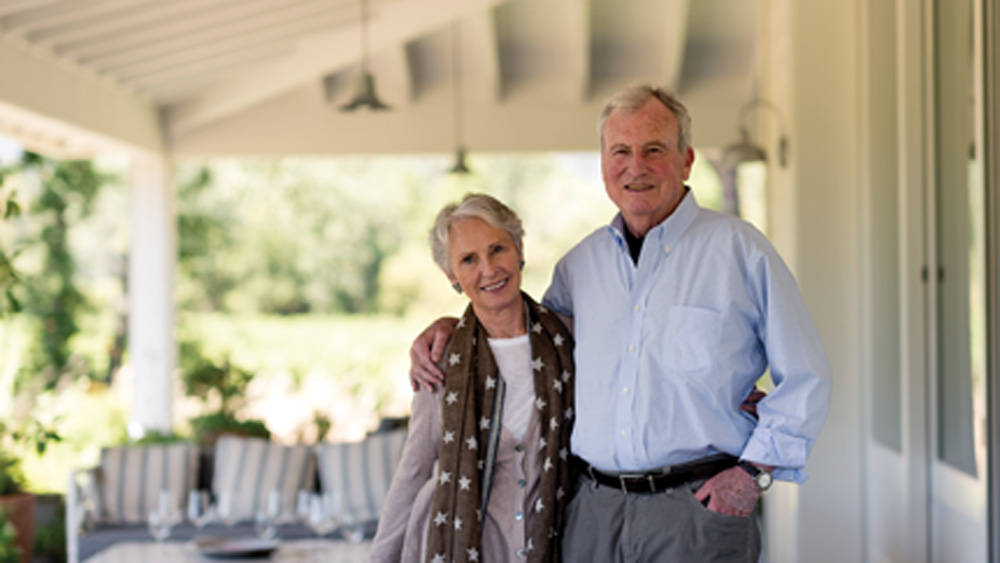 The porch offers sweeping views of the mountain ranges, and the train tracks are still visible from a bygone era. We move to the reds, starting with a pour of the 2017 Firebelle, named for Lillie, a lifelong and passionate supporter of the San Francisco Fire Department. Made with Merlot and Cabernet Sauvignon, this is an intoxicating wine with aromas of dark plum and boysenberry.
Each wine is named after a historical aspect of Larkmead, but what's most remarkable is the soils the vines are grown in. "The beauty of Larkmead is its diversity," says Petroski, named 2017 winemaker of the year in the San Francisco Chronicle. "We have a unique vineyard, based on the soils—gravel, clay and sand. This gives us the opportunity to make wines that exalt the diversity through the flavors and textures each soil provides."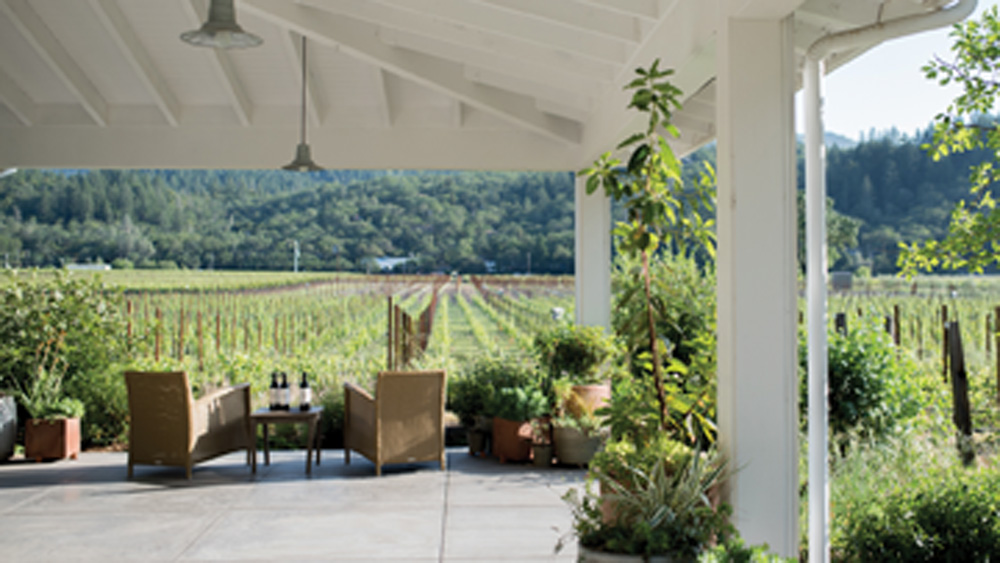 Next, we sample the 2017 Cabernet Sauvignon, one of the winery's favorite bottlings. Accentuated with 10 percent Merlot, the wine is classic Larkmead with aromas of purple flowers and red cherries filling the glass before evolving to reveal notes of plum and tobacco. "It was a warm year, which produced small clusters with small grapes, providing a more concentrated wine, but lifted with Larkmead's characteristic and beautiful powdery texture," says Petroski.
And finally, we sample the 2016 Dr. Olmo, a bold single-vineyard Cabernet Sauvignon, named in honor of the late pioneering viticulturist and professor at the University of California, Davis. An intensely aromatic wine, it has notes of blackberries and dark cherries. This is a wine to enjoy now, but also has the potential to age for three decades in the cellar.
Next time you're in Napa Valley, visit Larkmead, where you can step back into time and discover the timeless and distinctive wines of this historic vineyard.