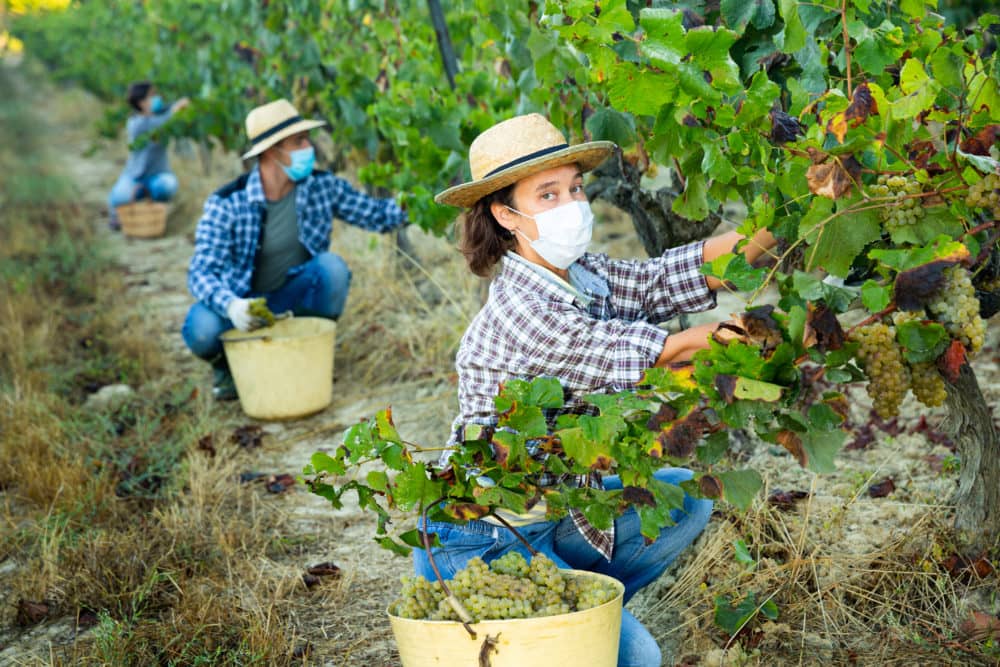 Over my short tenure as publisher, I've been honored with the privilege of writing alongside a cache of talented, experienced writers; they've helped me sculpt my own thoughts, my own phrases and find my voice. I'm rarely (actually, never) the first columnist to turn in his or her work to our editor, Karen Hart, but column ideas and themes have often been easy for me to conjure. For this year's Harvest issue, however, I have struggled to find the words that fit. Expressing my love of this season, the beauty of what we usually see and smell around the grape fields and wineries, and reflecting on the incredible progress our agricultural experts make each year has been overshadowed by fire after fire, the continuation and increasing pressures of the coronavirus pandemic, and the stagnation of our economic engines.
Harvest in the North Bay is typically a season of celebration, with the days getting shorter, the leaves turning vibrant colors and the sight of grapes being ferried by the truckload across our counties. It's the lead-up to our favorite holidays where we look forward to gathering with friends and family to celebrate the bounty of our good fortune. But like so much of 2020, this harvest season is different than any other. Whether due to the Walbridge fire or Glass fire, we've collectively been on either evacuation order or evacuation watch for weeks on end. Those living in Marin County or along coastal properties, while currently spared of any fire, have all had to contend with the smothering smoke, falling ash and specter of feeling that they might be next. As I write this, the North Bay is on Red Flag warning due to hotter-than-average temperatures, low humidity and the threat of Diablo winds.
These are unsettling times, but the business community is adapting as needed. In this issue, guest columnist John Jordan describes how his winery navigated the pandemic within the industry. Jordan rightly believes that necessity is indeed the mother of invention. Like many in his field, John leaned into the problem, instead of shying away from it. The imagination and creativity of John and his team made the difference, pausing to assess all the minefields of COVID-19 and navigating around them. Perhaps like your own experience, John believes his organization will come out of this situation stronger, rather than weaker, and better aligned than divided.
So yes, we carry on. Resilience may seem like an overused word to some in the North Bay, but it truly is the best description of our tight-knit community. This issue reflects the resilient tone of our times. Our story lineup in Harvest 2020captures this very spirit. Contributor Judy Wilson covers how the Sonoma County Harvest Fair reconfigured itself, rather than submit to a full cancellation of the harvest fair festivities. Among the most lasting effects of every fair is its widely respected and regarded wine-and-food tasting competitions. So while the in-person experience had to be canceled, these critical tastings took place to acknowledge the quality and accelerate the success of some of our county's finest wines. The ag community needs this recognition to showcase their products to the world, and we'll take you behind the scenes to show you the innovative way it all came together.
In "Tasting Trends," writer Stephanie Derammelaere shows us how the pandemic has caused vintners across Wine Country to rethink—and reinvent—the way they market their wine and stay in touch with their patrons by offering virtual wine tastings. If this pandemic had shut us down 15 or more years ago, vintners would've been nearly flat-footed. The power of digital communication and distribution has literally saved so many vintners from ruin. It's a new way for wineries to connect, and it's not all bad. In fact, it could be a trend that stays.
Our annual Harvest issue is meant to celebrate the bounty of the season, and you'll find that the people and businesses featured in this issue are tackling this year's many challenges head-on. Can we agree to take a deep breath from time to time, acknowledge the good things we do have in our lives, and let all these exogenous factors take a back seat to all the good we enjoy? That's a tall order, but I can't think of a better strategy for getting through this all. Pray for those less fortunate, hug the ones our health officers have allowed us to hug, and let's make the most of what we've been given.
Please stay in touch. I enjoy every letter I receive at Lawrence@NorthBaybiz.com.