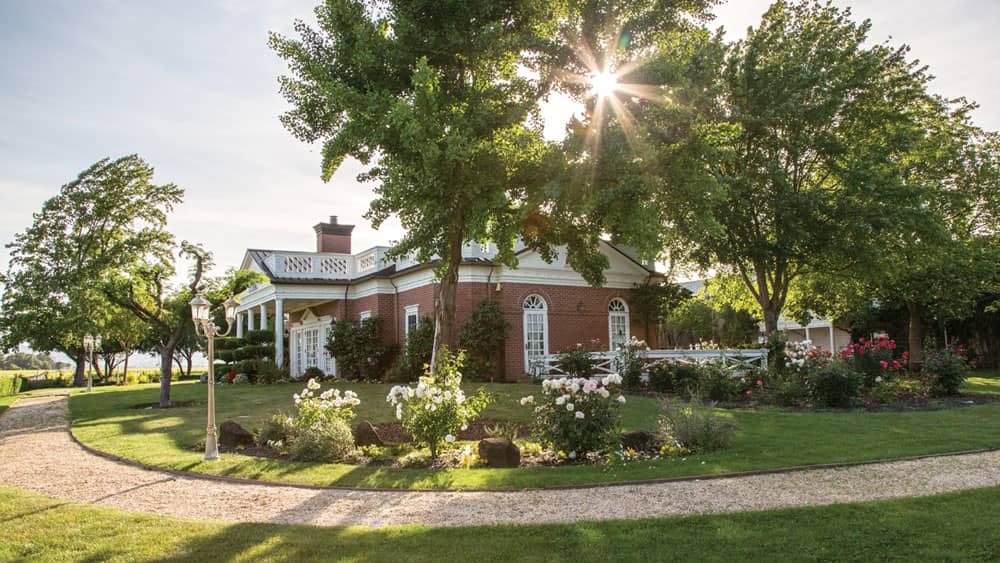 This year marks the 50th anniversary of Monticello Vineyards, located in the Oak Knoll District of the Napa Valley. A third-generation business, the story behind the winery begins nearly 400 years ago when the Corley family arrived in America in 1640 and settled in Virginia. Farming was a way of life for every generation, and in the late 1930s, young Jay Corley spent his summers working on a farm in Southern Illinois with his grandfather. After graduating from Stanford, he moved to Los Angeles and began his career in the insurance industry. He had an entrepreneurial spirit and invested in a number of businesses, but his family's farming legacy was always on his mind.
In 1969, during a visit to Napa Valley, he purchased a prune orchard along the Napa River, but Jay wasn't planning to farm prunes. It was the beginning of the wine movement in Northern California, and he intended to grow winegrapes on what was once a gnarly prune orchard. "It was quite novel at the time," says winemaker Chris Corley, Jay's youngest son. As the story goes, Jay's L.A. friends were taken by surprise and thought this business venture was questionable. It was also groundbreaking since he intended to grow Chardonnay and Pinot Noir in Napa Valley, which was mostly known for producing Cabernet Sauvignon. But Jay saw the potential and had an appreciation for Burgundy-style wines, and the mild, cool climate in the southern part of the valley was just right.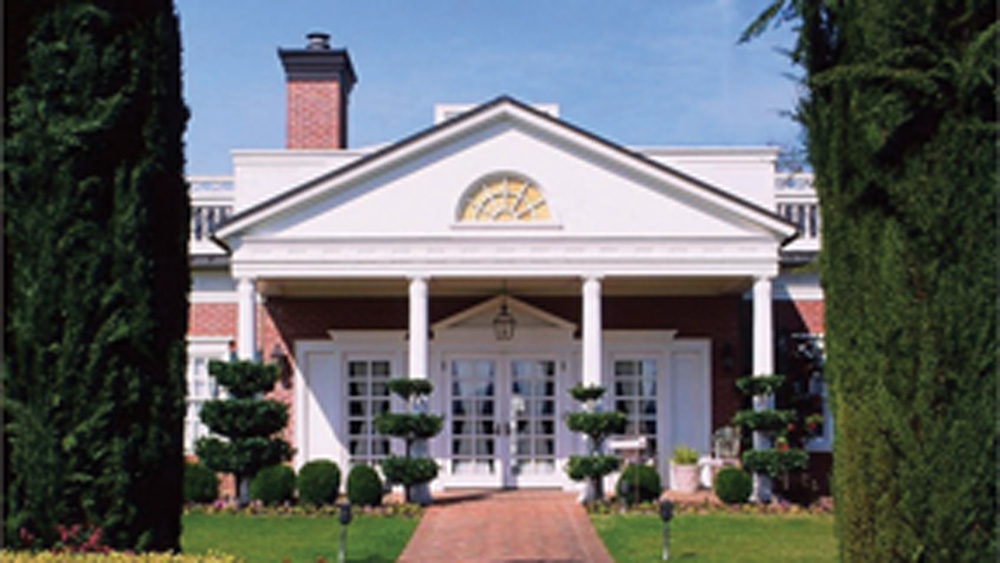 In 1970, Jay began his new business venture as a gentleman farmer, but his passion for working the land took hold. He eventually traded his suit for a pair of jeans and embraced the farming life, and raised seven children, who grew up in the business. "Jay wasn't a farmer by trade, but he learned to be a farmer," says Chris. "He was 38 at the time and had achieved a great deal of success in insurance, but he loved wine, and maybe he wasn't deeply satisfied with his work." After more than a decade of growing and selling his grapes, he built the winery and hospitality center on the property.
Today, the Corleys continue their family legacy. During the pandemic, seated tastings take place in the Monticello garden, and Chris joins me on the back terrace. We begin with the 2018 Corley Chardonnay, Block III | Clone 95. An elegant oaky wine with a silky, voluptuous texture, it's perfect for sipping on a warm autumn day.
Next, we move to the reds and begin with a splash of the 2017 Corley Pinot Noir, Block II | Clone 777, another individual block wine.  On the nose, it offers notes of fresh strawberry and cherry, and a touch of spice. "It's our most balanced wine," says Chris, who plays a piano inside the winery for guests and to relax. He compares winemaking to music. "When you hear a song, you immediately know whether you like it or not," he says. "This is what drives me as a winemaker. This is how we evolve, and that's what appeals to me—knowing what people like," he says. "Winemaking is art." Though he studied viticulture and biology in college, growing up in the family business provided him the opportunity to work side-by-side with each of the winery's first five winemakers, before assuming the mantle in 2001.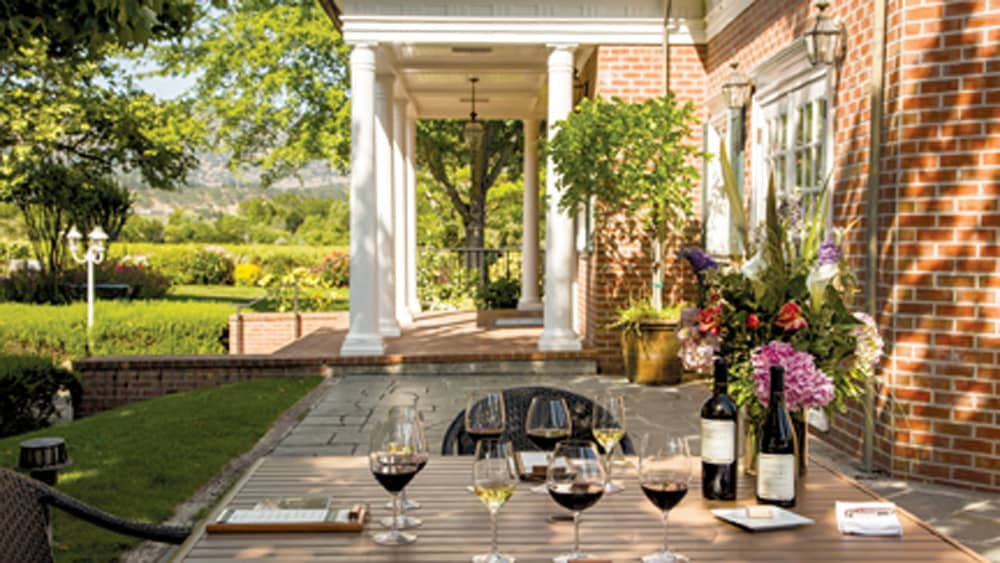 Next, we try a splash of the 2017 Monticello Vineyards Estate Grown Cabernet Franc. "We began growing Cabernet Franc in the mid-'90s. This is the notorious suitcase clone from France," says Chris. "It's firm on the palette with structured tannins." A spicy wine with peppery notes, it has old world flavor.
This is followed by the 2016 Monticello Vineyards Estate Grown Syrah, a mix of two clones. "Syrah is prolific—the shoots grow long and thick and generate a huge crop," says Chris. "The berries are bigger than Cab or Cab Franc, so there's more juice to skin." A dark, full-bodied wine, it offers lush, dark fruit flavors.
Finally, we end with a 2016 Corley Cabernet Sauvignon with fruit sourced from their Knollwood Vineyard. Bold and beautiful, this is the perfect Cab to enjoy with a holiday meal.
Harvesting the fruit from the vines in the midst of a pandemic with wildfires ravaging certain parts of the valley will no doubt go down in Corley family history, as they celebrate 50 years in the business. "What made Dad most proud is that four of the seven kids are in the business and the next generation is getting involved," says Chris. As for the future, the Corley family is focused on the next 50 years. "While many family wineries have passed the reins over to larger wine companies or investment firms," adds Kent, "we plan to keep the business in the family and make world-class wines that embody the spirit of the family and the essence of the land."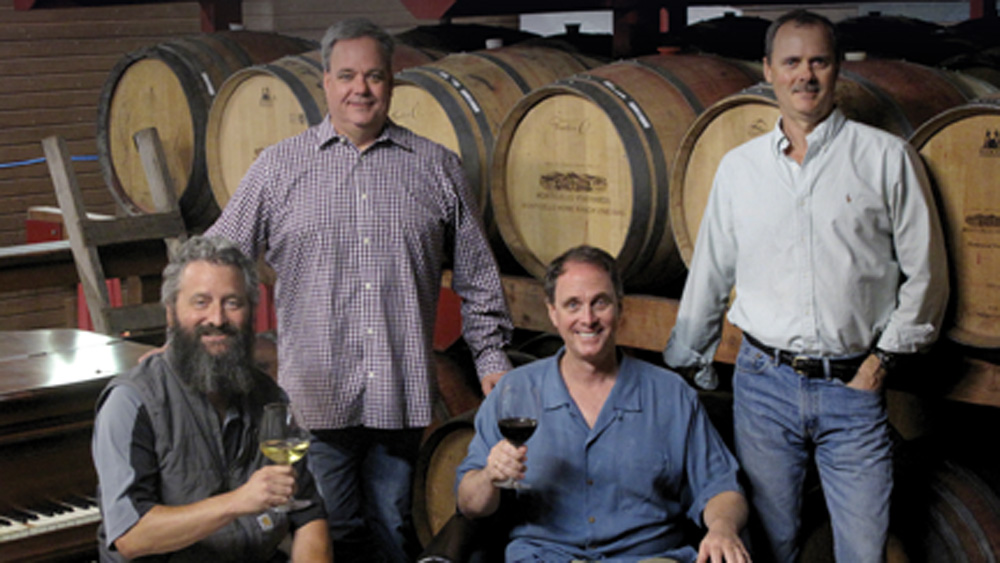 Did You Know? The late Jay Corley is the founder of Monticello Vineyards. In 1980, he began construction of the winery, a state-of-the art facility of its day. By 1984, he completed construction of a hospitality center, inspired by the neoclassical home built by Thomas Jefferson, third president of the United States and also a historic viticulturist. Jefferson's home, Monticello, listed on the U.S. National Register of Historic Places, is located near Charlottesville, Va. "Monticello Vineyards is a place where visitors have come the world over to enjoy wine, food and gracious hospitality," says proprietor Kent Corley. "It's also a place where our families have gathered on holidays and birthdays to celebrate each other and the moment."
At a Glance
4242 Big Ranch Rd.
Napa, Calif. 94558
(707) 253-2802
corleyfamilynapavalley.com
Hours: Open Daily
10 a.m. to 4:30 p.m.
Tasting Fee: $45 Estate Tasting Flight
(Bottles of wine available to enjoy in the garden.)
Wines Offered: 2018 CORLEY Chardonnay, Block III | Clone 95, 2017 CORLEY Pinot Noir, Block II | Clone 777, 2017 Monticello Vineyards Estate Grown Cabernet Franc, 2016 Monticello Vineyards Estate Grown Cabernet Franc, 2016 Monticello Vineyards Estate Grown Syrah, 2016 CORLEY Knollwood Vineyard Cabernet Sauvignon.
Reservations: Required
Call (707) 253-2802, ext. 18
Picnics: Charcuterie Plates Available
Pets: No