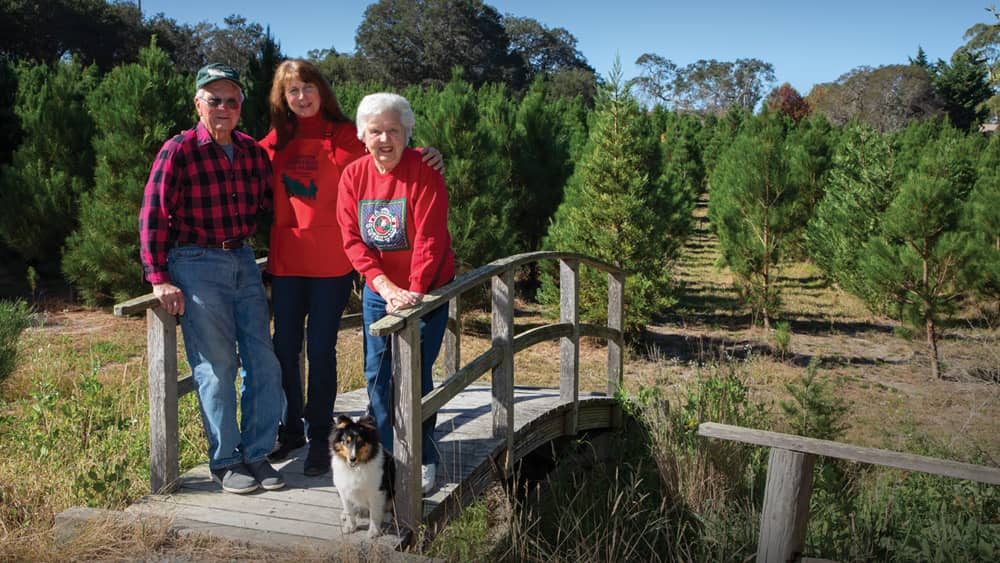 For those who celebrate Christmas, a trip to the country with the whole family and maybe the dog, armed with an axe or saw, to tramp through the woods and bring home the perfect pine tree to grace the living room is the ideal way to celebrate the holiday season. That experience may be easier to encounter in books or movies, but in the North Bay, the tradition is alive. Those looking for a personal experience when they go for their tree can either pick out, or cut down a tree for the holidays at one of the few remaining family-owned farms where tradition is as much a part of the essence of Christmas, as is the beautiful living tree.
Larsen's Christmas Tree Farm
The small, homey feeling of tradition runs deep at Larsen's Christmas Tree Farm in Petaluma. The story behind the tree farm began in 1903 when Hans Larsen arrived in the U.S. from Denmark and traveled west to work in a tiny town in the woods near Reno. Seeing opportunity, he soon moved to Daly City to help rebuild San Francisco after the earthquake.
In 1918, Larsen purchased five acres of land on Marshall Avenue in Petaluma and began raising chickens, like many other farmers in the area. Over the years, he raised thousands of chickens and supported his family by selling eggs.
During the mid-'50s, the egg industry was changing by the time Hans' son, Bob, had taken over the farm. Farmers were bringing in mechanization and more volume and for the small producer, the choice was either get big, or get out. Farmers had to have a narrower margin per egg and that meant a greater volume to compensate for the lower price. The family's acreage didn't support the expansion that was necessary, so Bob found new work. "Dad closed the chicken operation, and worked as a surveyor, a bridge inspector and taught at SRJC. He also started working on the side for our neighbor, Al Andersen, who had Andersen's Christmas Trees," says Lynn Schmitt, Bob's daughter. Al encouraged young Bob, who had four children, to start growing trees. By 1965, the first Larsen's Christmas Trees were ready for sale. The response was immediate and gratifying. "He took us to Disneyland with the profits," recalls Lynn with a laugh.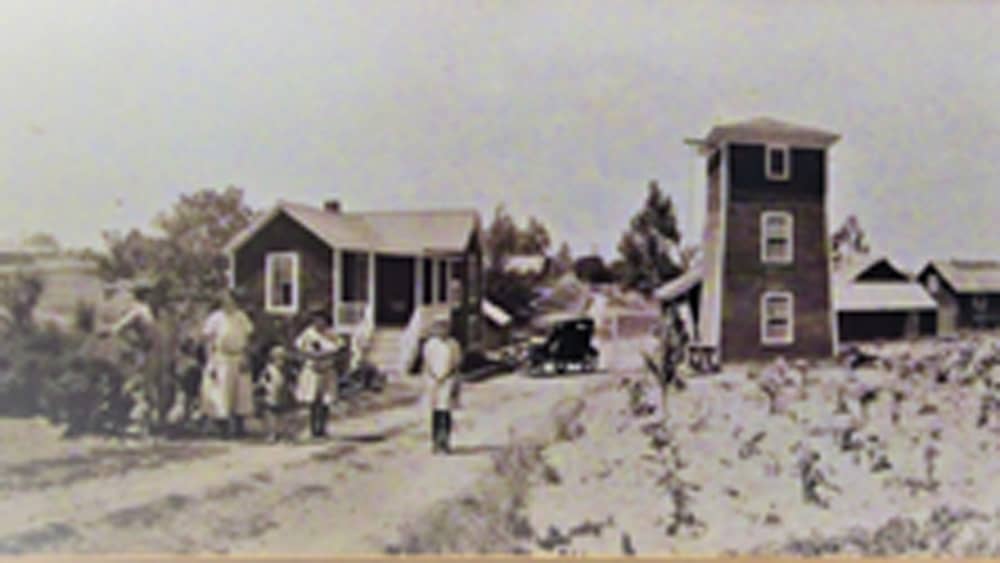 Later, he began farming full time and expanded the business for a number of years, using his own farm and acreage leased from friends in the neighborhood to grow additional trees. He and his wife, Marilyn, grew the business and kept it in the family. By around 2011, when grandson Richard graduated from Oregon State with a degree in horticulture, he took over the original farm from his grandfather, and added additional acreage at the home farm, a gift shop and installed some modern systems, including the website and making it possible for customers to pay with credit.
Today, visitors to the Larsen's farm can enjoy a winding drive through the Petaluma countryside to the original farm, which is rustic, charming and full of soft green trees and rows of towering redwoods seemingly everywhere. The original wood buildings, including the original long, low structure, which housed chickens in the early days, are painted red with white trim and perfectly preserved. The paths through the grounds wind up and down hills, through groups of trees large and small that grow in informal rows in various states of maturity. Small wooden bridges arch over a seasonal creek that flows part of the year and runs through the land, and trees cluster around the bridges with charm. This is the land families can wander through and explore after Thanksgiving to search for their holiday trees.
The farm covers five acres, four of which, plus leased spaces, are devoted to trees. Lynn estimates there are about 5,000 trees of various types from seedlings to mature trees, growing out on the farm. It's still a family operation, and Lynn is on hand to help with this year's harvest and sales. She explains how the farm runs and what Christmas shoppers can find when they come, starting the day after Thanksgiving. This is a favored time, she explains, because the traditional hunting for a tree after Thanksgiving is a great family activity, considered essential by so many. This year, in the midst of a pandemic, she and her helpers will have safety measures in place to help protect their customers from the coronavirus.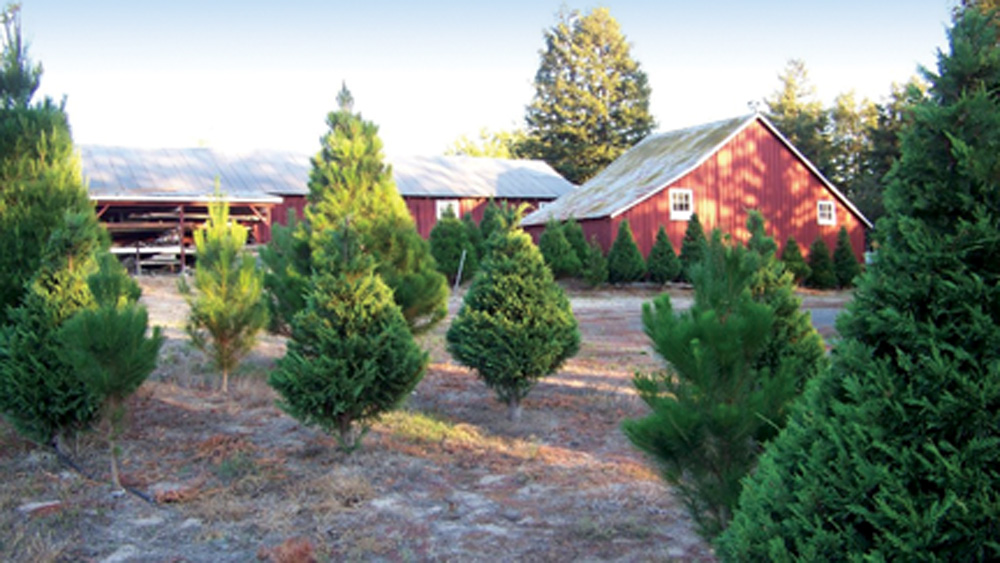 For holiday shoppers who may have never bought a Christmas tree from a farm, there are some things to know. First, the perfect green spruce or fir or pine tree that looks just right for you didn't get that way overnight. There is a lot of time and care that has gone into that tree. This is time and effort that Lynn and her employees have been putting in, and they're familiar with each tree on the farm.
"For the past four years, I've been planting seedlings," says Lynn. "We have to replace each tree that has been harvested. It's always a renewing process. A tree farm is a beneficial way to have your property and contribute." She replants every spring, and on this farm, she irrigates the trees during the warm months. That means Lynn and her helpers have to keep the weeds down and watch for sprouting new branches, pruning and trimming new growth to shape each tree at least twice a year.
"It can be kind of daunting," she says. "You look out over the whole place and realize, 'I've got to prune this not only once, but twice a year to make sure they produce great Christmas trees.'" She also has to reckon with diseases and pests that may occur. "You can't just walk away from a tree farm and expect everything to go perfectly," she says, with the knowing smile of someone with years of experience. Anyone who knows farming—or a farmer—knows that nature can be fickle at times. But says Lynn, "There is something gardeners know that my grandfather knew that my mother passed on to me. She said, 'Plants want to survive.'"
In the five acres around the family home, trees of various kinds such as Monterrey Pine, Douglas Fir, Monterrey and Leland Cypress, and Sierra Redwoods, all grow interspersed among one another and visitors can choose a tree of any size. They also import Noble and Turkish Firs, Silvertips and some Douglas Firs. Lynn lets people know when no more trees grown on the farm are available as not every tree can be sold. "We're trying to keep some for future years," she says.
For the Christmas season, the Larsens provide tools for measuring and cutting down their trees. "People love to come to the farm," says Lynn. "It's their tradition. Some people have been coming for over 30 years. Some even 50 years. They're like old friends." What's more, the Larsens have just about everything on hand for visitors. "We supply the measuring stick and long handle saws and tree carts and twine," says Lynn. "We also have wreaths, tree water stands, preservatives, tree shaking and netting and more, available at the cashier counter."
Her mother, Marilyn, has always been on hand to welcome customers in years past. "My mom just turned 92, and my father used to worry about her, sitting out there all day long, greeting customers. Later, he began to worry if she didn't go out to check receipts at the exit gate." Marilyn's role in the family business has become part of the tradition at the tree farm during the holidays, and friendships have been forged over the years. "So, many have become like old friends. They greet her with a hug, and she loves going out there," says Lynn, adding that her mom often refuses to take a break. "I'm not sure if she'll continue this year due to the coronavirus, but if she does go out, there will be no hugs this year."
They'll also be insisting on the recommended precautions such as wearing face masks and social distancing, and will provide hand-washing stands and hand-sanitizers. "We'll reorganize lines to reduce congestion, disinfect supplies and counters, and have sneeze guards at the cashiers," says Lynn. "Everyone is social distancing and wearing masks at the farm. We don't want our workers or customers to increase their risk. Other than that, we're just trying to keep things normal here.
"We have great people who love coming to help with the farm. I'm very thankful for their help," she says. "They work hard while enjoying the friendly Christmas atmosphere, and they're always eager to assist customers. The goal is to keep this tradition alive, especially with all the hardship that people have endured," she says. "Without care and upkeep, the charm would've been lost," she continues. "We are thankful for the circumstances of this year that have allowed us to have great longtime workers here that care about the farm, to have helpful advice passed down from experienced family members and the ability to serve our customers a healthy dose of the outdoors to start their Christmas season."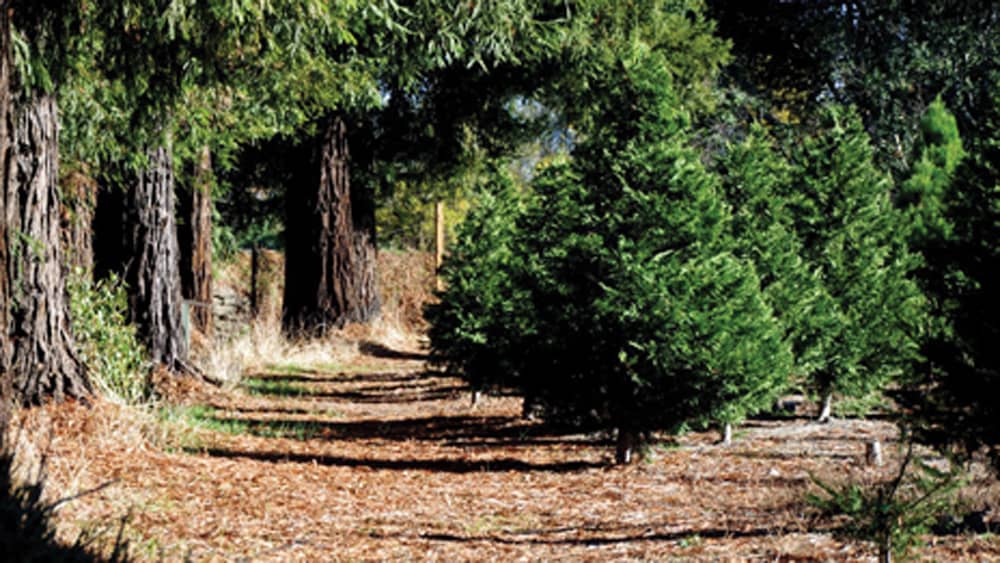 While Larsen's Christmas Tree Farm is about growing and selling beautiful, healthy trees, for Lynn, it's essentially personal. "My goal has been, more than anything, to allow people to come back for their family tradition," she says. "After everything that everyone's been going through this year, they can still come out and have their usual treasured family tradition. That is why the farm is still going."
As the holiday season begins, Bob, who remains involved in the family business, offers this tip for tree shoppers. "When you bring your tree home," he says, "be sure to regularly water it."
Pronzini Christmas Tree Farm
Some people are tasked with finding a tree for an entire community. This is the challenge for Maggie Warner, director of liturgy and music, at Saint Ignatius Catholic Church in San Francisco. The trees they need every year serve the entire parish, as part of the season's liturgical display, designed to set the tone for prayer and reverence. For this, the Pronzini Christmas Tree Farm, a retail and wholesale business, with 2 million trees growing in Oregon, are ready and able to answer any needs, large or small.
While many customers have been visiting for generations, Saint Ignatius discovered Pronzini farm by accident. About seven years ago, the person who usually handled buying Christmas decorations for the parish had left, Warner recalls. There was a mild panic, and someone found Pronzini Christmas Tree Farm online after an Internet search. "They came and completely saved Christmas," says Warner, and they continue delivering trees for the holiday year after year. "They set up. They build custom stands for all of the trees. They always bring trees that look fantastic." They provide all the extras as well—bows, bells, boughs—whatever the design calls for. They have all sizes of trees—ranging from moderate-size trees that fit a family living room to colossal trees that look majestic in a church or large community building. With a wide variety of species, the shapes vary too. Warner loves the "incredible" silver-tipped spruces that run close to 20 feet. "They're just beautiful," she says.
Buying from Pronzini is special, she says. "I love that they're a family-owned business, easy to work with and every time I speak with them, they know what they're doing. They love the trees and have such an appreciation of the beauty of these organic materials…that they're bringing and sharing with everyone. They're outstanding." For the parish, the purchase of trees is more than a decorating activity. "We love supporting a local business and supporting the legacy of caring for trees, caring for the land and the customers that Pronzini has."
The tradition is part of the magic of the season for many people. Visiting the same farm, year after year, and getting the tree that is just right for them, is an essential part of the magic of the season. Once the habit is instilled, people don't seem to stray from that familiar path back to the farm for a tree. For Chuck Podesta, long-time Bay Area resident, Christmas is a big celebration both on Christmas Eve and on Christmas morning for those who couldn't make it the night before. His Christmas tree is a major feature for the celebration. Podesta has purchased his tree at Pronzini's every year since they opened in 1972. "Over the years, we became friends," he says. He would take the whole family, which now includes his wife, two sons and three grandchildren. "I used to get monster trees, but now that I'm getting older. It's a little hard to use the scaffolding to decorate my tree," says Podesta, who is 88. So, he's scaled back. Now he gets the 8-foot trees.
His tradition may not have changed over the years, but he says the process is easier now, for the farmer, the seller and the customer. "Years ago, before they got into putting them in netting," Podesta laughs, "they used to have the trees in the big bins and I used to go out and go through the bins to pick out trees. And I was selling trees for Jon [Pronzini], while I was picking them out." The thing that keeps him coming back is not only the quality of the trees, but also the friendships. "Pronzinis treat you like family out there," he says. "They're very patient with people."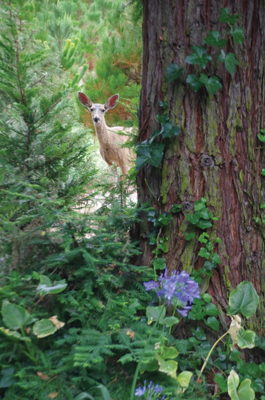 Whether large or small, the family Christmas tree is an enduring tradition. "When my husband and I first married, we used to go with a group of friends and cut down our tree," says Diana Britting, of San Rafael. "It was an entire day's event. It was about being together, and the camaraderie." As our families grew, and kids went off to school, getting everyone together became more complicated and Diana and her family gravitated to the Pronzini Christmas tree lot. "We would take the kids, and cousins, then the kids with the grandkids," she says, adding that the Pronzinis had become friends. "I went to school with Carla. So that was my time to chat with her." Like many people, her tradition is to hunt for the tree the day after Thanksgiving when often there are family members still around.
Getting a tree is a trip in itself and a family adventure. "We make a day if it. We get up early, my husband and I, and anyone who's [visiting] with us." They all participate in picking out the tree. "Everybody has an opinion. The trees are really beautiful, and they last." An important quality for a Christmas tree is the freshness, which results from the care not just in raising the tree, in the fields up in Oregon, but in harvesting and shipment. "They're fresh!" She puts up her tree the day after Thanksgiving and keeps it up into January. "[By] January 12th, my tree is still up and healthy."
For Diana and her family, like so many others, the holiday season now begins with going to the tree lot and picking out the Christmas tree. "It's like going to visit family. They're warm and helpful to everybody," says Britting. "They just make it fun. I love Christmas. I love the music. It isn't about shopping, but more about how it brings us together as a family. We've kind of put gift exchanges on the back burner, limiting them to the grandchildren and for stocking stuffers. It's more about having the tree—how it smells in the house, it makes me feel I haven't lost the holidays. Even if all the kids can't be here, and we can't all be together—because of the pandemic this year—when I open the front door and smell that tree, it's still Christmas. We can still Zoom. We can still wish them a Merry Christmas, and tell them how much we love them."