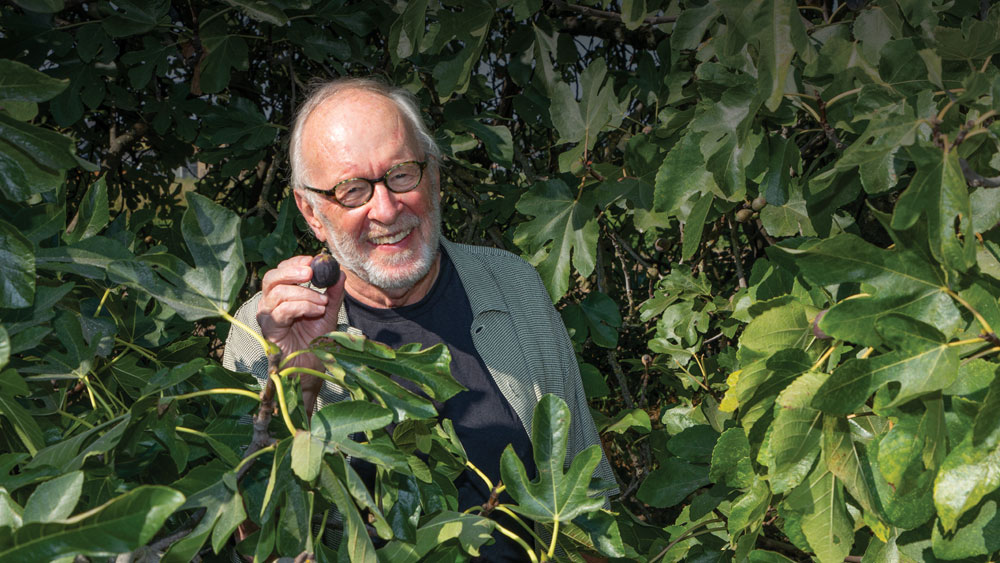 When they aren't working hard in restaurant kitchens, Wine Country chefs are developing new recipes, conducting virtual cooking classes and keeping their home pantries stocked with their versions of essentials. Three widely-known North Bay chefs share their thoughts about eating well and pairing good food with good wine, offer favorite recipes, and give home chefs a few tips for cooking like a pro.
Chef John Ash
During one of his trips to Sonoma County in the early 1970s, John Ash, then a San Francisco resident, was treated to dinner by a winemaker friend, who said he was taking him to the best restaurant around. "At that time there were no great restaurants in the county, and the place he took me served canned vegetables––in the middle of summer," says Ash. "It hit me that I could be a big fish in a small pond."
Sonoma reminded him of the countryside of France both in terms of its ecology and its availability of fine ingredients. He eventually opened a combination wine shop-restaurant in Montgomery Village, a unique strategy for its time in 1980. The first John Ash & Company went on to receive national acclaim for offering a fine dining experience with a menu of seasonal, locally-sourced ingredients and an emphasis on pairing wine and food, a novel concept at the time. Over the years, he has written five cookbooks, including From the Earth to the Table, which won a Julia Child Cookbook of the Year Award from the International Association of Culinary Professionals, as well as two James Beard awards for "Cooking One on One" and "Culinary Birds."
Not bad for a kid raised by his grandparents on a cattle ranch in Colorado, and who didn't attend culinary school. "We were just poor mountain folk, but we didn't realize it at the time," says Ash.
"My grandparents made use of everything they had, including a big garden. I'd help my grandmother cook to feed the ranch hands. It was magical to watch her and learn from her. She was a great intuitive cook, using a wood stove. It was literally farm-to-table cooking. I didn't realize until much later that she planted the seed in my mind about cooking as an art form."
After leaving Colorado and earning a degree in fine arts, Ash traveled to Europe and took cooking classes in Paris and London. Though he'd planned to pursue a career in fine arts, he realized he wasn't destined to paint canvases. He settled in San Francisco, where he took a job developing new food products for Del Monte. Then the draw of Sonoma County called him north, and over the years, he's became known as the father of wine country cuisine.
Several years ago Ash stepped away from the restaurant that still bears his name, but he continues to write, develop new recipes and stays active with his weekly radio show on KSRO, which airs on Saturdays from 11 a.m. to noon. "The recipes I create now are a lot less 'cheffy' than before, but flavor is still the most important attribute," he says. "James Beard said the secret to good cooking is wonderful ingredients prepared simply. And growing your own food, as many people have been doing lately, instills an understanding of where food comes from, where and how it is grown, raised, packaged and transported. It's a mantra that I've pursued for many years—something I call 'ethical food.'"
What's his advice for home cooks? "Don't get too carried away with complicated recipes," he says. "Have a good pantry. There are some things you should always have on hand without question––good canned tomatoes, dried beans and lentils, dry pasta, rice, herbs (both fresh and dried) and canned stocks, which are perfectly fine to use. You can throw together something delicious pretty quickly from the pantry."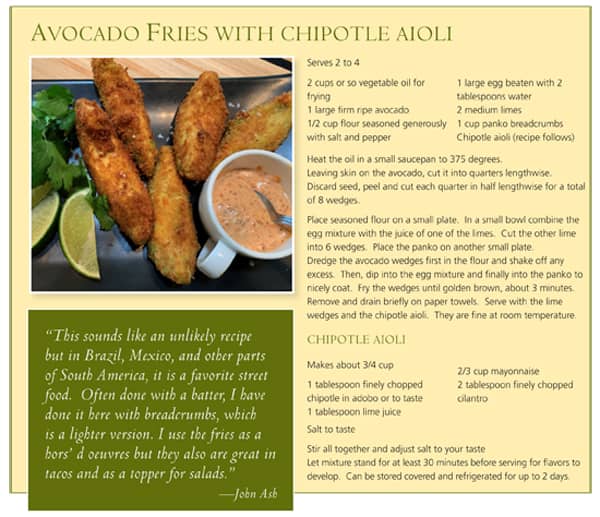 Chef Charlie Palmer
Though Charlie Palmer may be proprietor of 15 restaurants and bars across America, he's best known around the North Bay as the owner of Charlie Palmer Steak in Napa and Dry Creek Kitchen in Healdsburg. "And hopefully, when we come out of this pandemic and can go back to 'normal' again, we'll still have 15 bars and restaurants," he says.
Palmer attended the Culinary Institute of America (CIA) and worked in restaurant kitchens in France before opening Aureole restaurant in Manhattan in 1988. He moved his family to Healdsburg 15 years ago and started Dry Creek Kitchen. On a recent August day at his Healdsburg home, he had just finished baking bread, something he does nearly every morning while staying home and not traveling. "I have a levain starter that supposedly came from France. The story goes that someone smuggled it out of Paris and brought it to California, then someone on my staff ended up with a bit of it. I can't guarantee the authenticity of that," he says with a chuckle.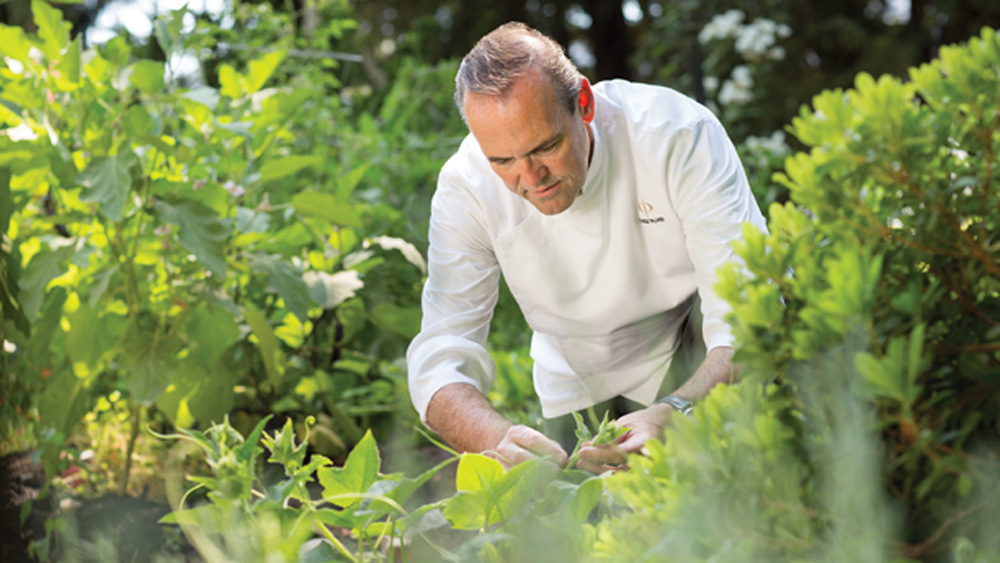 With four new business projects in development, Palmer is hard at work designing restaurant kitchens. He also conducts virtual cooking classes for charity and cooking demos for corporate clients, creating new recipes and putting together a digital cookbook. (He has five other cookbooks available in print.) He is also hosting a weekly online cooking series, Two Cooks in the Kitchen, on Thursdays at 1 p.m. PT (4 p.m. EST) via Instagram Live, which will feature Palmer as well as a rotating lineup of award-winning and emerging chefs for an exchange of culinary favorites and traditions.
Despite a busy schedule, Palmer always finds time to discuss the relationship of food to wine, and particularly pork to Pinot Noir. "People always talk about magical pairings, but I don't think it happens a lot. When you do have that perfect dish with the perfect wine, it's almost magical." Case in point, he says, is the upfront acidity of Pinot as the perfect foil for the fattiness of pork. "There's the saltiness of cured pork like salumi and ham, and smoked-cured bacon, and then the backmouth feel of luscious Pinot fruit as a partner."
Most wines, he adds, are versatile with food, though he says buttery, oaky Chardonnays can be too overpowering in pairings. "Some people pick their wine based on the dish they order, but I approach it the other way around. The wine is in the bottle already and is not going to change, but in the kitchen I can tweak any dish with a bit of this and that so that it works well with a specific wine."
Between all his online pursuits and running his large company, Charlie Palmer Collective, Palmer is also keeping tabs on what's ready to be harvested in his two large home gardens. "I've always had gardens, but this year they are on steroids," he laughs. "For instance, I'm growing six types of radishes and 12 different greens."
What makes a well-stocked pantry in Palmer's opinion? "Well, nobody needs three kinds of curry, but you do need basic dry spices and herbs, such as basil, paprika, oregano and thyme. Then add good canned Italian tomatoes, good olive oils and even jars of marinated artichokes, which can be used in a lot of different ways."
As the grape harvest got underway in August, Palmer was hearing good buzz from the vineyards. "In all conversations I've had with growers, the Pinot looks like it will be a great vintage. One grower told me he thinks this year's Pinot might be the best in 15 years."

Chef Dustin Valette
The proprietor and executive chef at Valette restaurant in Healdsburg, Dustin Valette, wants home cooks to make it easy on themselves and wash fewer dishes, as well. One of Valette's own "chef tricks," as he calls them, is to use just one pot to make a great meal.
"I love to keep it simple. For roasting chicken, I put pearl onions, baby potatoes and young carrots on the bottom of the roasting pan, then place the whole chicken on top and roast it all in one. Not only do the aromatics infuse the chicken, but all the drippings mix with the vegetables and create an intoxicating harmony of flavors."
Valette graduated from the CIA in New York, and has many years of experience in prestigious restaurant kitchens in the greater Bay Area, including Thomas Keller's Bouchon in Napa Valley and Charlie Palmer's Dry Creek Kitchen. The high acclaim led him to open his own restaurant in Healdsburg in 2015.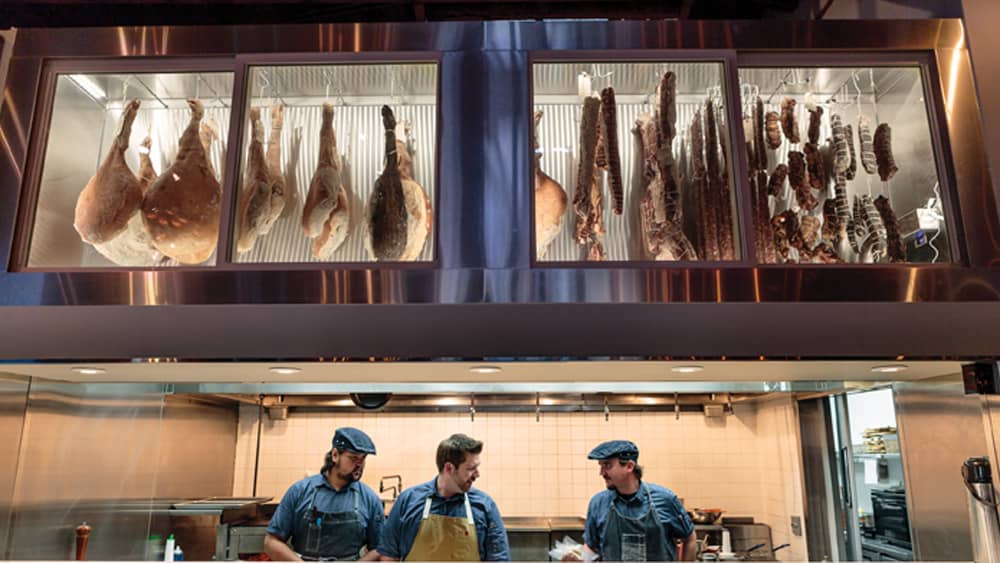 For Valette, a well-stocked pantry starts with a great extra virgin olive oil, sea salt, a peppermill and espelette pepper, a mildly hot variety that's found in better grocery stores. "Add to that all the essential raw staples needed for cooking: onions, garlic, potatoes, spices, canned tomatoes and olive oils," he says. "Keep bottles of wine around for adding acid to many dishes, an important ingredient that can make many recipes really pop. Mingle these ingredients with fresh herbs and produce and you can pull together simple, delicious and nutritious dishes."
In particular, he says, red wine works well for braising instead of using chicken broth. Another trick, he says, is to add a little acid to soups. "Just squeeze a bit of lemon juice into the soup. It brightens your palate, and you don't need as much salt for flavor."
White or red? People still harbor some stigmas about pairing food and wine, says Valette. "You really can have a white wine with red meat, for instance, such as duck breast infused with coriander, roasted peaches and Marcona almonds. It's terrific with a Viognier or Chardonnay."

Chef it up
With more people cooking at home these days—and as we head into the year-end holidays—it's a great time to take stock of what's in your pantry and make the most of the remaining, bountiful fresh vegetables still available for purchase in the last weeks of the fall harvest. The recipes shared here by chefs Ash, Palmer and Valette are excellent choices for tasty autumn brunches and dinners.