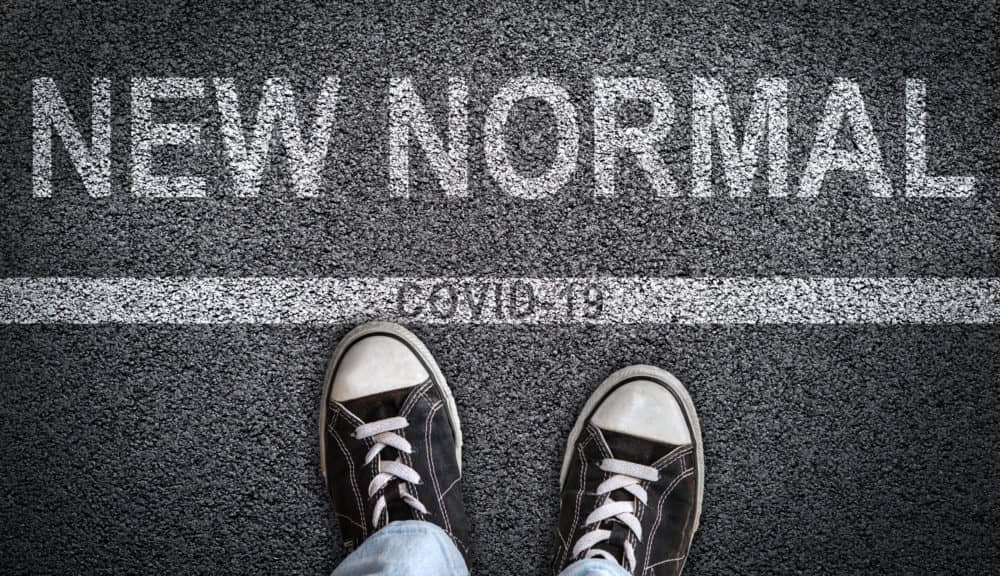 Life is full of catchphrases and clichés, that as a writer, you are never supposed to use, for fear of being accused of taking the easy way out. (See how I just did that?) But ever since the pandemic hit, I can't help but to think, that all bets are off and rules should be damned. (See how I did that again?). Because, as the old adage goes, desperate times call for…I am guessing you know how that one goes, too.
I will blame this abuse of the written word on my need to connect with neighbors across the street and over fence posts in a socially-distanced world. Yet as soon as I lean on one of these verbal crutches to fill awkward air space, I regret it. Not because my high school English teacher would be appalled by my misuse of the English language, but because in one year's time, such utterances no longer apply. With each, "How's it going?" Or, "How are you?" I curse myself the minute the words fly out, because truth be told (sorry), who really wants the reminder of how dire our days have become? Especially in Napa County, where the year has been derailed not only by a pandemic, but by public safety shutoffs, evacuations and wildfires.
Two of the newer clichés to infiltrate the airwaves are especially inflammatory in my opinion, the "new normal," and "we're all in this together." True, and true, but I would argue that such words do little to make anyone feel better about living through 2020. Perhaps the worst offender of them all is, business as usual, because like it or not, business is anything but usual.
Linsey Gallagher, president and CEO of Visit Napa Valley, has spoken about the "layers of crisis" the hospitality industry faced with widespread hits to tourism in 2020. The group reported that at the onset of the pandemic, hotel occupancy had dipped to record lows of 12 percent. Yet month by month, the industry inched forward. Just weeks prior to the onset of wildfire season, occupancy had climbed as high as 50 percent. Unfortunately, that progress was hobbled when the Hennessey and Glass fires struck homes and businesses, stalling commercial operations. The reality that harvest and wildfire season have become synonymous with one another presents a new set of marketing challenges. Napa County businesses, which once relied on a revenue surge in the fall have been called upon to counter fears of a smoke-tainted Napa Valley, with new campaigns aimed at allaying concerns and driving year-round tourism.
In October, Napa Valley Grapegrowers, Wine Growers of Napa County and Napa Valley Vintners appealed to the Board of Supervisors, asking it to take action in assisting wineries that
have been hurt by the pandemic and wildfires. The collective cited potential losses sing to the tune of $1 billion dollars, as reported in a MarketWatch article. They wrote in a letter to the board, "The overlapping disasters of COVID-19 and the fires threaten the economic viability of our agriculturally-based economy." Some of the organizations' recovery requests include the easing of tasting room regulations (for those impacted by wildfires), fast-tracking of rebuilding permits and waived or discounted fees for such permitting.
Another group of nine Napa Valley vintners, known as Coalition Napa Valley, also appealed to the Board of Supervisors, to enact "emergency" relief measures to lift appointment-only requirements and extend tasting room hours to 7.p.m. through 2023.
Bob Dylan once crooned, The Times They Are A-Changin', yet those words of promise do not make pandemic times any more palatable for a scribe, whose goal is to put timeless words out into the world. This conceit no longer feels possible as the pandemic wages on. Each month, since the onset of the pandemic, I have submitted a column to my superstar editor, only to have it returned for rewrites due to changing tides, that to Dylan's credit are indeed changing—every second of every day. When I began this column in October, Napa County had beat the odds, and advanced from the red danger zone to the orange tier in the state's Blue Print for a Safer Economy. Tasting rooms opened indoors, capacity limitations for restaurants, fitness centers, and movie theaters improved to 50 percent, thus enabling the county to continue its hare-like crawl toward normalcy. But as the old saying goes, nothing last forever. Four weeks later, Napa County fell back, not one, but two tiers, to Purple. Out went our fleeting days of indoor dining and tasting rooms, fitness centers, and non-essential businesses, thus actualizing my premise that, the "business as usual" adage, should cease to exist, until further notice.
So, as I sit, armed and ready to boot 2020 to the curb, all I can offer to you, my loyal readers, is hope in the new year. May it be better than the last, and a promise, to never again use and abusee clichés, within these Napa Insider pages. 2020—out.