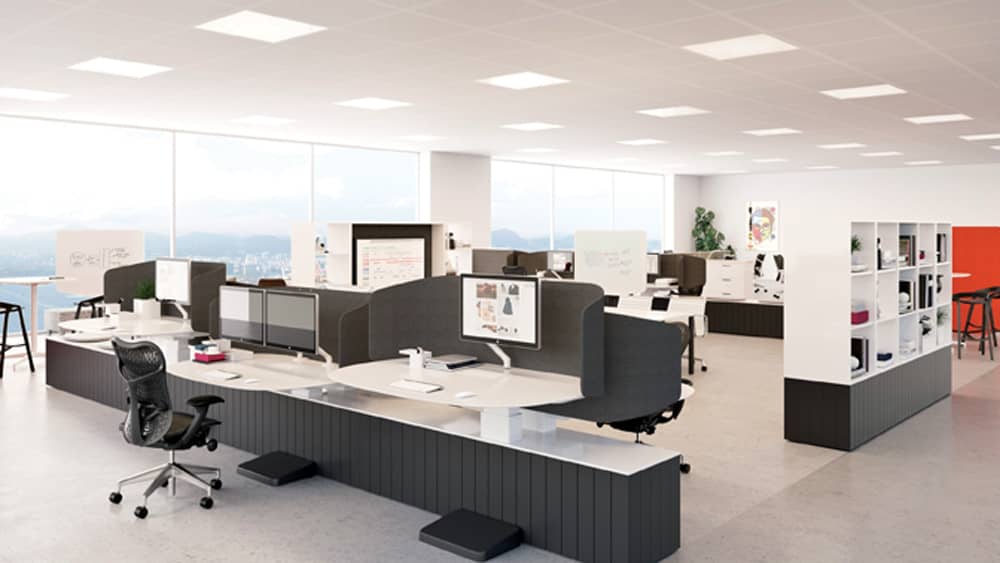 Once again, Trope Group struck gold, as it was voted best office equipment supplier in the region by readers of NorthBay biz. Back-to-back winners, the company improved on its best quality with its commitment to customer service, especially during the crisis surrounding the COVID-19 pandemic.
The company creates workspaces for North Bay businesses. The office furniture supplier focuses on grand ideas like floor plans to smaller design choices like types of lighting, with an excellent team of designers, project coordinators, an installation crew and a very special head of corporate security; a furry, four-legged canine friend named Khaleesi.
Forty years ago, Bettie Trope founded BB&T, a Herman Miller dealership in the North Bay, with two other partners. Two decades later, she sold the company to OP Contract of San Francisco and retired. Her retirement with her husband in the Virgin Islands lasted less than three years before she flew back to Santa Rosa to take over the business again after the new ownership group went out of business. With a brand-new leadership team, Trope Group was born.
Bettie would retire again four years later after creating a business that would sustain itself with strong leadership in place.
Today, with a smaller team in place, its more singular approach to customer service becomes an unrivaled and unparalleled skill Trope Group possesses. "Trope Group is clearly committed to customer service and performing to a very high standard. It is a pleasure to be treated the way I hope that I am treating my customers. I am very pleased," says Matthew Connorton of Fairweather & Associates, according to a testimonial on the company's website. Many other companies share Connorton's impressions of Trope Group, including Airport Business Center and Graton Resort & Casino.
"Always the best part of my job [is] working on projects with Trope," says to Gus Ulloth, dispatch supervisor for the city of Napa in another website testimonial.
Earlier this year, when businesses closed in response to the pandemic, Trope Group's showroom also closed and installation services were suspended. They are still working with clients remotely on projects that were suspended indefinitely due to the coronavirus and future projects other businesses are planning to pursue.
Trope Group has faced adversity before working in the North Bay. In 2017, during the Tubbs fire, they helped Keysight Technologies bounce back from the damage their headquarters took. Keysight is a global company that could have used any company for its disaster repair, but decided a local supplier fit them best — one that is dedicated to customer service like no other. A company that represents the best there is in the North Bay.
"Our community has experienced hard times before and has proven that we are stronger together," Trope Group President Christina Pratt wrote on the company's website. "Trope Group will be here for you and your business on the other side of this. We are committed to bringing you and your business continued partnership and service. Together we are stronger; together we will endure."