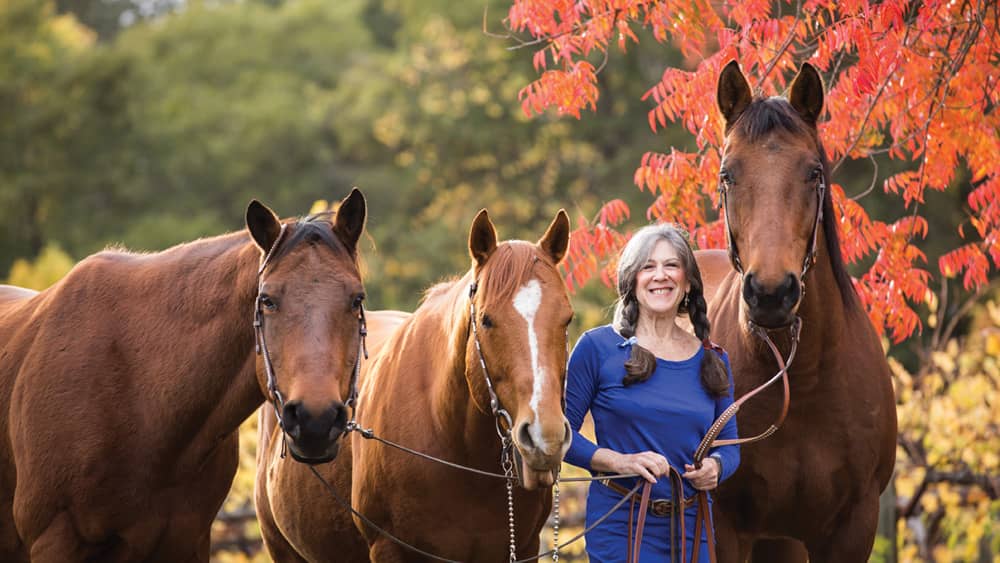 "Ready for Whatever" is the mantra of The HALTER Project. The Glen Ellen-based program is all about awareness and being prepared. It's about saving pets, equines, livestock and ourselves. Rampant wildfires have become the norm in California. More than 4 million acres of land burned in the state in 2020, making that the worst year on record. Names like Atlas Peak, Tubbs, Nuns, Kincade and Glass, and scenes of homes ablaze are forever etched in our minds. There will be more. And residents need to be ready. HALTER can help with that.
The beginning
The dynamic Julie Atwood founded The HALTER Project in 2013. "It wasn't a matter of would we experience a natural disaster, it was when," Atwood says. "Most residents didn't have a plan for themselves, much less their animals. When catastrophes happen, first responders are stretched. We can help them by being better prepared to help ourselves." Atwood's when proved to be prophetic. With climate change, natural disasters are happening everywhere. HALTER has grown from an early local focus to one with an international following.
The test
Atwood and her rancher-husband, Tom, live on a 70-acre property in Glen Ellen. Twenty acres is planted in Cabernet Sauvignon grapes, the rest is woodland, riparian and grazed pasture. There's a small lake and a stand of Ponderosa Pines, one of the few places in California where that pine species grows at a low elevation.
The Atwood Ranch borders Nuns Canyon Road, the ignition point of the 2017 Nuns fire. On the evening of Oct. 8, HALTER's motto "Ready for Whatever" would be tested. "At around 9:30 p.m., I opened the back door and faced a wall of fire coming down the hill," Atwood says. "There were no warnings and no time to evacuate. We fell back on Plan B— shelter-in-place."
In anticipation of high winds and dry conditions, a Red Flag weather alert had been issued the day before by the National Weather Service. The Atwoods had moved their animals into corrals in lower pastures. Now battling gusts of 60 to 70 mph, Tom, Julie and a ranch hand scrambled. "In seven minutes, we moved six horses, a mule, goats and our dogs and cats into the covered, steel arena," she says. "That became our safe refuge." The Atwoods saved their animals, ranch families and themselves because they had more than one plan. As for their house, the fire came to the entry, and stopped. "I can't take credit for that," Atwood says. "We were lucky."
Helping others
Wildfires threatened Truett-Hurst Winery in Healdsburg on several occasions. "Our animals are a delight for visitors and an important part of our commitment to biodynamic farming," says Tory Crowder, director of marketing and sales.
"During late fall and winter, the sheep mow the fields and grape rows, eating cover crops and depositing fertilizer in the process." In 2019, the Kincade fire posed a threat. Winery staff and two volunteers gathered to relocate the animals. With few options, they planned to take them to the Sonoma County Fairgrounds. "I was worried," says Crowder. "The seven Nigerian dwarf goat babies needed to be separated and required special care. Atwood, having heard about our plight, called." The next morning, HALTER transported the winery's animals to Atwood Ranch where they remained for 10 days. "Following that incident, Atwood helped me put together an evacuation plan. In August, when the Walbridge fire posed a threat, we were ready. Atwood advised us to gather the animals in the barn and wet it down. At 4 the next morning, she and her team came and took the animals to her ranch. Atwood, her team and HALTER are amazing. I urge all those with pets and farm animals to have a plan, know where you're going to go, and leave prior to the disruption of a mandatory evacuation," says Crowder.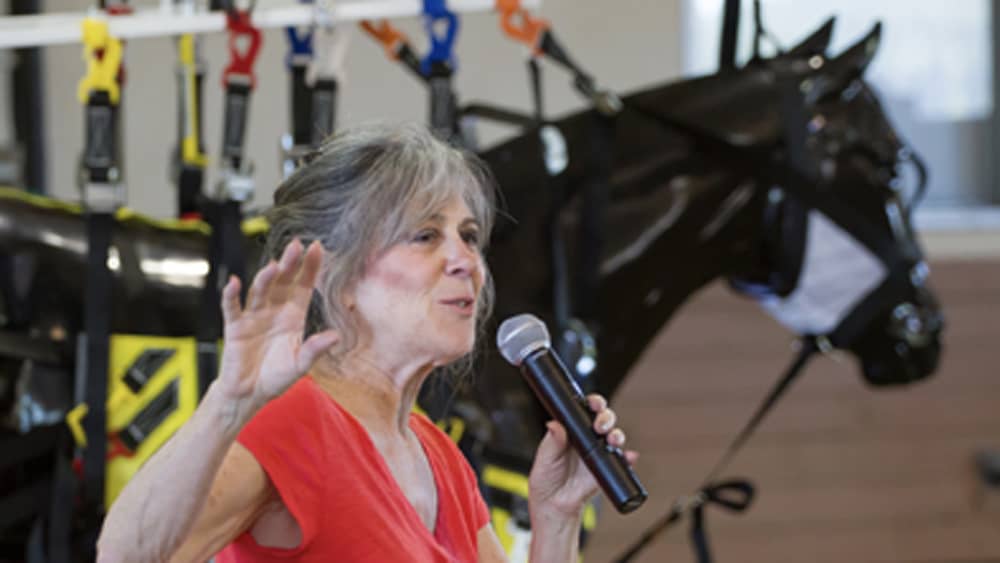 Jan Wilmore lives on a one-acre parcel in Rincon Valley. "I love miniature donkeys and wanted a pair to keep the grass in the pasture low as a fire defense. This year, for my 65th birthday, my husband surprised me with Hula and her baby, Lulu." Without a trailer, Wilmore worried about getting the donkeys out in a wildfire.
She heard Atwood speak on KSRO and contacted her. Atwood came and helped Wilmore with a plan. "When we got the evacuation warning in September, Atwood texted that she and her husband were on their way. It was dark. The Glass fire was moving fast. Sirens blared and wireless emergency warnings blasted on all our cellphones simultaneously. Donkeys have sensitive ears. It was chaos," Wilmore says. "I was rattled. Atwood stayed calm through it all. They got Hula and Lulu in the trailer and out of harm's way. I don't know what we would have done without HALTER and the Atwoods."
Training
The HALTER Project sponsors Animal Technical Rescue (ATR) training for first responders, veterinarians and volunteers involved in animal disaster response. Training is provided by instructor Gary Johnson, his company ResQFAST. Johnson is a Sonoma County native and second-generation firefighter. He has more than 22 years of experience working with fire departments in Northern California. Currently, he's a fire captain with the Sonoma Valley Fire District. "In 2018, California's ATR instructors moved out of the state and no one was left to teach the training," Johnson says. "To fill the void I formed ResQFAST. Since then we've trained over 800 people. HALTER does some of the marketing, helps with funding and scholarships, and the state provides the curriculum. In addition to ATR, we offer a range of other animal, fire and safety courses."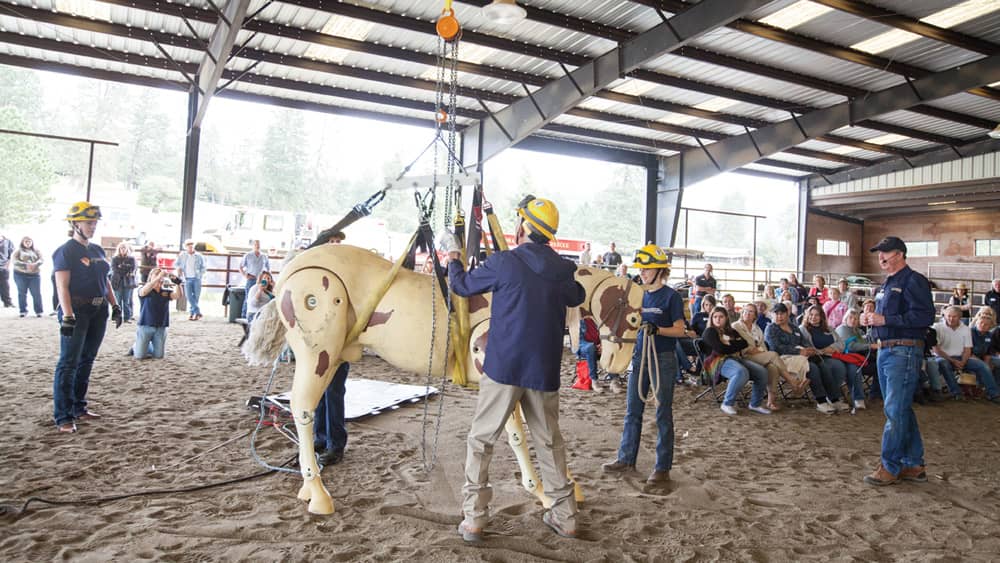 Most of the three-day ATR certification courses are held at Atwood Ranch. The focus is on saving animals that weigh more than 70 pounds. Two 900-pound articulated horse mannequins and a life size, fiberglass horse dubbed "Sonoma Smarty" dominate the Atwood arena.
Twenty-seven firefighters (roughly half of Sonoma Valley Fire Department's line staff) are ATR certified. HALTER donated a trailer, fitted with special equipment for their use. "Its state-of-the-art," Johnson says. "The only one like it in Northern California." Equipment includes a mud lance to loosen mud around a stuck animal. Using water or air, the lance overcomes the suction and enables the animal to be pulled free and safely rescued. There's also a telescopic steel tripod that extends up to 24 feet. It's rigged with ropes and pulleys, the same type used by zoos to lift elephants.
"Our ATR training and special equipment came in handy when we got a call from a woman in Glen Ellen," Johnson says. "She was leading her horse to the barn and accidently dropped the rope attached to the halter. The horse spooked, bolted up the hill and fell through the cover of the swimming pool. We got him out, scared but uninjured."
Veterinarian Teresa Crocker, who is ATR certified, participated in several HALTER trainings. "HALTER sponsored me to take these classes with first responders in August 2017," says Crocker. One was the ATR course taught by Johnson. During training, she was part of a team with search-and-rescue personnel, other veterinarians and first responders. Using the mannequins they performed realistic simulations; strap placement and teamwork are crucial. They also discuss how to deal with mud. "I personally have pulled a lot of horses out of mud and quick sand," she says, adding that training is key to the safety of responders.
She was certified as a rescue technician after completing about six training sessions. Two months later, Crocker personally experienced a wildfire evacuation. She lost her Santa Rosa home on the first night of the Tubbs fire. Fortunately, she, her husband and daughter got out in time, as did her two horses, and for the next three weeks she used her training experience to help other ranchers evacuate. As for Crocker's horses, a ranch owner in Valley Ford offered refuge. Crocker resides there now. She's been joined by 19 horses from Sunrise Horse Rescue & Sanctuary in Calistoga, evacuees from the Glass fire.
Like events throughout the country, HALTER's on-site training has been cancelled during the pandemic. ResQFAST conducts classes via Zoom on a range of rescue, safety and preparedness topics. HALTER's website offers a series of training videos on "Equine Handling for Firefighters and First Responders," as well as information on a wide variety of courses in response and rescue.
HALTER offers scholarships for qualified students involved in animal rescue and response. (Those interested in specific courses can apply by sending an email to rescue@halterfund.org.)
Community Animal Response Teams
The Community Animal Response Team (CART) concept developed across the country as a response to the increase in natural disasters.
On witnessing the Lake County fire's destruction in 2015, Claudia Sonder, DVM, feared something similar could happen in Napa County. A CART has to be integrated with a county's emergency plan, so Sonder contacted Napa's Emergency Operations Center. "They were very supportive. They helped make Napa CART happen," she says. "Now we have 100 trained volunteers on call, and countless others ready to help. Many of our volunteers received training sponsored by HALTER."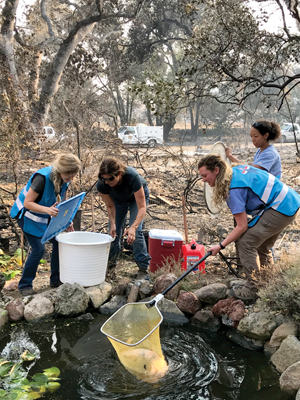 After only a week off working the LNU Lightening Complex fire, Sonder received an early morning call from the Napa Sheriff. Deputies tracking the Glass fire sensed many animals would need to be evacuated. "I put out the alert," Sonder says, "The most skilled of our volunteers headed for the Deer Park staging area with their trailers. Others manned the shelter at the Napa Valley Horseman Association property. The Atwoods drove over to help." The world of animal rescue is a small one. Atwood and Sonder have shared similar missions for years. The Glass fire moved fast. Residents couldn't find their pets, or relocate farm animals in time. For two weeks Napa CART provided field care, food and water, to the stranded animals until owners were allowed back in. "Our amazing volunteers worked tirelessly. They cared for over 100 animals at the shelter, and over 800, mostly cats and chickens, in the field," Sonder says. "Cats are perceptive. They see owners rushing around packing. They know something's up and hide." For more information on Napa CART and volunteer opportunities, visit napacart.org.
Preparedness
An impetus for founding The HALTER Project unfolded when Atwood began asking friends and neighbors about their preparedness for wildfires or floods. "Most times the response was a shrug," Atwood says. "Yet when I asked how they planned to save their animals, they paid attention. People bond with their animals, large and small. I knew animals were the hook to convince people, and motivate them to be prepared."
Atwood dipped into her skills in event planning, design and marketing to capture attention and raise awareness of the staid topic of disaster preparedness. She hosted signature events bringing flair to the otherwise staid topic of disaster preparedness. She was in the vanguard. These days, preparedness is paramount on everyone's mind.
Having a ready kit ready at the door is de riguer for those living in areas prone to floods, earthquakes and wildfires. The HALTER Project website offers a resource library of information for animal evacuation—dogs and cats, horses, birds, fish and reptiles. And there's a reservoir of resources on evacuation planning, in both English and Spanish, to help people create their animal disaster plan. "Having a plan is key," says Atwood. "Know where you are going to go ahead of time, and how your animals are going to get there."
Livestock
Ranching is a significant contributor to Sonoma County revenues. According to the Agriculture Commission 2019 Crop Report, there are 32,600 cattle, 58,625 sheep 1,800 hogs and more than 2 million poultry in the county. Livestock and poultry products contribute more than $180 million to the local economy. "The HALTER Project and CARTs are pioneers in their focus on ranching and family farm preparedness and livestock evacuations. Five years ago no one was talking about the reality of a fire season," says Andrew Smith, agricultural commissioner, Sonoma County Department of Agriculture. "Now it's a priority topic among ag practitioners throughout California." Early on, HALTER provided materials and sponsored trainings for the agriculture sector and organized a series of Fire Preparedness and Ranch Readiness events.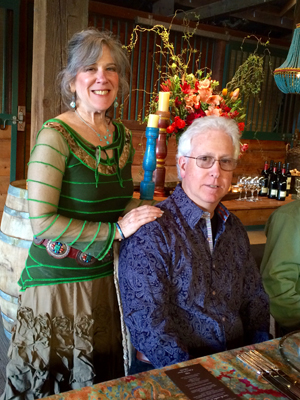 In 2017, the Agriculture Department launched its Agricultural Access Verification Program for crop producers and included ranchers. Farmers and ranchers complete an access verification form for commercial operation verification. This provides for the opportunity to access their properties following a declared emergency, including areas that may be subject to mandatory evacuation. It allows them to take care of activities that are critical or essential to the success of their businesses and livelihoods. "The county agriculture department is working with other county departments and agencies such as the supervisorial district staff, Sonoma County Animal Services, UC Cooperative Extension, the Sheriffs Office and the Office of Emergency Management to ensure we have a support structure in place for livestock operators in times of need," Smith says. "It's about being proactive in farm planning, and preparing for what has become a reality in fire and flood seasons along California's North Coast. Ideally, we would like to be prepared ahead of time and build a program that works for livestock and crop producers alike."
Rancher Atwood says, "North Bay commercial livestock producers not only have an economic stake in their herds and flocks and the land, there are strong emotional ties, too. The industry is composed of legacy, heritage ranchers and breeders, where animal welfare is a priority and essential to sustaining business."
Community Awareness
Since 2014, The HALTER Project has sponsored an annual Home & Ranch Readiness Day. "The first year the event was held at our ranch. I expected 75 participants. 150 showed up!" Atwood says. "The next year's event had to be cancelled as responders were battling the Valley fire in Middleton." Based on early successes, HALTER expanded to a three-day, family-friendly, free to the public, Readiness Summit at the Santa Rosa Fairgrounds.
Captain Cindy Machado, director of animal services, Marin Humane and one of the participants, hosted an animal disaster preparedness booth and spoke on a panel. "There were many hands-on workshops, vendors, training for first responders, animal handlers, pet owners, veterinary professionals and learning opportunities for everyone. Hundreds attended. It was a lot of fun," she says. This year, the Readiness Summit is virtual and currently on the HALTER website. There are videos of presentations. John Madigan, DVM and professor emeritus, University of California, Davis, school of veterinary medicine's talk is titled "Fur, Feathers and Fins: No Animal Left Behind."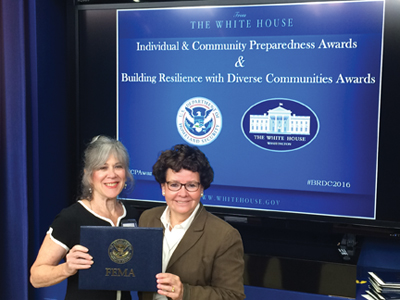 Many consider Madigan to be the "father of animal rescue." He was instrumental in having the topic included in UC Davis Veterinary School's curriculum. He also formed the Veterinary Emergency Response Team (VERT), a volunteer training program for UC Davis vet students. "In the 2018 fires we worked with Sonoma CART. We rescued and took in 77 animals over a 3-week period—a dog, a goose, two chickens, two llamas, 25 cats and 33 koi. The fish rescue was an interesting exercise," Madigan says. "A crew at a disaster site in Sonoma County came across a pond in the backyard of a home whose owners had fled. Several koi floated on the surface, others gasped for air. We knew if we left them, they'd all perish." VERT purchased plastic containers and concocted an air bubbler hose powered by the truck's cigarette lighter. "No one expected them to survive the trip to the UC Davis aquatic center. Amazingly, they did. Eventually they were returned to their grateful owners,"
Another Virtual Summit speaker is Rebecca McCornnico DVM, Louisiana Tech University and active with the Louisiana Technical Disaster Program. "About 70 percent of Americans own one or two pets. There's a strong human/animal bond," she says. "Of the 1,833 Katrina casualties, it's estimated that 44 percent of them perished because they refused to leave their pets. We've learned a lot since to make sure this doesn't happen again."
PETS Act
Prior to 2006, saving animals in a disaster wasn't included in federal, state or municipal
evacuation plans. That changed with Katrina. Approximately 600,000 animals perished in that hurricane. In New Orleans, a 9-year-old boy cried when told he couldn't bring his little white dog, Snowball, on the evacuation bus. Snowball was left behind. The incident caught the attention of the media and the story went viral. It led to Congress enacting the Pets Evacuation and Transportation Standards (PETS) Act. The Act requires states seeking FEMA assistance to have plans for the evacuation of pets and service animals. The PET Act is recognition that saving animals, saves people.
Recognition
In 2016, in a ceremony at the White House, HALTER Project received the Federal Emergency Management Agency (FEMA) Individual and Community Preparedness Award. HALTER was among 11 recipients of the honor out of 160 nationwide organizations and agencies considered. "It's gratifying to have our efforts recognized by the nation's top agency responsible for responding to natural and human-made disasters," Atwood says. "The FEMA award validates all our efforts and hopefully spur the community to further action to protect our area's horses, livestock and pets." HALTER also received FEMA Honorable Mention in the Community Preparedness Champions Award category.
Julie Atwood is a woman on a mission. Through HALTER, she plans to continue her good work, inspiring increased awareness of the importance of the preparedness of animals in emergencies and disasters, as well as developing trained and equipped First Responder and volunteer Large Animal Rescue resources. Take heed of what she has to say. It may save your life and that of your pets, equines and livestock, too.