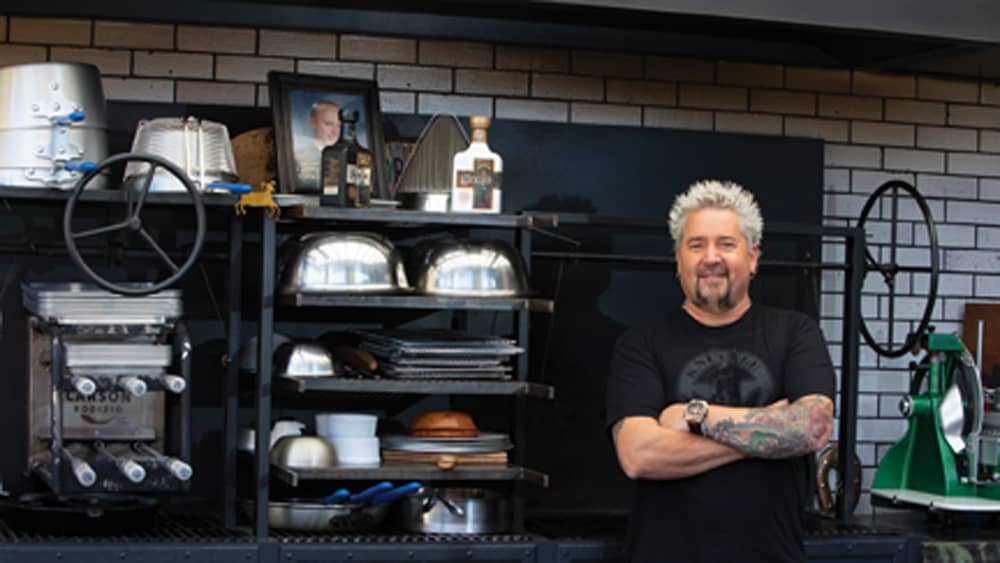 As the Glass fire raged in Napa County last fall, then hopscotched westward into Santa Rosa, the Sonoma County Fairgrounds became base camp for at least 1,500 firefighters who worked the front lines of the multiple blazes. To help feed these first responders, Food Network personality and Windsor resident Guy Fieri rallied his usual band of volunteers and began cooking massive amounts of meatballs and pasta, and chopping salad, at around 6 a.m. on Oct. 3.
The compostable clamshell containers with generous servings of the food inside were soon being scooped up by firefighters. "The whole reason we put this [firefighter] feeding program together is to help reset their clocks," says Fieri, as he watches over the operation and poses for selfies with grateful first responders. "They get their butts kicked out there. These aren't machines; they're human beings. We need to feed their souls. This gives them a break and something different to do before they go back out."
As massive wildfires become more frequent and erratic in the North Bay, saying "thank you" by feeding firefighters and fire victims—not to mention local health-care workers in 2020—has become second nature to Fieri over the past few years. Working out of a 48-foot rolling kitchen, painted in camouflage, and under black tents emblazoned with the logo of Knuckle Sandwich, the name of his corporation, he oversees an assembly line of cooks and helpers who put the meal boxes together, hundreds at a time. Nearby are his wife, Lori, and their two sons, Hunter, 24, and Ryder, 15.
Fieri moves like a gentle general between workstations, stopping to confer with Cal Fire personnel and supervisors to coordinate efforts to reach all the firefighters that day with individual meals. "I'll have another 200 meals ready to go soon for those guys out in the field," Fieri tells them. "We'll do about 2,500 meals by tonight, served here and also going out."
Fieri is quick to credit a long list of volunteers from all walks of life that make these large-scale feeds happen. "My CPA is here today, my attorney, my landscaping team, and even some of my childhood friends who brought along their kids. The film crew from Triple G [Guy's Grocery Games], which we were just taping this week, asked what they could do. They don't even live here, but they want to help."
Turning back and forth to monitor the activity around him, he spies a firefighter about 25 feet away, sitting by himself and gleefully digging into his meal. "How's that meatball?" he yells to the man, who gives Fieri a thumbs-up. "Look how fast he's eating," he says, almost in a whisper. "Right there, that's why we do this."

Founding a corporation
A few weeks later, Fieri sat down for an interview at his home in Windsor to talk about where's he been and where he's going. A passion for philanthropy instilled by his parents, his natural talent for chatting up anybody, devotion to family and old friends, and a fearlessness to blaze new business trails have brought him far in 25 years.
Born in Columbus, Ohio, he grew up in Ferndale, and earned a degree in hotel management at the University of Nevada, Las Vegas. He drove to Santa Rosa in the mid-1990s with dreams of opening his first restaurant. "I came here with a pregnant wife, in a Hyundai with 250,000 miles, $1,500 and two Rottweilers. I started Johnny Garlic's with $25,000 I borrowed from my parents."
The restaurant was a welcome change from the tame Sonoma County dining scene at the time.
"It was this scratch-made, funky-ass and loud L.A.-style place," Fieri says with a combination of pride and whimsy. He eventually opened three more Johnny Garlic's, and also launched Tex Wasabi's in downtown Santa Rosa.
Within a few years he had parlayed regional restaurant success into national TV stardom when he won the second season of "The Next Food Network Star."
That kicked off a whole new adventure for Fieri. He founded Knuckle Sandwich LLC in 2005, when he received his first payment from the Food Network. "They had to send me a check and asked who do we send it to. I didn't have a corporation, only my restaurant corporation with my partner at that time, and they couldn't send it to that," he recalls. "Then I was sitting around with my buddies in my kitchen and asked them what I should call the new company. One of them says, 'Hey, why don't you make us something to eat?' And I told him, 'Why don't I give you a knuckle sandwich?' That was the beginning of it."
Knuckle Sandwich, as Fieri explains it, is the blanket corporation over all the arms of his businesses. "That's television and television production, restaurants, books, wine, merchandise. Everything is owned and encompassed within the Knuckle Sandwich team, and we have probably 10 different LLCs inside it, from the restaurant side to the cruise side to the booze side. And the name takes on a life of its own. 'Knuckle Sandwich' is funny—it's old school, it's irreverent. The reason it stuck so well is because it's all the things that I am and the ways that I am, all the attitudes and the personalities."
Structuring success
What he's tried to do with Knuckle Sandwich, Fieri says, is make certain he has a clear delineated line as to what the businesses are and what they achieve and, if need be, make necessary adjustments. "From the get-go, I learned a lot having my first restaurant, but when you get to this level, you know enough that you have to have a great chief financial officer, a great attorney and a great group of advisors. You have to have structure, and it costs a lot of money and takes time to set up structure."
People who come into great windfalls, such as he did, sometimes don't have the necessary infrastructure around them of trusted advisors and systems, he adds. "For me there was just the right formula and the right things, plus having amazing parents and a really understanding wife and hard-working friends. Getting the opportunity I did was 'A,' and utilizing and parlaying it was 'B,' and I just attribute that to past experience, along with the friends I have, the people I admire, and the advice I'm willing to take and swallow."
A few of Fieri's partners in his business ventures include rock-and-roll legend Sammy Hagar; Caesars Entertainment (formerly Eldorado Resorts, owner and operator of numerous casinos and resorts); Carnival Cruise Lines; and Robert Earl, founder of Planet Hollywood. "Plus a couple of the key people in our company who are part owners," he says. "I've given them a piece of that. The reason and the goal are so that family and friends have a chance to be inside it. For the ones who've been doing such a great job for the past 15 years, as the company grows and becomes bigger, they get to grow and become bigger with it."
Five years ago, Fieri and Earl began work together on the company's newest restaurant concepts, Chicken Guy! "Robert is an amazing restaurateur and developer, and I have great respect for him. He came to see me to talk about new concepts, and I made him a variety of different styles of burgers. He loved it, but told me, 'The future is not burgers, it's chicken.' He asked what I knew about chicken and I told him I'd been in every chicken shack in the country, and I've seen chicken good, bad and ugly. So we started working on it, with some intense R&D behind it."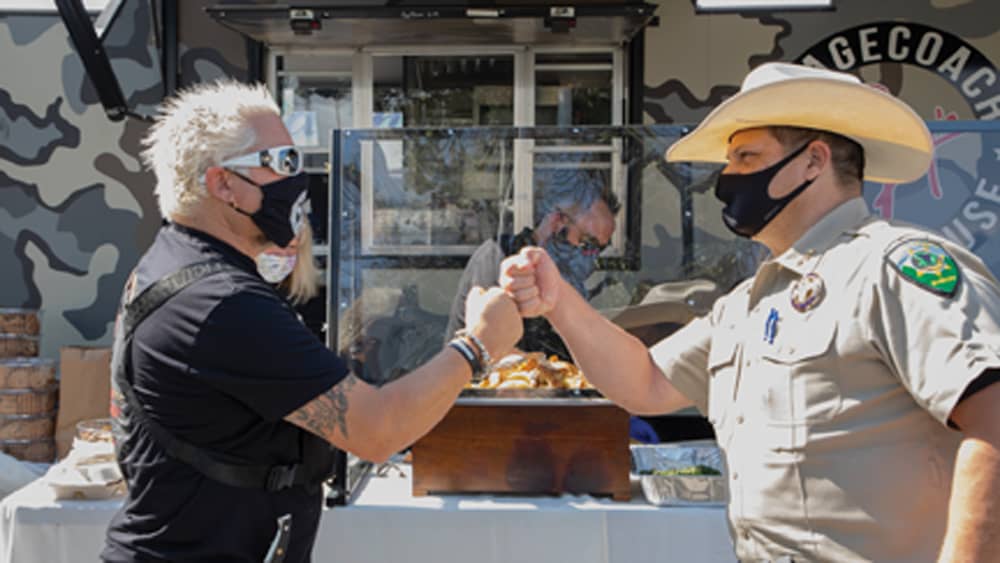 The restaurant's tenders are made from never-frozen antibiotic-free chicken, which is brined, hand-battered and pressure-fried. Several Chicken Guy! locations are already open, including at Levi's Stadium in Santa Clara and Walt Disney World in Florida, with more to come. "We've sold more Chicken Guy! franchises than we expected right out of the gate."
Rescuing restaurant workers
With the pandemic shutting down hospitality businesses in 2020, restaurant workers in particular took a huge hit to their livelihoods. "So I turned my attention to raising money for them and had some ideas how to do it. I chose to take lemons and make limoncello," says Fieri. He launched the Restaurant Employee Relief Fund (RERF), administered by the National Restaurant Association's Educational Foundation, to give one-time $500 grants to restaurant workers.
"I started it—it was my baby, and it was very effective," says Fieri. "I sent out personal invites to top executives, the CFOs and presidents of the major corporations that have a direct impact, or participation in, or who profit from the restaurant industry. I had my two-minute pitch on video and every one of those 43 videos was personalized with particular respect to who they are in the industry. Like, I sent one to Jeff Bezos with the message, 'Hey Jeff, could I bend your ear for a second?' And then I gave him some stats."
The campaign gained momentum immediately and exceeded expectations. Major money came in from companies and organizations of all types, including $3 million from PepsiCo and $2 million from Uber Eats. "On the first day of the campaign, we reached $8 million in donations, and the money just kept coming," says Fieri. "I was on the cusp of crying every single day. The funny thing is, I kept calling my dad about it and he said, 'Well, what did you think would happen? You don't know your own power.' "
The night before the campaign started, the National Restaurant Association website crashed from restaurant workers logging on to sign up for one of the grants. The demand was so high, says Fieri, the association told him that at one point it was receiving 400 requests per second. "That's how fast they came in."
"When the pandemic hit, Guy Fieri knew just how devastating it would be for restaurant workers everywhere, and took immediate action to help us launch the RERF," says Rob Gifford, president of the National Restaurant Association Educational Foundation. "He worked tirelessly with our team to raise donations, build awareness and give a voice to the millions of restaurant workers who suddenly found themselves unemployed. With Guy as our champion, we were able to raise $21.5 million and help more than 43,000 restaurant workers."
Fieri says he's met several people who received the grant checks. "When someone comes up and tells you they got the money, and they don't have to pay it back, that's the coolest thing in the world. It wasn't even as much about the money as they knew that somebody outside their circle cares about them. It was a hug, and a reassurance that we're giving back to the restaurant industry. The industry has never asked for help before."
Moving forward
His own company has faced challenges during the pandemic, says Fieri. "We took our lumps and our bruises and our disappointments, but by no means did it define who we are. We tried to make a better situation out of it by being respectful of those in a much worse situation, knowing what it is to close a restaurant and how it was hurting people. I knew there would be a lot of them not coming back.
"It's so sad on so many levels to see the loss and frustration and disappointment," he adds. "To see my brothers and sisters in the restaurant industry suffering. So our company shot a documentary about this unprecedented situation. It was such a break for them to tell their story and make sure the message was heard."
Restaurant Hustle 2020––All on the Line debuted at DOC NYC, the New York Documentary Film Festival, in November. Fieri is the executive producer.
Though the RERF campaign closed last fall, Fieri is working with the national and California restaurant associations again on a new campaign likely to roll out this spring. "Right now we're just waiting until the governing bodies relax [COVID-19] restrictions a bit more. And with a vaccine supposedly coming out, then we're looking at a big movement to encourage people to eat at restaurants when indoor dining is allowed again. Hopefully other chefs and celebrities will also get involved [in the campaign]."
Fieri's Food Network shows were changed last year to accommodate the restrictions of the pandemic, with the formats cleverly reinvented. Instead of Guy's Grocery Games being shot at the special grocery store-studio built years ago in south Santa Rosa for that purpose (and with a large crew of production staff), Fieri is handling hosting duties from his home studio-kitchen setup, where he interacts with chefs via Zoom from their own home kitchens around the country. Shooting also continues on the Diners, Drive-Ins and Dives series, with Fieri virtually reconnecting with chefs at eateries he personally visited in earlier episodes of the show. Son Hunter is his sidekick and co-chef on the two series.
Fieri says he will likely begin taping a new Food Network show in a few months that has already been greenlit. Called Guy Fieri's Chance of a Lifetime, the show will feature eight, two-person teams that compete in various challenges week to week to ultimately win a Chicken Guy! franchise.
The next frontier
No matter how far he travels, Fieri always comes home to Sonoma County. "I could have moved to New York or L.A. when this TV thing all started and probably would have expedited my trajectory, but I didn't want to do that," says Fieri, who turns 53 in January. "I was particular about where I wanted to live, how I wanted my kids to be raised, the safety of my wife, and to still be around my mom and dad. My family is first and foremost."
The philanthropic side of what he's doing, he says, is likely the new frontier. He's active in fundraising for the Best Buddies organization, an international group that assists adults and children with intellectual and developmental disabilities. "That's my No. 1 charity outside of Sonoma County," says Fieri. "We do massive fundraisers and big events for them. The Buddies want to work, they want to have jobs and responsibilities, and they become so fulfilled. When I got involved we started placing Buddies in restaurants to work."
Closer to home, through the Guy Fieri Foundation, the chef is developing a culinary camp for kids he hopes to launch soon. In his adopted hometown of Windsor, the foundation gave $30,000 to Windsor Middle School to hire a grant writer, who procured a $400,000 grant to open the first middle school culinary program in the state of California that's directly associated with the high school program. It's just one example of how Fieri gives back to the community.
When it comes to philanthropy, he's in good company in Sonoma County, he says. "This is a supporting, loving and nurturing community. I've never seen anything like it. We have everything here, from 'hundredaires' to millionaires, and have moved mountains and made amazing things happen. But I don't think we've defined all the ways to do all the great things we need to do and can do. There's energy and opportunity to do things for the heart and for our feel-good survival. We need more love and positive thoughts, not to get too 'hippie' about it."