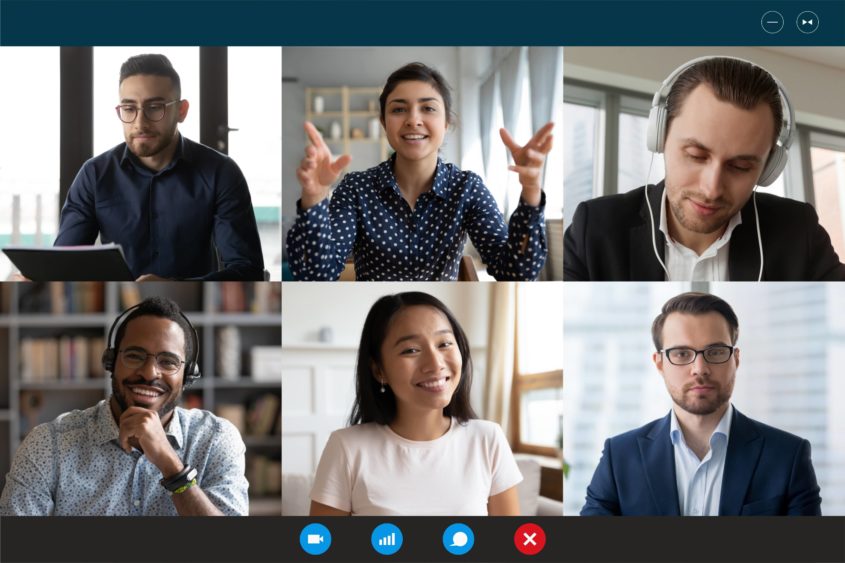 Deeply engaging your audience creates a sense of connection, community and communicates that you care about who you are speaking to. The fundamental methods involve subtleties in eye contact, tone of voice and body language. These behaviors work great when we are one-on-one or sharing a room with others, but in today's virtual world, these methods are challenging, and we need to shift them.
Reading a virtual room
The first step to meaningful engagement in any environment is making your audience feel welcome and at ease. Some ways to do this both in person or online: play music while people are entering the waiting room; and open up everyone's mic so they can talk to each other and do a little networking before a meeting. Begin the meeting with a relatable story that captures everyone's attention and draws them in. You can also enlist a get-to-know-each-other game, or simply open with a question like, "What is the best thing about your day today?" Give everyone space to answer to create a sense of solidarity.
Investigate your audience
Know who you are in the "room" with! Do a little reconnaissance work on your audience. Surf their social media pages, check out what they are interested in, reading, what they are talking about. Read their bios and check out work projects they are engaged in.
Retraining your brain
For years advertising and marketing executives have used a powerful communication tool called "mirroring." It means that you match your communicative behavior to those of your audience. In person or virtual, this skill includes matching speaking rhythm, tenor and tone, and energy level. Employing this strategy immediately relaxes your audience and makes them more comfortable, allowing them to work with you more easily and productively. Here's how:
Keenly observe their manner of speaking. If the meeting participants are more casual, then speak that way, if more formal then mimic and "mirror" that.
Match the behavior. If participants speak fast and seem in a hurry, do your best to match that behavior. Even when you're in a setting where there is a set time frame, for people who are busy or in a hurry, they appreciate someone who keeps up with that pace.
Note words and tones. Try to use similar verbiage and tones that your audience uses and likes.
Keep it conversational. Use your normal, everyday voice, rather than an elevated tone that sounds like a telemarketer or salesman.
Overcoming technology
Humanizing interactions, while using technology, requires thought and practice. Here are my top five tweaks to improve how you come across on video:
Turn your own screen view off. This way you're not tempted to look at yourself while speaking. This is a big one.
Look directly at the camera on your computer or phone. This can be extremely challenging, especially when it's only natural to want to look at the people that we're talking with, but keep in mind that all your audience will see is your eyes scanning the screen, which looks in-genuine and slightly shifty. Keep looking directly at that tiny camera and do so as if you're talking to your best friend.
Keep the camera at eye-level, or better yet, slightly above. Never let the camera angle sit below your own eye-level. If you do, your face will be cast in dark shadows, which looks menacing and kind-of scary.
Place a light source behind your computer screen. Aiming a light source at you from behind the back of your computer screen, will remove shadows and create a bright clean look.
Never be backlit. When your major source of light comes from behind you, it casts dark shadows over your face and circles under your eyes, and makes your defining features and expressions hard to see.
Check sound quality. Sound quality matters. If you're not directly in front of your computer physically, or if you're sharing a physical space with someone, it's best to use a microphone. If you don't have a mic, be aware of how far away you are from it on your computer and keep your voice loud enough so that people can hear you.
We are living in an ever-changing, hyper-speed world and adapting to environment is key to survival. The more we work on understanding how to best reach people and change our behavior towards more effective communication, the better our message will be received and respected.
Public relations enthusiast Jenny Kaplan has been getting clients newsworthy ink for over 15 years. Most days, this PR strategist can be found communicating in one way or another to the public. She specializes in crafting brands and telling your story. Ask any questions by calling (707) 578-1336, or visit getnoticedpr.com.