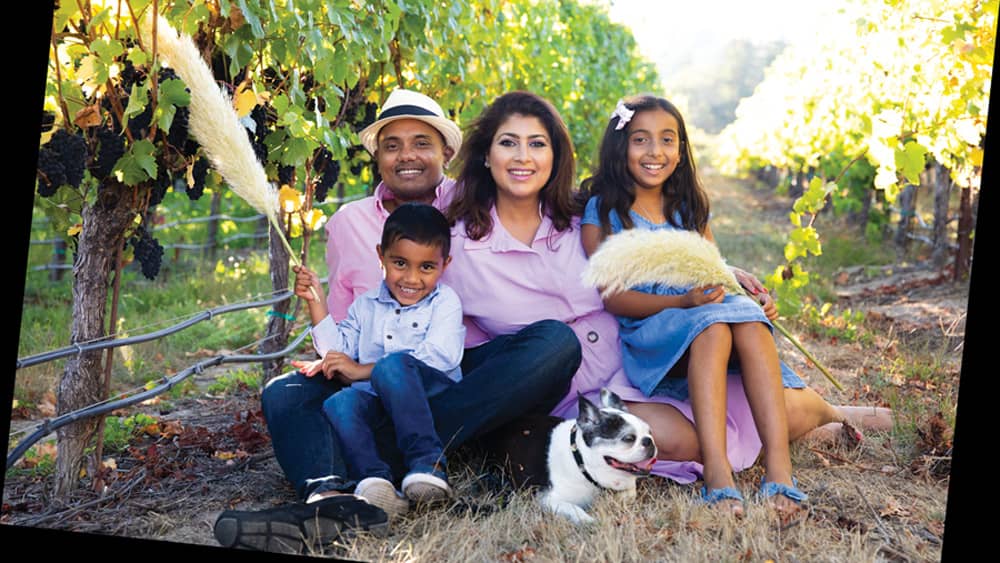 The social movement that is farm-to-table exploded in the past 20 years from a niche market for consumers to a ubiquitous marketing tool for producers. The phrase is referenced so frequently in the world of food and wine that the process of bringing a local farm's bounty direct to a patron's table is becoming increasingly ambiguous.
At Naidu Wines in Sebastopol, farm-to-table isn't the idea; it's the experience. The boutique winery is located directly on the vineyard property in West County's serenity of Bulcher Valley. A second-generation Italian-American couple that planted and farmed the Pinot Noir vineyard for more than 30 years formerly owned Naidu Wines. Owner Raghni Naidu's vision is to take Wine Country visitors back to the industry's local roots and off the beaten path, providing an intimate experience that counters the tourist-heavy, tasting room and gift shop model prevalent in the industry.
"When you're at Naidu and you have the view of the vineyard, I think that type of experience has always been very memorable. I don't see enough of the fully immersive, private experience," Naidu says. During mid-pour she points to a hawk above, clutching prey in its claws, "This experience connects you back with nature and reminds you how small you are. It helps diminish the trappings of everyday life."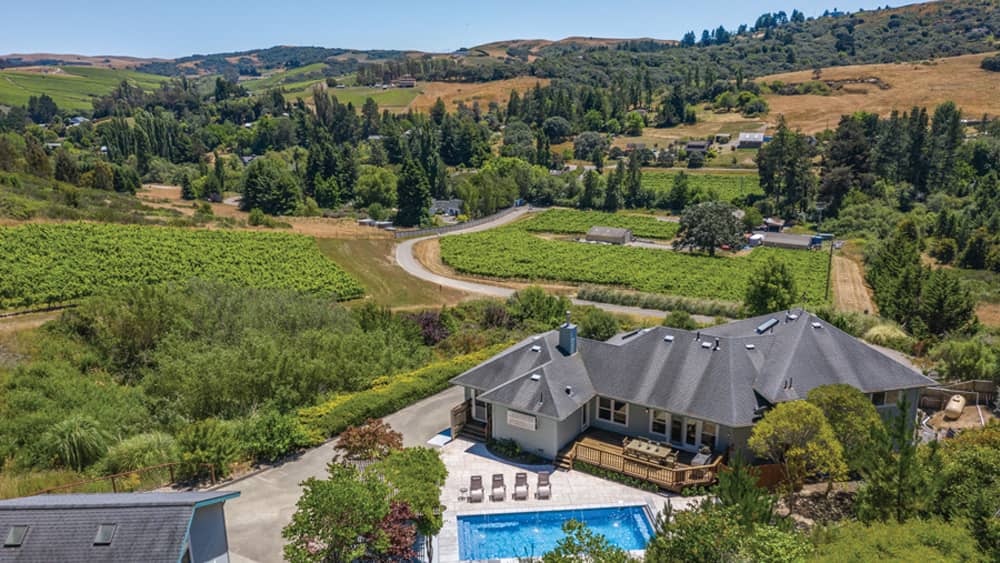 That back-to-the-land lifestyle appealed to Naidu and her husband, who frequented Wine Country on weekend trips from the Bay Area. "We were always moved by the Wine Country experiences. My husband and I took a road trip from Monte Carlo to Barcelona; we would travel to different towns and wanted to make that part of our life in the Bay Area. Within three months of that trip we bought this property," she says. "I remember driving up the slope and taking in the view and saying 'This is it.' I felt it was too beautiful not to share. I needed to do justice to it. It couldn't just sit here."
Naidu seeks to champion the intimate relationship locals have with the land. "I love sharing the local area with guests. I'm big on quality over quantity and that's what you get here." Naidu was set to launch the boutique winery to share with the world in May of last year, then the world shut down. Despite the pandemic, Naidu Wines released its initial wines and began booking reservations for private parties to stay on the property. "I tried to incorporate everything I would want to see if I was coming for a weekend getaway. We have a custom pool, soaking spa, private home theater and chef's kitchen."
A grid of solar panels powers the nine acre-property and the vineyard is sustainably farmed. Naidu views the wines as an extension of the property—casual, relaxing, approachable and made to enjoy. "I don't want the wine to be intimidating; I want it to add to the experience, not be the focus," she says.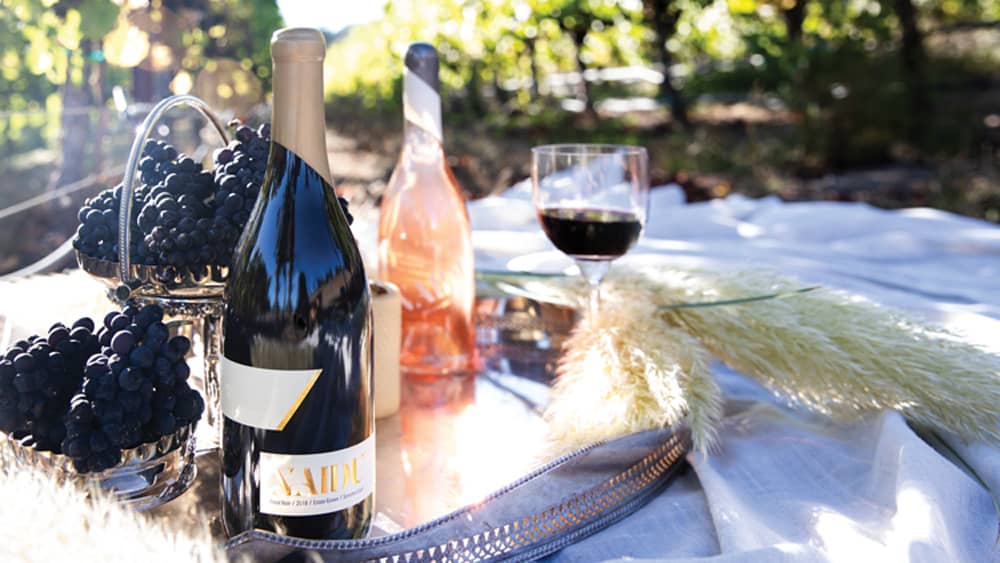 Naidu's current lineup of wines is a reflection of her and self-taught winemaker Matt Duffy's style of elegance and nuance. The 2020 Viognier from Kick Ranch Vineyard in Fountaingrove kicks off the tasting. Naidu says she wanted to offer something outside of traditional white wines. The Viognier is a graceful blend of pear and floral notes of jasmine, honeysuckle and tart. A 2019 Rose of Pinot Noir follows this from Russian River Valley. The wine is well-rounded, with notes of tart tangerine and luscious strawberry. Naidu's Rose has a smooth and silky finish. The tasting finishes with a red, the 2019 Cuvee Rouge from Mendocino County. It's a blend of Old Vine Carignan and Zinfandel, a hybrid with fruit-and-spice notes. The Cuvee is a wine that pairs well with grilled meats or rich sauces.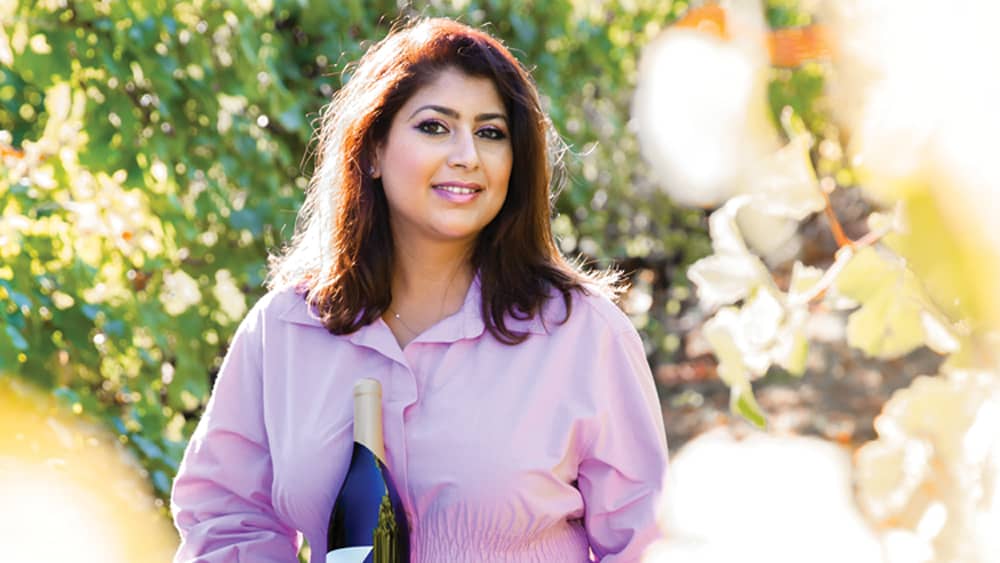 These wines are the initial offerings and Naidu plans to offer new varietals every year. "All of this is an extension of who I am. I grew up in India and come from a family that loves to host and find good food. Punjabis are known for that. My parents loved to travel and would bring back seeds and foods that weren't normally grown in India," she says.
Naidu Wines is the first Indian-immigrant-owned winery in the North Bay. Naidu, who was born and raised in Punjab, India, says she believes wine consumers are searching for diversity within an industry that is very traditional. "The barriers to entry are difficult in this business. I want to highlight how immigrants are the backbone of the industry," she says. "Sometimes you don't fit the mold of what someone thinks it should look like and I think it's up to the individual to break that mold. You have to be someone who can think outside of the box."
Naidu says she's accustomed to occupying unknown places and new environments. She admits that she's a bit of an outsider in the industry, however, she says no one can cast doubt on her work ethic and accomplishments thus far. She says the decision for the family name—Naidu—to serve as the label is to convey what her family stands for and its belief in the freedom to create one's own path. "I am an immigrant woman carving a space within this traditionalistic industry," she says. "Despite what others say, I belong. And you do, too."
Did you know? Blucher Valley Creek runs through the property and during the winter guests can hear the water rushing through. The creek empties into Laguna De Santa Rosa.

At a Glance
Naidu Wines
2567 Blucher Valley Rd.
Sebastopol, Calif. 95472
Hours: Private tastings by appointment.
Tasting Fee: $50 per person with a cheese platter. (four-person minimum)
Reservations: Required. Schedule online at naiduwines.com
Picnics: Yes, by appointment.
Pets: Service animals welcome.