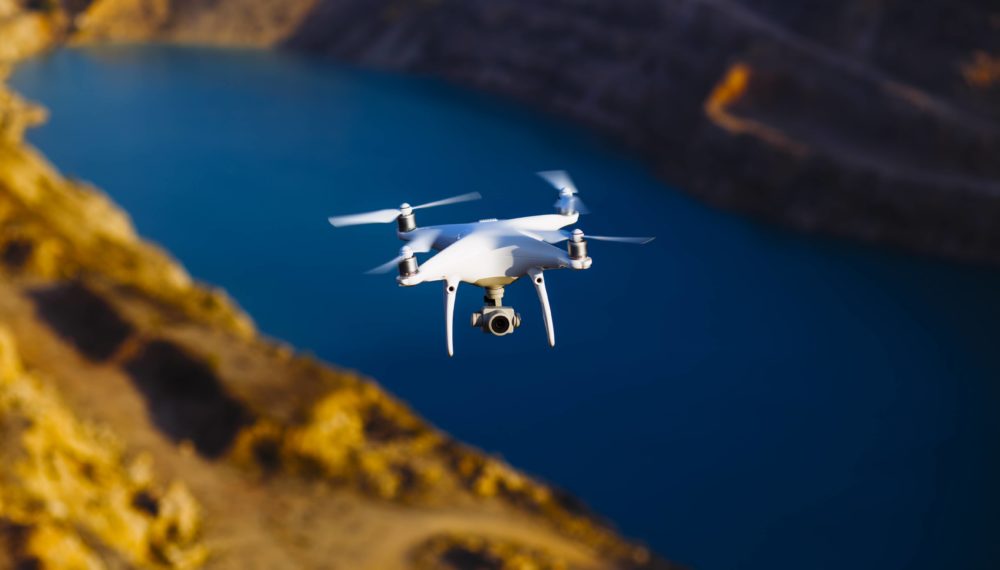 Yes, sending a buzzing contraption into the air in a quiet agricultural setting might be annoying at some level, but even a few minutes' flights can cover dozens of acres and provide an incredible amount of real-time data.
The use of small owner-operated drones to plan, monitor and inform vineyard operations are now inexpensive, fast and easy. Yes, sending a buzzing contraption into the air in a quiet agricultural setting might be annoying at some level, but even a few minutes' flights can cover dozens of acres and provide an incredible amount of real-time data. Given the drought, an increase in extreme weather events and an ongoing threat of fire and smoke damage, if you are not yet using drones now is a good time to consider adding one to your arsenal of tools and technologies.
The widespread use of drones—referred to by the Federal Aviation Administration (FAA) as small unmanned aircraft systems (sUAS)—is a relatively new phenomenon. In 2016, the FAA announced regulations for the commercial operation of sUAS that weighed between 0.55 and 55 pounds, including payload. These new rules included a requirement for commercial operators to obtain FAA-certified drone pilot licenses before flying. "Commercial" basically means anyone other than someone flying a drone for fun. The test is fairly rigorous and assesses a pilot's basic understanding of flight operations, safety procedures and airspace considerations. The test must be renewed every two years.
Once a license is obtained, it's time to purchase a drone. There are dozens of options. A few are specifically built for agricultural use, and others are for more general purposes. The high end of the spectrum includes super-specialized and expensive drones such as Precision Hawk's DJI Matrice 200, Sentera's PHX and the SenseFly eBee X, all of which cost thousands of dollars but provide options such as spray applicators and infrared high-resolution cameras. I can't tell you much more about these options because I use the less expensive, more general-purpose drones. Don't forget to register your aircraft through the FAA's drone-zone website.
The two drones that have become my go-to's for agriculture-related flights and photo-video projects are the DJI Mavic Air 2 ($799) and Skydio 2 ($999). Both work seamlessly with many of the software platforms you'll need to process agricultural data, and each provides ease of use, low cost and flexibility when out in the field.
If you want to cover a large, relatively flat area without a lot of obstacles, then I recommend the Mavic Air 2. This is absolutely the easiest drone I have ever flown, and the quality of both photos and video is excellent. The Mavic also has a range that is unbelievable—more than 6 miles, which is way outside any real-world application or the legal distance for flying a drone. That said, it is reassuring to know that your aircraft is tethered tightly—albeit electronically—to your handheld controller.
DJI, which is based in Shenzhen, China, holds a whopping 76% market share for drones sold in the United States. Skydio 2, on the other hand, is a small U.S.-based company headquartered in Redwood City that has less than 1% market share. Unlike the Mavic Air 2, this drone is a little clunky to operate, and its maximal range is far less than the 1-mile range listed on the box, but it is totally amazing. If your site has any obstacles or is full of hills and valleys, you will be amazed at the automated maneuverability of the small aircraft. In my experience, it is nearly impossible to crash this drone. Using a collection of high-resolution cameras to guide its movement, the Skydio 2 dodges and weaves its way around trees, vines and protruding rocks as it takes excellent high-resolution videos and photos while also capturing data for a vineyard health assessment.
Once you have your license and drone, now it's time to get into the field and start assessing your vineyard. One way to do this is by simply taking photos and videos to compare over time. However, for more complicated analysis, you'll need a secondary service to plan flights and collect and upload data so that it can be analyzed and stored. A few different such services are out there, but I've only ever used Drone Deploy.
Based out of the Bay Area, Drone Deploy provides a simple platform that interacts directly with your drone. Within the company's software, you can design customized flights and define which type of analysis you need to complete. Do you need itemized vine counts? Perhaps an elevation contour map? What I have been using most often lately are the normalized difference vegetation index (NDVI) models to determine water-stressed or diseased vines.
Whichever drone you choose and whatever service you end up using, unmanned aircraft systems have become indispensable tools in today's vineyards.
Tim Carl lives, writes and teaches in Calistoga. He grew up in St. Helena and traces his California grape-growing roots back five generations. You can reach him at tcarl@northbaybiz.com, or visit precisiondronephotography.com.