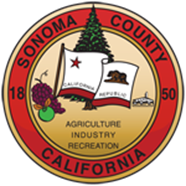 County of Sonoma Chief Administrator Sheryl Bratton today announced the appointment of Jeff Mitchell, Sonoma County's Chief Deputy Public Defender, as interim Public Defender. Mitchell has served the Sonoma County Public Defender's Office since 1995, most recently as supervisor of the misdemeanor attorney team and trial attorney on over 60 criminal and civil jury trials to verdict, including as lead trial counsel on three capital murder cases.
"During his 26 years with the Sonoma County Public Defender's Office, Jeff has handled every type of case that the office is appointed on," said County Administrator Bratton. "He has distinguished himself as a respected leader and public defender in all aspects of a felony, misdemeanor and juvenile cases."
The Sonoma County Public Defender has the mandated responsibility of defending any person who is charged in the superior court and who is not financially able to hire an attorney. The Public Defender also represents individuals in probate and welfare proceedings. Types of cases handled by a County Public Defender include criminal cases upon request or by appointment of the court, contempt cases, appeals cases involving mental health guardianships and conservatorships, and juvenile cases.
"It has been my great honor to serve Sonoma County in defense of those less fortunate alongside an extraordinary public defender and a team of attorneys," Mitchell said. "Rest assured that our dedication to empowering people to improve their lives will continue undiminished."
Prior to the Sonoma County Public Defender's Office, Mitchell worked as Contract Public Defender for Amador County and Madera County, as well as stints as a prosecutor for the City of Long Beach and Federal Public Defender in Sacramento. He was admitted to practice law in California by the California State Bar in December 1992 and admitted to practice before the United States Supreme Court in November 2000. He earned a Bachelor of Arts in Communications from the University of California at Santa Barbara, and a Juris Doctorate from McGeorge School of Law at the University of Pacific.
Mitchell is expected to begin his role as Sonoma County Public Defender on Sept. 10, following the retirement of Kathleen Pozzi, who started in the office in 1986 and has served as Public Defender since 2012.