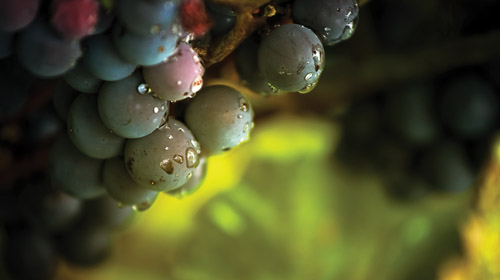 I was lucky enough to attend a virtual tasting on World Chocolate Day, and yes, it's a thing, for those, like myself, who can't get enough of the dark stuff. Beyond another sweet-filled cause to celebrate, the impetus for the event was to introduce a new entrant to a premium chocolate stratosphere, Vine to Bar, created by Jackson Family Wines.
In 2012, I had the pleasure of interviewing Barbara Banke, chairwoman and proprietor of Jackson Family Wines, and Peggy Furth, former vice chairwoman of Chalk Hill Winery and Estate, who formed SonomaCeuticals, which specializes in food products that make use of the "whole" grapevine. It was from this concept and partnership, that Vine to Bar was born. The confection is one of the first of its kind that infuses a byproduct of wine production, Chardonnay Marc, into dark chocolate. WellVine Chardonnay Marc derives from crushed grapes, which are then dried and milled into an upcycled superfood known to have beneficial nutrients, flavanols and natural sweetness, according to research done by the University of California, Davis.
I've always had my reservations about pairing dry wines with dark chocolate but vowed to keep an open mind. The first matchup came with La Crema Rose of Pinot Noir and the Vine to Bar dark chocolate; the Chardonnay Marc lent a pleasant acidity that complemented the overall flavor of the chocolate, which was smooth, rich and lingering. Next came the Kendall-Jackson Vintner's Reserve Chardonnay with the Vine to Bar almonds with pink Himalayan Salt. The pineapple, honey flavors of the wine, were accented by the acidity imparted by the Marc, which resulted in a rich and creamy chocolate, and debunked my theories about white wine and dark chocolate. None of this prevented me from savoring the tart cherry and cocoa bar variety, my favorite of the line, which was paired with the Cambria Estate Julia's Vineyard Pinot Noir. While I will remain forever in favor of reds with my sweet stuff, the tasting reminded me that palates were born to change, if given the chance.
Low booze bender
Every year as the summer season of wine-swilling winds down, I aspire to back off on the booze, just a bit. Thanks to some low- to no-alcohol options, the good times can still roll on. The first time I was introduced to low alcohol anything was when I lived in Colorado and tried 3.2% beer. This was less about a lifestyle choice and more about regulations when it came to buying beer in supermarkets and convenience stores. Like any good 20-something, I wondered what the point was of drinking something that boasted nothing more than a diminished buzz. As a now wiser woman of a certain age, I've come to appreciate the merits of the occasional low-alcohol beverage, and it would appear, I am not alone. Beverage analysis firm IWSR predicts a 31% increase in the low- and no-alcohol categories by 2024. Spirit mainstays including Smirnoff, Ballantine's and Beefeater have all added lower-ABV (alcohol by volume) alternatives to their lines. According to IWSR, American consumers prefer low ABV beverages, over nonalcoholic products, especially low-alcohol wine, which originated in the U.S. and currently captures 86.8 percent of the market.
Earlier this year, the Francis Ford Coppola portfolio grew to include a new line of low-alcohol wines, Pool House. Unlike the watered-down Coors of my youth, Pool House is strong on taste and borderline healthy at only 75 to 85 calories, 4 carbs and a paltry 9% ABV. There are four varieties, which are available in 12-ounce cans and 750 ml bottles. The lower alcohol content is the result of grapes that are harvested early, with "spinning cone" technology, which removes alcohol by gentle means. Standouts for this scribe include the Pool House Sauvignon Blanc with juicy green apple and passion fruit flavors, and the Rosé, full of red cherry and raspberry flavors, crisp and dry.
While the U.S. market bends to the low versus no alcohol end of the spectrum, the "no" segment is growing worldwide, with a 4.5% gain from 2019 to 2020, according to IWSR data. Castello di Amorosa in Calistoga answered part of that call, with the release of sparkling and straight-up grape juices, bottled and formatted like wine in 750 ml screw-top bottles, which retail for $14 a bottle. The line includes a Muscat Canelli Grape Juice (far superior to the grocery store varieties), a Gewurztraminer Grape Juice from Anderson Valley, (ripe with lychee and apricot), and my favorite, the Sparkling Red Blend, which is a fizzy take on premium grape juice. The juices come from the same grapes the winery uses to produce its wines and can age as long as two years, though doubtful it would last that long in a kid-filled household such as my own.
I'm not sure how long my sober-curious stint will last—another minute, day, or month—but it's good to know there is a bevy of options beckoning, should my booze tempering kick morph into a long-term habit.