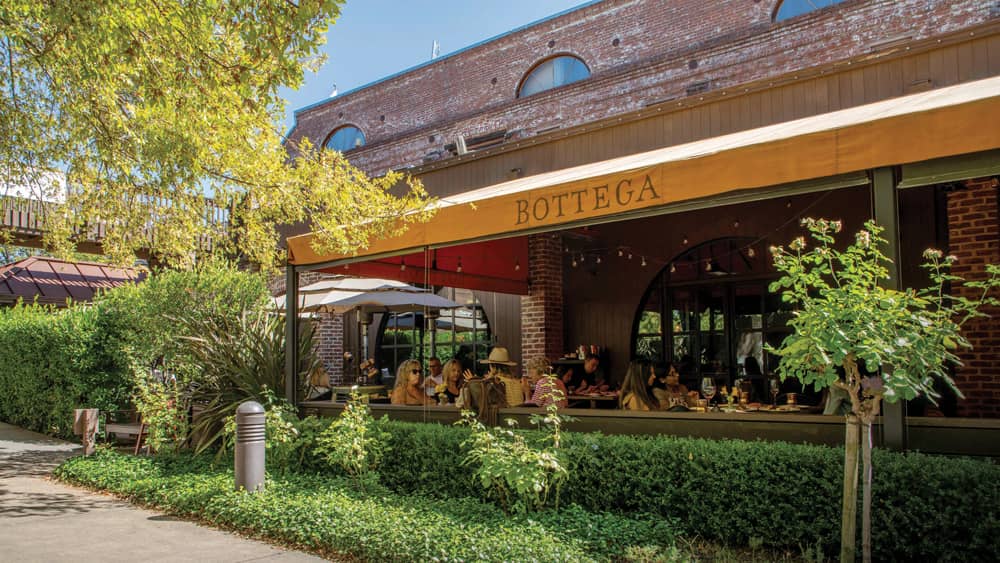 Standing under a tree on a sunny afternoon in Yountville on the path in front of the 3-acre French Laundry, the culinary gardens are abundant with vegetables and fruits are growing in abundance, ready for the famous restaurant. A tanned, quietly athletic-looking man of middle-age is standing beside his motorized bike, resting for a moment, watching visitors stroll through the garden paths. We strike up a conversation: Yountville. What makes this place so pleasant?
"It's a small community with almost like an old-fashioned family environment," says McKee, who retired from the high-tech world and settled in Yountville at the Veterans Home two-and-a-half years ago. "The people I've met are down to earth, conscientious and seem to care about this place." One of the things he especially likes is that people visit from all over the world. "Even during the COVID," he says, "it seems they were comfortable being here."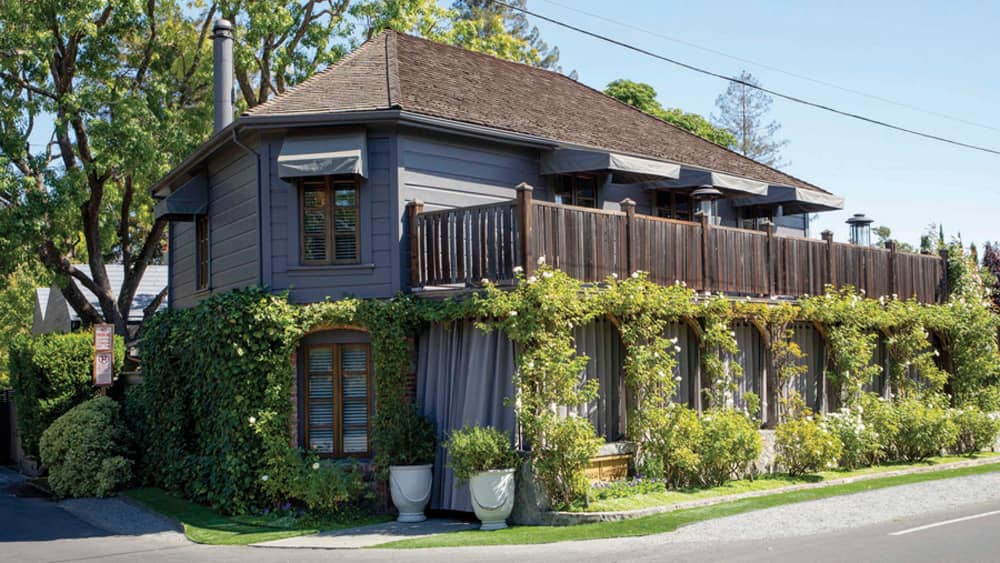 With ample parking, located somewhat out of sight, Yountville is a walking town, where one likes to amble about, even without a particular destination, as there are so many places to stop, linger, relax in a garden, take in a shop or go for a coffee. "It's a community where you can just wander around," says McKee. "When I was new here, I could stop and ask people questions. Everybody just stops and answers." A San Francisco native, McKee is no stranger to the natural beauty of California and the cultural richness of its cities. Being in the heart of the Napa Valley, he gets to enjoy both. "I've gone to 22 to 23 outdoor concerts in the last 30-plus days," he says. "Thanks to the summer Napa Music Festival."
As we chat, watching people dressed in colorful casual clothing, in pairs, in groups, or with little dogs on leashes, McKee says he has clocked 3,000 miles on his electric bike since he's been here, exploring all up and down the Valley. Now, he's off to the winery at the top of the hill, overlooking the town, the beautiful Domaine Chandon, where he's a member. "I go twice a week," he says. "I've never been treated any better, consistently, than at Domaine Chandon. I like the staff, and the people and the wine is perfect."
A coffee, a croissant and time
In Yountville, on any day, in any season (except when businesses shuttered in the early months of the pandemic) you will see a line in front of the Bouchon Bakery that extends down the block. Now, with social distancing, the line may be longer than usual, but what is the same is the cheer, the feeling of happiness on that line. Nobody seems to mind waiting. You'll see people of all nationalities, dressed in happy casual or fancy garden party styles or bundled up for cold, with babies, with dogs and with patience. The place is known for its fabulous French bakery goodies and perfect coffee every time. Waiting is part of the fun. For someone who lives here and visits the bakery as a matter of course, it feels like a miracle, but somehow, one always seems to find a seat, out in their side garden area, on the benches along the street, or across the way and always blackbirds hopping about watching and waiting for crumbs.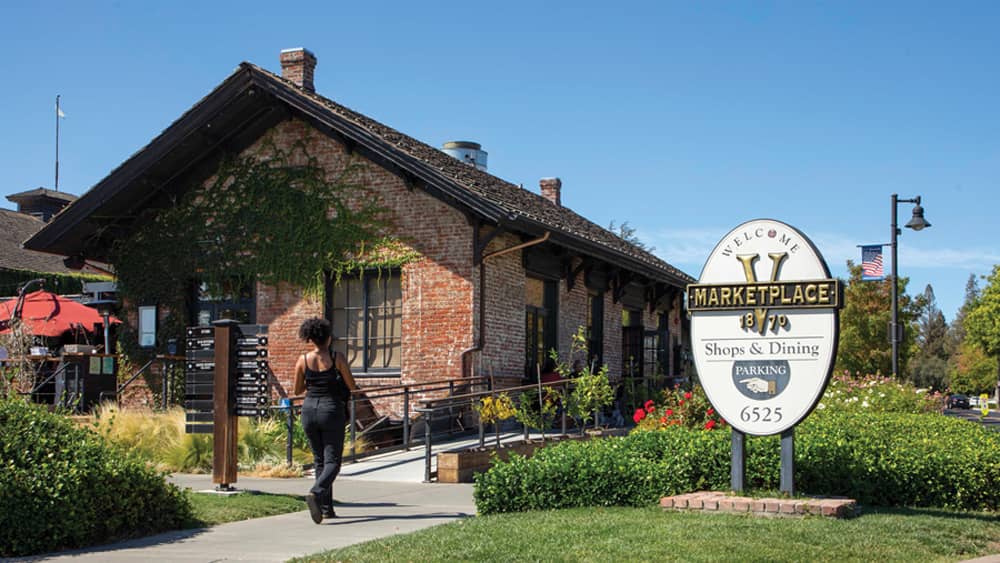 For those who line up for the bakery from the southern end of town, they likely passed the library and community center and noticed a quiet fellow on a bench who has been there a very long time, rain or shine, unmoving, his bronze tone being of the metal kind. On his lap is an open book. Yountville loves its literary life. The sculpture is a fitting reminder that Yountville has an active literary population. Twenty-three-year resident Marianne Lyon is the current poet laureate of Napa Valley and a bright force for listening, supporting and promoting the joy of writing in the community and schools. When she talks about writing poetry, it is not something stuffy or academic, but as a way of being in oneself, getting in touch with one's heart and participating in the shared experiences of a community. "I have this group called the Revolutionary Poets Society," she says, with delight. "People are wanting to find a language to maybe take them away from their pain and also bring them into a way of talking about who they are."
Lyon encourages writing, and poetry in particular, as a way of bringing people together. "There's a universality about poetry," she says. "Because we have so many uncertainties now, it is important for people to express their feelings. When I see people writing poetry, there's something different on their faces. It's like they're looking within. Poetry gives people opportunities to go deeper into themselves," she says. "And then, if we are bidden, we are given an opportunity to maybe write …a little haiku." Delighted with the thought, she recites a little seven/five/seven-syllable poem on the spot, "I walk outside. Dark/There are people on the street./They wave their hands." It resonates.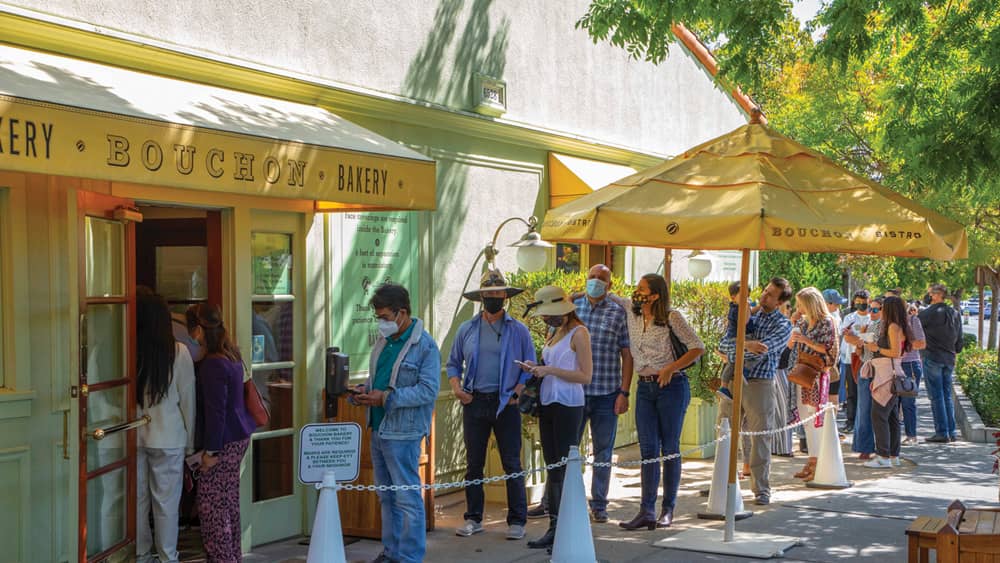 Lyon delights in all the richness of experience, from food and wine to bocce ball to music and poetry and general conviviality that Yountville has to offer. "We have so many venues––we have all the different parks and gardens, and the Community Center Plaza––no matter the season, no matter the day, there's always something for people to be involved in," she says. "There is something here for everyone." Then she laughs. "You can go to a happy hour and get hors d'oeuvres and have a wonderful time. You can go to Velo Deli for a great pizza. Or to the Ranch Market for sandwiches." Then, of course, there is the wine. "I just love the fact that we have our tasting rooms," she says. "And if you become a member, you get all these free tastings and free experiences and you get to meet locals again."
Speaking of culture, venues, the many benefits of being a member and chance to meet locals and people from all over, as well, let us not forget to visit the Napa Valley Museum Yountville, just over the freeway, on the grounds of the Veterans' Home.
Fun and fine art in the heart of the Napa Valley
The Napa Valley Museum Yountville, founded in 1972 in St Helena, moved to the Town of Yountville in 1998, on land leased from the state on the grounds of the Veterans Home. The building, designed by the Berkeley architectural firm of Fernau and Hartmann, looks spare on the outside, but inside the sense of transformation that art can bring resonates.
Museum features three galleries with distinct objectives. The Main Gallery is devoted to world-conscious art exhibitions such as, The Surrealist Revolution in America, Picasso and the Masters of 20th Century Printmaking, and France is a Feast, the Photographic Journey of Paul and Julia Child. The Spotlight gallery features local treasures such, The Art of Chocolate, about the works of Wodehouse Chocolates, and First Response, a presentation of works by local youth expressing their responses to the wildfires. The History Gallery showcases local history, geology and the native and immigrant cultures who helped build the culture and identity of the Napa Valley.
As a venue for art, the Museum is sophisticated while accessible. Polished concrete floors, chocolate-colored walls and lights floating high in the ceiling allow the artwork to show up and the viewing space to feel intimate as well as very large. The space enables the sound from wide-screen video installations to be absorbed by the high ceilings and audible to the viewer standing in front of the screen, but unnoticeable to viewers in other parts of the rooms.
Laura Rafaty, the museum's director since 2017, has worked to bring the museum offerings to a wider audience and, as she says, "to defy expectations." With that in mind, she has kept up an impressive roster of exhibits and is enjoying a good response––despite COVID. "We've had a real explosion of visitors, which has been great," she says. "We've started creating what we think are exceptional world premier exhibits, like our Julia Child exhibit, which will begin touring, starting 2023." The exhibit will not be exactly the same as the Museum's but will be based on it. "It's exciting," she says, "because we like to see the Museum get out there into the world."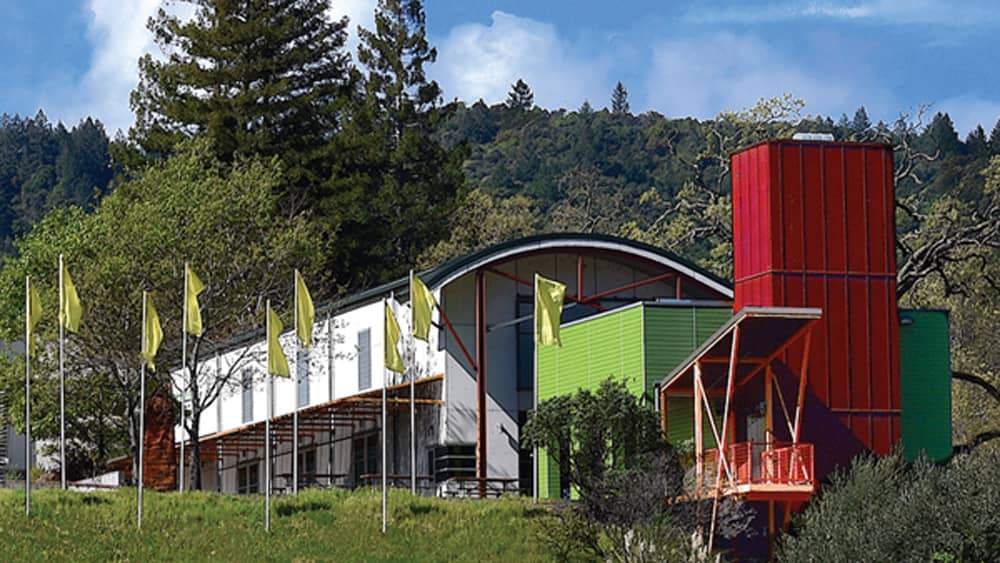 For Rafaty, the Museum's desire to "defy expectations" is right in alignment with the character and culture of Yountville. "Yountville is such a special place. It really does bring together the best," she says. "It's so beautiful. The people are so nice, the wine is incredible, the restaurants are the best in the world. The Museum brings to the cultural scene a style and level of excellence very much in keeping with the style and standards of Yountville."
The current exhibit, Dangerous Games, is a departure from traditional art exhibitions, offering nostalgia, humor and plenty of "cringe worthy" memories as we look back at the kinds of fun parents allowed kids in the 60s that would be unheard of in the safety-obsessed and highly litigious climate of today. But the spirit of the exhibit is right in line with one of the main objectives of the museum: fun.
So, if you're wandering around Yountville during the holidays, looking for things to do while waiting for the holiday lights to turn on, you might cruise over the freeway to the Veterans Home and the Napa Museum and take in a scream from yesteryear. A room full of thrills, chills, memories and horrors complete with, Plasti-Goop, Slip n Slide and, heaven forbid, the ultimate melt down made possible by your own, DIY nuclear reactor set, complete with uranium. How did anyone survive childhood in the 60s? (Go find out!)
The spirit of Yountville
What keeps the spirit of Yountville so vibrant? Mayor John Dunbar, acknowledges that Yountville is "a real magical place," but says it's not about any one person or thing. "It's really about the people who live here, and the people who are coming to visit." The quality of the people seems to be what everyone notices. "One thing that I noticed when I moved here 23 years ago is when you walk down the street in Yountville," he says, "is that people look you in the eye and smile and say hello," he says. "[They] might even strike up a conversation. It's very personal here. It's not like that in a lot of places where you keep your head down, and mind your own business. There's a real kind of charming personality to our town. It's really like that. We welcome people from all over the world, but it's really the humanness and the friendliness of our town that really shines."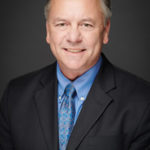 "The shutdowns and the public health crisis really hit us to our core," says Dunbar. "We are so social and enjoy getting out and spending time in our parks and running into people in a tasting room or [be] out and about on the streets, and we weren't able to have that interaction for months." While it was challenging, he adds, people found creative ways to stay engaged––virtually. "We converted a lot of our park and recreational programs to online," he says. "And many of our businesses started offering virtual wine tastings or virtual cooking classes so people could engage in what we do so well here––which is amazing food, amazing wine, our natural beauty of the valley."
Being flexible and creative, the town got behind the concept of outdoor service. "So as soon as it was safe based on state and county health guidance," he says, "we allowed our businesses to modify outdoor activity." So, while the shutdown was in place for indoor activity, restaurants and tasting rooms served people outside, and retail could display some of their merchandise outside, too. People enjoyed the alfresco option. "We've extended that through June of 2022," says Dunbar, noting that many of the neighboring jurisdictions of the county have extended permissions for those modifications into next year as well.
He notes that serving people is critical to the local economy, and now, with vaccines, people want to travel again and are returning to Napa Valley. "We're seeing a lot of folks coming back," he says. "And we very much appreciate that."
Smooth operations don't happen by magic
There was a lot of work behind the scenes to stay in front of the business shutdowns, the public health, safety protocols and keeping up spirits in a dark time, last year. "I spent many hours every week on various calls with county leadership, state leadership, even at the national level," says Dunbar, "learning about what was coming so we could be as prepared as we could be. While many cities and counties suffered from the consequences of the pandemic, the Napa Valley had other conditions to deal with as well. "A global pandemic would have been catastrophic in and of itself," says Dunbar, "but we had some of the worst wildfires that we've ever had. So, the combination was very economically devastating to us."
Economic hardship is not what the visitor to Yountville experiences now, with the pandemic largely under control with vaccines and people and businesses knowing how to keep safe. There is a measure of pride in Dunbar's voice when he assesses the community's accomplishment. "We have rallied together to bring back that magic," he says. "We know that people need to recover mentally from the hardship, the anxiety of the pandemic and wildfires, and we, thankfully, are kind of a safe haven for people to come, not just the San Francisco Bay area, and not just California, but from around the country. People need to have a sense of normalcy, to enjoy themselves for a few days–– and thankfully, the Napa Valley is still very much a destination."
Wine Country Cuisine, New York-style
Yountville's North Block Restaurant opened in March, and now is the fourth restaurant in town to be included in the Michelin guide, joining Ciccio, and the three-star French Laundry and the one-star Bouchon restaurants. North Block's chef, Nick Tamburo, is fresh from New York City, where he was executive chef at Momofuku Nishi until it closed in the midst of the pandemic. While Tamburo misses New York, being in the heart of the Napa Valley has given him a whole new palette for his culinary imagination. "It's been great," he says. With the abundance of fresh fruits and vegetables close by, he's had the opportunity to learn more about the growing seasons, the local producers and farmers, and to source as much locally as he can find.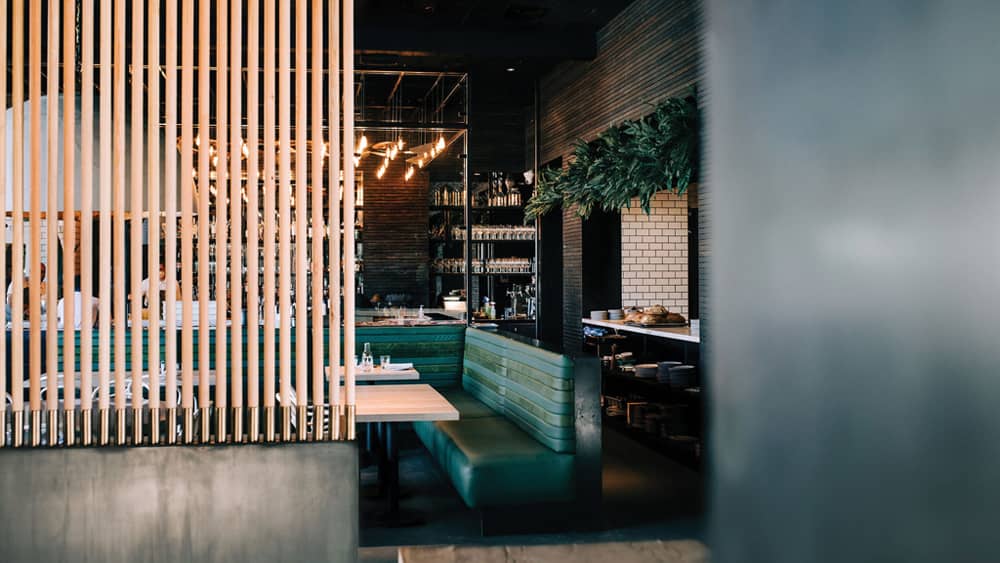 "We get all of our olive oil from a vineyard in Sonoma and all of our cheeses are California cheese," he says. "We don't get any cheese from Italy because there's so many amazing dairy producers here so why look elsewhere?" The food may now be more vegetable-focused than in the past, and he says, sometimes a specific ingredient that he happens to see around town, even around the neighborhood, can inspire a dish. Fig-leaf-grilled halibut, for example. "We wrap the fish in fig leaves and grill it and make this sort of green broth with a fig leaf oil, so the whole dish is sort of based around fig leaves." He explains that figs are so prevalent here, you can just be walking down the street in the neighborhood here in Yountville and see some. "So it's like, you find an ingredient like that and think, yeah, let's do a whole dish based on that."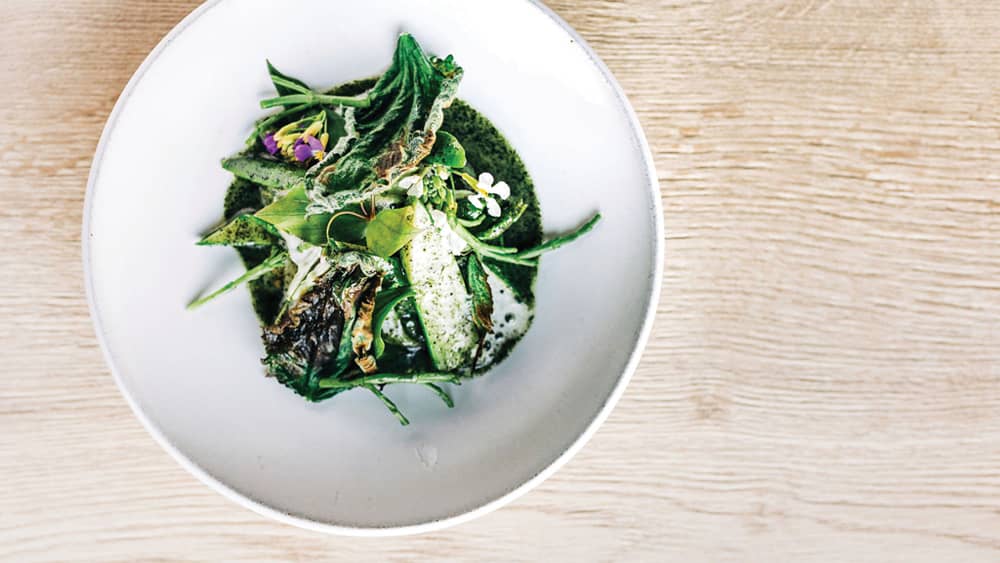 Chef Nick says he and his team pride themselves on having a particular point of view and doing things a bit differently from a lot of the other restaurants around. "We have something for everyone on the menu, but we do have some things that push people out of their comfort zone. For oysters, for example, they make their own hot sauce. For steak, instead of horseradish, they serve it with fresh mustard greens and radishes and nasturtium, which is spicy like horseradish, but unique to the place. "So that's the idea," he says. "Our perspective is we want to cook stuff that's interesting to us, and so I encourage people just to trust us. We know what we're doing. Step outside your comfort zone and just order anything, and you'll have a good time."
Celebrating the year in hope and lights
Anyone driving through Yountville in December will notice the lights. Almost every leaf and twig has been decorated. White, bright, totally holiday lights. Every year. How do to they do it?
"We kind of transform Yountville into what I call a Holiday Snow Globe," says Mayor Dunbar. "It's really a display of the magic of the holidays. We're very proud of our lights, our businesses, our residents. We hope we have even more to celebrate this holiday season, after getting through the pandemic and––we hope to not experience the wildfires directly again––but we know we'll be ready in November and December to really celebrate. There's something about Santa Claus comin' to town, when you hear that "Ho Ho Ho" and the holiday lights go on, everybody smiles."