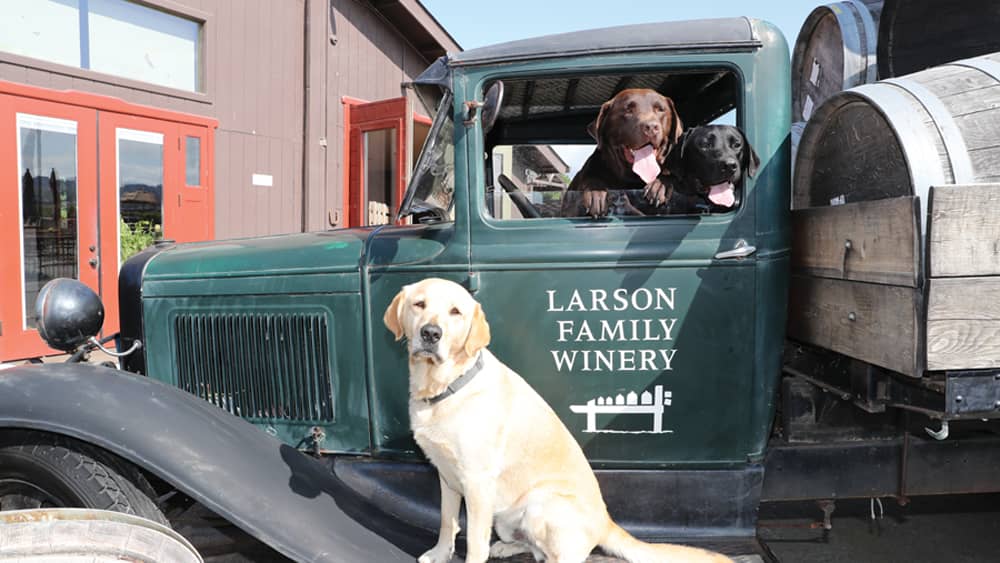 Maybe, just maybe, the best companion to have by your side at a wine tasting is one that doesn't drink at all—one that wouldn't fully appreciate the crispiest Chardonnay or a smooth Merlot. After a long stroll through the vineyards, a bowl of clean water is all this companion might crave before venturing out again for whatever else the day might offer.
Of course, that "companion" is a loving and delightful canine. Wherever wine is made, chances are you'll find a dog (or dogs!) roaming the vineyards or greeting visitors. So many of the North Bay's wineries have a loyal pooch on-site and many are happy to welcome your own four-legged companion when you visit these days. "We provide bowls of water and treats, so your canine friends can enjoy the equivalent of wine and cheese," says Vicki Farrow. Vicki's entrusted with caring for two Shetland Sheepdogs herself, and these pups are as much of the Amista Vineyard experience as the small batch wines she and her husband craft each year.
"Most people who come like dogs," she says, and it's a good thing they do. Amista's "Dog Days" event brought crowds of dog lovers, photographers, and dozens upon dozens of dogs to the winery to enrich the experience in ways that only a dog's unconditional love to a stranger can offer. Read more about these treasured Amista Shelties, as well as a cockapoo that roams at Papapietro Perry Winery, the "Cab Labs" of Larson Family winery and others in Mallorie Deming's story, "Must Love Dogs".
Welcome to our 18th annual Harvest issue of Northbay biz magazine! As those who work in agriculture will tell you, Mother Nature always has the final call. The drought-fire-drought procession each farmer and rancher has been enduring in recent years certainly isn't disappearing anytime soon, so adding levity that raises our spirits couldn't come at a better time. We've approached this issue with an appropriately light sensibility and hope you'll enjoy the collection of stories celebrating Harvest 2021.
The wine business is Mother Nature's version of show business, after all, and our area's best vintners certainly know that every vintage tells a story. When wine is poured into a glass and tasted, it reflects what happened during that year—from the growing season to the harvest season—and the challenges and opportunities along the way.
Just as every vintage tells a story, so does every winery. The Moran and Ceja families certainly have a humble yet rich history, and Jennifer Worthy's story, "Wine, Love and Song," captures this family's history, their challenges and the artistry of cultivating some of the most delicious wines in all of Napa.
Amelia Cejas is the first Mexican-American woman ever elected president of a winery in the world, and it started with her father's bravery, skill and determination to follow the harvest season in America during the 1950s. What began as an annual trek for harvest season carved the path to steady income, citizenship and an opportunity to bring Amelia and his sons to Napa Valley. Ameila's eventual marriage to Pedro Ceja set the new course with what is now their 65-acre estate for Pinot Noir, Chardonnay, Merlot and Cabernet blends. You'll feel like one of the family reading their story.
When's the last time you ordered a bottle of Merlot? In 2004, the movie Sideways sure did a number on this varietal, and wine lovers seemed to flee from it practically overnight. Thousands of acres were ripped out in Sonoma and Napa counties to be replaced with Cabernet Sauvignon and other grapes suited for drier environments. Pinot Noir became the new "in" grape for a new generation of wine drinkers. Is Merlot on the verge of a comeback? Some of the North Bay's best vintners think it's a possibility for this derided varietal, including Medlock Ames, Markham Vineyards, Rombauer and more. (John Travolta had his comeback; why can't Merlot?)
I hope you enjoy this special issue of NorthBay biz and all things wine. Pour yourself a glass of Duckhorn Merlot (a favorite of mine), call your dog onto your lap and enjoy good wine and the loyal friendship of your pooch as you flip through this special Harvest edition.
Salut! Stay in touch at Lawrence@NorthBaybiz.com.