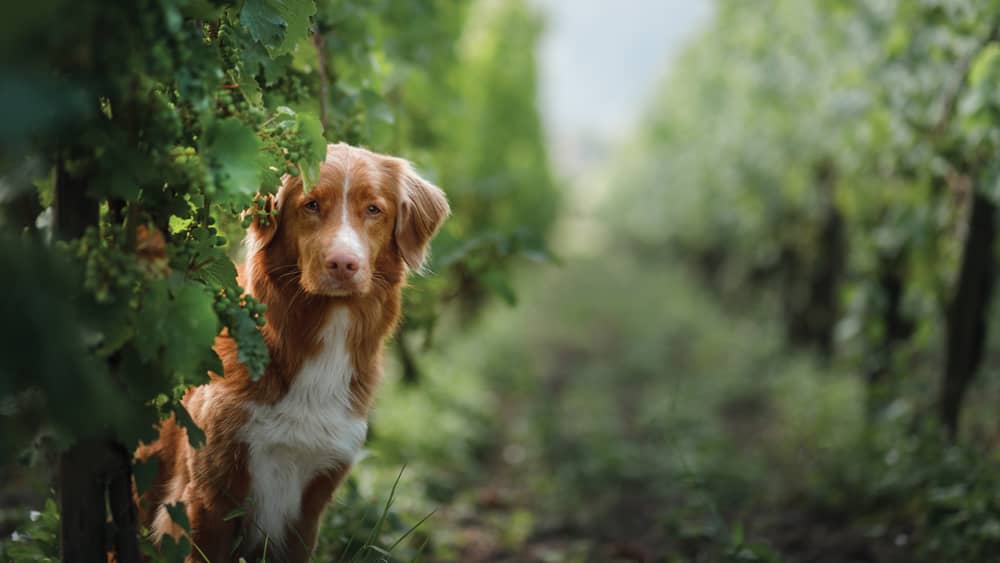 If you've ever visited a winery and were greeted by the resident dog, you're likely keen to the wagging tails and welcoming kisses, or even the occasional homebody, napping on the tasting-room floor, unbothered by the surrounding activity. Winery dogs are more than just a furry presence roaming the vineyards, they're oftentimes the inspiration for creativity, the morale booster and the heartbeat of the wine-tasting experience for guests. Here is a glimpse into a few local wineries serving world-class wine with a side of canine accompaniment.
The Shelties of Amista
Amista means "making friends" in Spanish, and holds true at Amista Vineyards in Dry Creek Valley. Aside from their loyal wine lovers, the winery welcomes man's best friend to join along for the experience. The winery has a great passion and love for dogs, especially their two Shetland Sheepdogs.
Open for business in 2005, and the tasting room in 2007, Amista Vineyards is a small, boutique winery selling less than 3,000 cases annually. Though small, the vineyards span more than 20 acres in Healdsburg's Dry Creek Valley, which not only house their Chardonnay and Syrah grapes, but act as playground to owner's Mike and Vicky Farrow's Shelties, Torin and Dylan.
Meaning "thunder," and "bright light" in Celtic, the two dogs are considered thunder and lightning, a dynamic duo with an abundance of sheepdog energy, perfectly played out in the vineyards rows.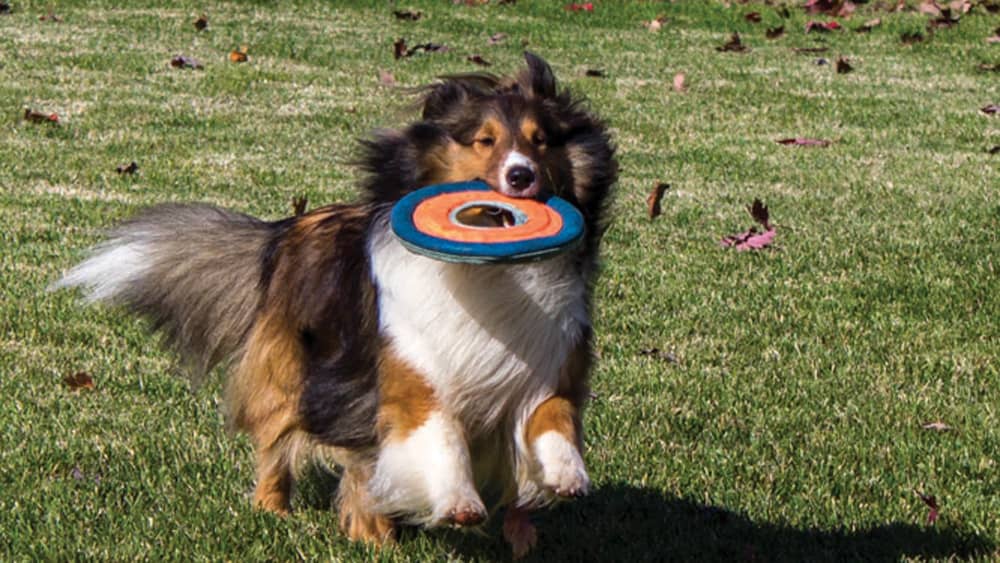 "We've owned seven shelties in all," says Vicky, adding that all their previous shelties have been part of the wine business in some way. "All our dogs have always walked the vineyards with us—they love that."
The Farrow's take pride in creating a home-away-from-home feel when visiting their facility, with the added benefit of borrowing their dog for the additional warm and fuzzy feeling. "Guests can sit on our solar-paneled patio or under the Mulberry tree," says Vicky. "They'll be surrounded by vineyards and can relax and enjoy the day with friends. We want you to feel like it's your home away from home, and you can even borrow our dogs!"
Their pup passion hit a peak when the winery developed Amista Dog Days, a popular program that included dog demonstrations, photographers and many participating dogs. Proceeds supported the local Canine Companions organization.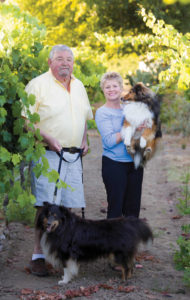 "It was a ton of work to pull it off," she says. "It was so popular, we had 50 dogs in attendance at a time." While the program recently ended, the winery still maintains a dog-friendly environment.
"We're very dog friendly," says Vicky. "We provide bowls of water and treats, so our canine friends can enjoy the equivalent of wine and cheese." On property, they also have a self-guided vineyard walk with stops along the vineyard path to take with your dog.
"My husband and I walk to the tasting room and our dogs love going down there because they get to meet other dogs. Everyone loves on them," says Vicky of her adored Shelties.
Visitors to the winery both locally and especially from out of town, are happy to interact with Torin and Dylan, reminding them of their own pups back at home. "Most people who come like dogs," she says. "People from out of town who miss their own dogs get a sense of home."
For the Farrows, they'll likely always have Shelties in their lives, and of course, a glass of wine.
"I think we'll always have shelties. And continue to take them out every night and throw a Frisbee while we have a glass of wine."
Papapietro Perry's winery pooch
The relaxed vibe at many Sonoma County wineries has visitors bringing their dogs along the wine-tasting trail beside them, and at Papapietro Perry Winery in Healdsburg's Dry Creek Valley, furry visitors are the real VIPs.
The winery pooch there is a 7-year-old Cockapoo. Her two-legged companions, Renae and Bruce Perry, named her Nola, a nod (and variation) on their favorite destination, New Orleans. Familiar with life at the winery, Nola not only knows the routine, she loves it. "Nola greets all the guests when she's at [the winery]," says Luke Ammerman, marketing manager at Papapietro Perry Winery. A simple, "Go say hello," from Renae to Nola, and off she goes to greet an arriving visitor at the tasting room.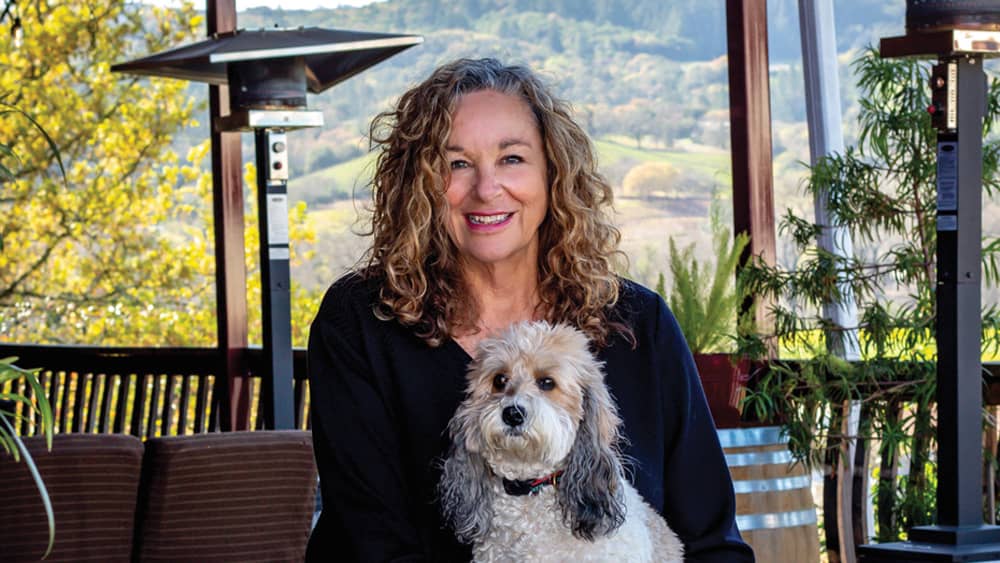 The patio at Papapietro Perry overlooks the picturesque Dry Creek Valley near Healdsburg, and has been dog friendly, to friendly dogs, for as long as it's been around.
A notable increase in canine accompaniment over the past few years, it's no wonder why dog lovers and their owners choose Papapietro Perry for one of their many stops along the wine trail. "Our winery hospitality pros welcome visitors into winery experiences as if they were welcoming guests into their own homes," says Renae. "Similarly, Nola welcomes visitors, humans and pups alike and makes them feel right at home."
She also founded Nola's Bark Club, a free wine club created just for dogs. The club is simple to join: visiting dogs arrive and are welcome to pose for a photo that the winery posts and shares on social media [@papapietroperrywinery]. "They also receive a winery logo water bowl to take home with them, reminding them of their trip and instant membership into the dogs-only wine club," says Renae.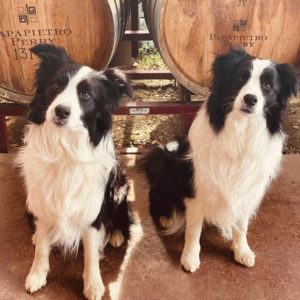 Aside from the custom bowl, additional souvenirs and favors are available, such as dog treats labeled with the Papapietro Perry Winery logo.
And Nola isn't the only Papapietro Perry pup on property, she shares her space with a couple other furry pals of her own, like Brutus, the winery wolf—a Husky, Shepard and Labrador mix; Miss Essie the Poodle; Bailey the Corgi-Chihuahua, also known as the snuggle specialist, and more.
"Everyone loves and misses their own pet," says Renae. "So they're thrilled to have a dog to pet and give some love to."
The Cab Labs at Larson
At Larson Family Winery in Sonoma's Carneros Valley, Ollie, Rosko and Louie make up the Labrador trio better down as the "Cab Labs." "We joke around at the winery that we want to come back in our next life as vineyard dogs," says Johanna Holm, marketing manager at Larson Family Winery. "They truly do have the best life."
Life in the vineyards for the Labs can often start by greeting some unexpected and early guests at dawn. "Sonoma Ballooning Adventures will occasionally land in our vineyards, and their team sends us fun photos of the Labs greeting them upon landing," she says.
Walks through the vineyards make up their other mornings with owner Becky Larson, making their way down Millerick Road, through the vineyards and towards Wingo, a ghost town and also the namesake of the winery's white blend.
On warm summer days, the Labs can be found swimming in Sonoma Creek, later shaking off to dry in the tasting room. The dogs also have a social media following, and guests are often asking for them by name. With a laugh, Holm says, "'Where's Ollie?' is a question that's asked just about as much as, 'Where's the restroom?'"
Working the room, as she describes, the Labs greet guests directly at their tables, resulting in lots of petting, patting and head scratching.
The name "Cab Labs" came directly from the Three Lab Cab wine name. "We needed a way to refer to them as a pack," says Holm. "They definitely get the social media attention—there's a least one guest photo or video of Ollie posted every week."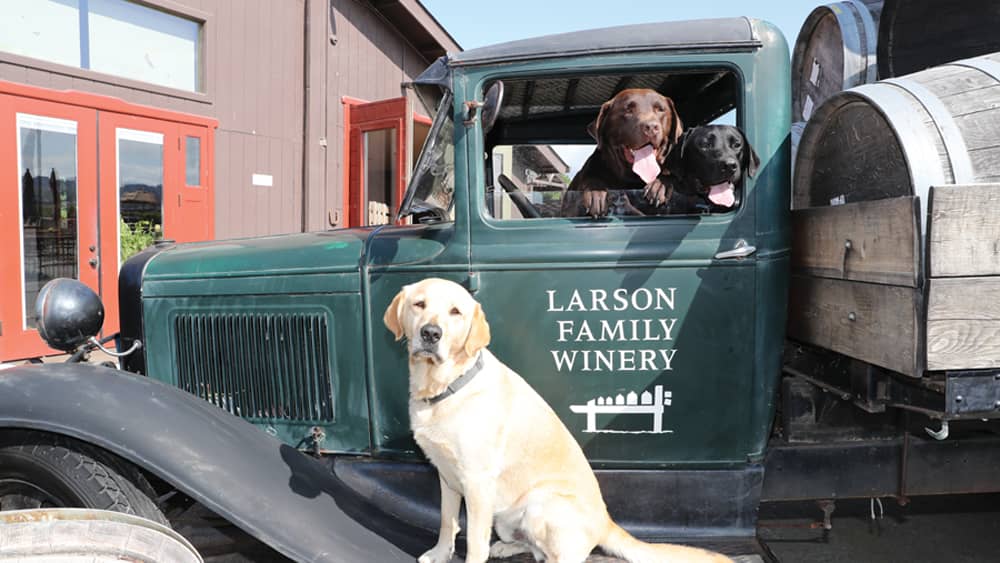 A yellow Lab, Ollie, is described as having the calmest temperament of any dog the staff has yet to meet. "While he's napping near the bocce ball court, or on the tasting room floor, toddlers will crawl up to him and he just lay there while they give him sweet pats," she says. "He's also been known to brush past a guest's leg like a cat when he's not getting enough attention—usually yielding the head scratch he's looking for."
While the dogs love spending time with their fans in the tasting room, they're just as friendly with the staff. "They like to inspect production—sniffing barrels and saying hello to bottling staff," says Holm. "Plus, the wine club team keeps a dog bed and treats in their office hoping to entice visits from their favorite coworkers."
The current vintage of Three Lab Cab is the 2016, and the 2017 bottling was just completed. The blend is 93% Cabernet Sauvignon and 7% Merlot, with Merlot to provide smooth texture and complexity, showcasing matured berries and balance in structure. "The intense ripe berry flavors make this wine a perfect pair with grilled meats (Like the kind the dogs like to steal straight off the grill)," says Holm.
Coming in at $29.99, this is an approachable and affordable California Cab."It continues to be a best seller in the tasting room and online," she says. "We know it's not just a cute label—it's wine that comes across as unpretentious yet delicious."
The dogs of Fontanella
Set in the Mt. Veeder Appellation of Napa, Fontanella Family Winery has developed world-class wines, a tailored wine-tasting experience for guests and a dreamland for their resident dogs who live the ultimate vineyard life. "Buying this property was the greatest gift you could ever give a dog," says Karen Fontanella, co-owner of the winery alongside her husband and winemaker, Jeff Fontanella.
When they purchased the property in 2005, their two Labrador Retrievers, Payton (a white Lab) and Riley (a black Lab) were with them every step of the journey, walking the vineyards daily and remaining their fur babies before they had their two children.
"Payton and Riley both lived to be more than 16 years old before they went to the vineyard in the sky," says Fontanella. They later adopted a senior Shih-Tzu named Piper, essential through their transition (the couple still has Piper today who is now 14 years old).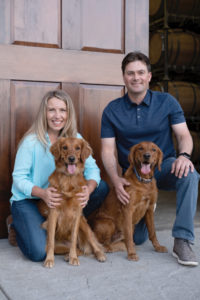 "In 2019, we decided it was time to get a new dog and we found ourselves with a darling Golden Retriever puppy that we named Hobie. She's now 2 years old, and we were lucky enough to get her half-sister a year later, Trigger, who is now 1 year old."
Bred to be trial field dogs, the sisters are lean, with a shorter fur coat. Their agility is showcased in the vineyards where Fontanella watches them in awe as they race down the rows, hurdling vine wires—never missing a step.
"We love that they can run the vineyards every day, and they're so social that they love greeting guests on the patio," she says. "Golden Retrievers have such great temperaments and are wonderful hosts at the winery."
The winery is dog friendly and employees enjoy when guests bring their friendly dogs to the patio where staff get to make new fur friends. And guests love meeting the Fontanella dog family.
"Guests absolutely love meeting our dogs," she says. "Two of our staff members bring their dogs to the winery to visit with guests as well. Dolly Parton (a Pug/Boston Terrier) and Burt Reynolds (a Schnoodle) have been regular hosts here and help keep our Golden Girls in line!"
What's more, is guests get a real-life look at life in the vineyards from a family that both live and work on property. "What's wonderful about our winery is that we live on site and people get glimpses of life on a vineyard, which includes watching our dogs roam the property. People love watching Hobie and Trigger race down vineyard rows or chase our sons on their bikes as they loop through the property," she says. "Occasionally, one of our dogs (usually Trigger) ends up in the pond and will greet guests sopping wet."
They even incorporate their love for dogs in their wine-club program.
"Our newest fanciful wine name for our wine club only wine this year is Bracco di Vino (which means Wine Hound), of course, inspired by our love of dogs," says Fontanella.
Needless to say, life at the winery is both joyful and rewarding, for both canines and humans alike. "They truly have the greatest life any dog could hope for. Add in two teenage boys and all the grapes they could ever want, and they have really won the doggy lottery."
It's a ruff life
Whether you're bringing your own four-legged friend with you on the tasting trail, or simply hoping to interact with one of the many winery dogs that are a beloved fixture at local wineries, it's certain that the resident dog is one of the most alluring aspects of the visit. This harvest season, take a trip, a sip, and hopefully pet a pup at your favorite local spot.
Dog-Friendly Wineries
Visiting your favorite wineries for a day of tasting is always a treat, but what makes a day in the vineyards even better? Bringing your four-legged friend with you. Dog-friendly wineries are abundant and there's many to choose from. Here's a look at some of the best Sonoma and Napa wineries that are ready for you and your furry friends to pay a visit.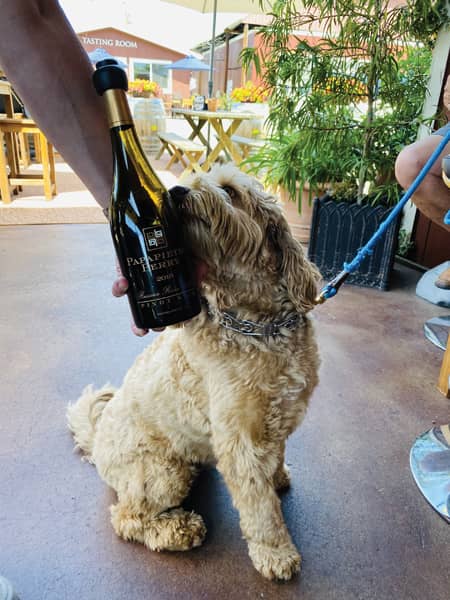 Sonoma

Deerfield Ranch Winery
Larson Family Winery
Muscardini Cellars
Gundlach Bundschu Winery
Amista Vineyards
Dutton-Goldfield Winery
Lambert Bridge Winery
Horse and Plow
Landmark Vineyards
Dutcher Crossing Winery
Papapietro Perry Winery
Napa
Honig Vineyard & Winery
Tres Sabores
Pine Ridge Vineyards
HALL Wines
Sattui Winery
Odette Estate
Frenchie Winery at Raymond Vineyards
Frog's Leap Winery
Fontanella Family Winery
rover.com
All About Frenchie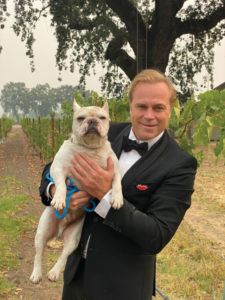 Raymond Vineyards proprietor Jean-Charles Boisset, known for his lavish and over-the top wineries and tasting rooms, started Frenchie Winery, dedicated to the family's French bulldog, Frenchie. On property at the St. Helena winery, visitors can bring their dogs, and while they sip Frenchie wine in the organic and bio-dynamic garden, their dogs can hang and play in the kennel provided. That's right—a full dog kennel equipped for your playful pups to safely hang out, while you sip some of the vineyard's best vintages.All Frenchie wines are Frenchie focused, with playful bottle logos, each depicting a French bulldog as a historic royal in 17th century garb."We love animals more than anything in the world," says Dylan Elliot, social media manager for the Boisset Collection. "This is Jean Charles' way of paying homage to dogs." Every now and then, Jean Charles can be spotted with Frenchie at the winery, where they take photos with adoring fans.
[Photos courtesy of the Boisset Collection]