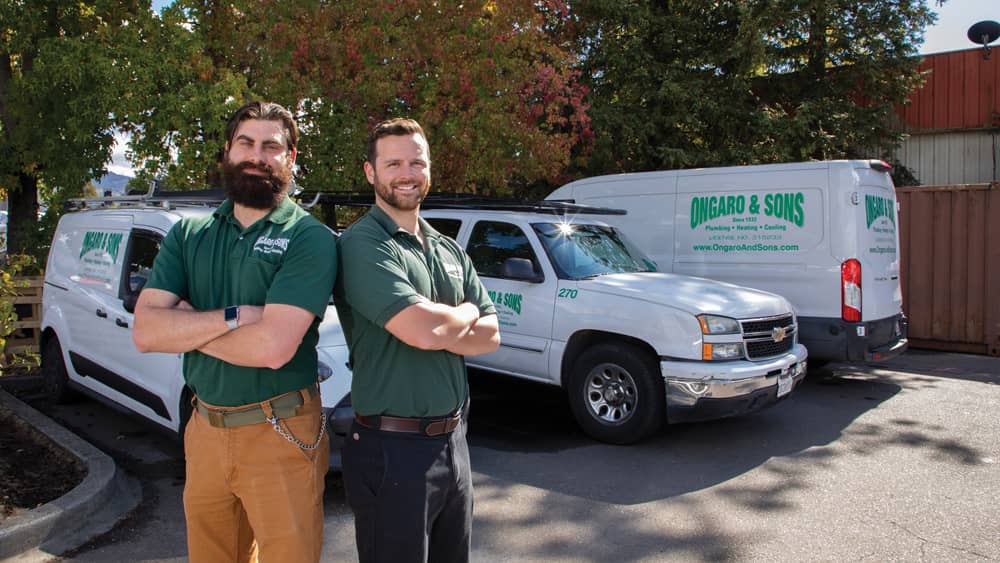 Driving on Highway 101 between Marin and Sonoma counties, chances are there will be a few Ongaro & Sons work vans in sight, heading in both directions. The Ongaro's familiar logo with its green lettering and orange highlights offers a straightforward simplicity. Ongaro technicians wear the same symbol on green polo or long-sleeve uniform shirts to their respective jobs. The work vans and uniformity are a welcome sight, giving customers peace of mind.
Ongaro & Sons average 50 to 70 service calls a day, and the company's technicians execute about 2,200 installations each year. What is more, Ongaro & Sons rank in the top 4% of 336, 931 California licensed contractors, according to BuildZoom, a company that helps property owners find the best contractors for their projects and navigate the pre-construction process.
According to Ernest Ongaro, president of Ongaro & Sons, the company's customer-oriented business approach has been the key to its success for nearly 90 years. "Since 1932, we've been focused on serving our customers, being responsive to their needs, and ensuring their satisfaction," he says. "We want them to be so happy with our services that they tell their friends and family about us, which is why we have so many second-and third-generation customers."
Today, Ongaro & Sons plumbing, heating and cooling services exemplify what it takes to become a multi-generational, family-owned business: a positive workplace culture focusing on the long term.
Family history
The Ongaro & Sons story begins with Ernest V. Ongaro, a second-generation Italian immigrant, who was born in 1906. His father worked as a laborer for Marin Municipal Water District, installing and repairing destroyed water lines destroyed by the devastating earthquake of that same year. By 1932, Ernest V. Ongaro, in keeping with family tradition, charted his life's path when he started a plumbing business in Fairfax. As its customer base grew, the company relocated to its current location in San Anselmo.
Ernest V. and his wife, Anita, had three sons. As young adults, Ernest P. and his older brother, Don, completed plumbing apprentice school and the journeyman process, while Rich, the youngest, attended sheet metal and heating school. The three boys eventually joined their father's company. Rich took charge of the sheet metal and heating, Ernest P. of plumbing, and Don managed the business side of things.
Tragically, Don succumbed to injuries in an auto accident in 1989 at 57. Misfortune struck the family again in 2005, when Rich, 62, died in a plane crash. That left Ernest Jr.—more commonly known as Ernie— at the helm of Ongaro & Sons.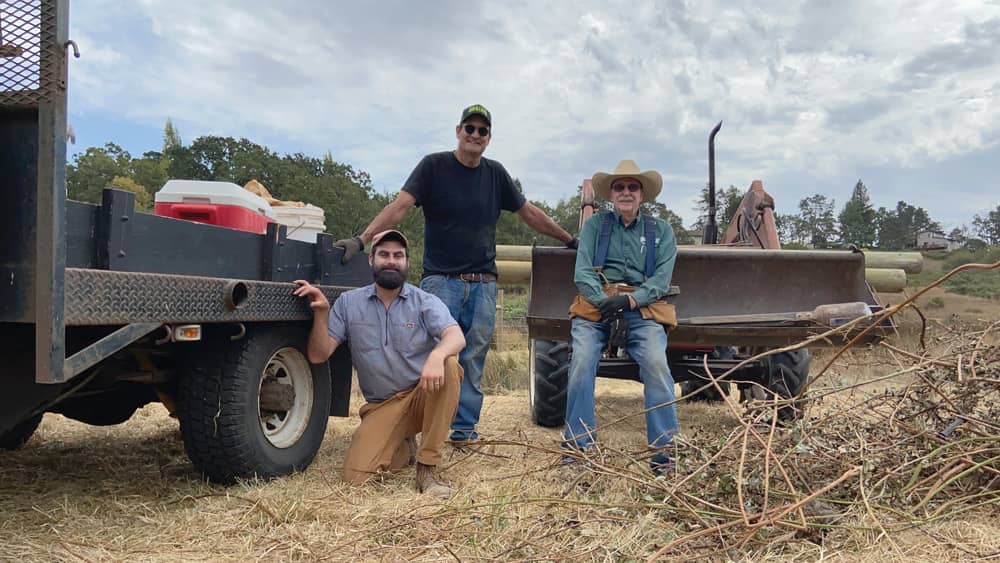 The family business expanded in 2001 with the purchase of Santa Rosa's Crane & Son Plumbing and Heating, established in 1945. With that acquisition, both Marin and Sonoma counties were included in Ongaro's expanding business.
The company president, Ernest III, has been with Ongaro and Sons for more than 40 years. (Ernest's grandfather founded the company, and his father retired after working in the company for 45 years.)
Today, third- and fourth-generation family members and hired staff work hard to carry on the Ongaro tradition of providing customers with quality workmanship and exceptional service. Along with full heating, ventilation, and air conditioning (HVAC) service departments, Ongaro and Sons offer plumbing, drain cleaning, and leak detection.
Strong family values
The company extends the essence of its family dynamic to employees and staff. The growth mindset paradigm of the company is the result of leadership that embraces mistakes and provides opportunities for development. Causal, goal-oriented relationships that focus on organizational outcomes create shared values and vision. As a result, the strong family values that include the staff and technicians end up in customers' homes and businesses.
"It starts with who we hire," says Ernest IV. "We don't just hire for technical skills. If someone has the right personality, with the capabilities and intelligence, we can teach them with the right time and resources. We hire people we feel we could trust sending to our own family home. It's good business practice. We treat every customer like we're going to our own grandparents' or friends' houses.
What's more, when new employees are hired, they're brought into the family fold. "We like to say 'welcome to the Ongaro family' to our new hires," says Ernest IV. "Because we have four generations of family that must get along together, it's essential to have strong family values. To get along, everyone is aligned with what we want to do."
The Ongaros know how to show appreciation for the hard work their technicians and staff provide. "When we create our budget, we allot for things that we can give back to the employees. This may be a planned special event, or even a surprise meal for someone on a tough job," says Ernest IV. "Each department has a fund designated to their group for a special occasion. "It might be a dinner at Cattlemens' Steak House, a whitewater-rafting trip, or even a spa day. One group likes to golf. "It's not like it happens all of the time, but we do have the funding to break things up," he says. "We have periods of being extremely busy, such as [during] a heatwave. A deep freeze may cultivate 100 calls on a given day. It's nice to have a reward for the technicians when they're coming through for the customers."
Training and protocols
Plumbing heat and cooling is a highly-specialized trade requiring thousands of hours to master. The strong company culture of Ongaro & Sons requires unique training that goes above and beyond national and state guidelines. Co-owner Paul Ongaro did the training for many years and recently handed it over to another member. Yearly training and professional development is available. Ongaro & Sons comprehensively prepare technicians before they start working in the field, which allows the company to ensure high levels of quality control.
"We spend a lot of time and money on training. It's important for us to have technicians who know exactly what they're doing so we can ensure each client gets the best possible value," says Ernest III.
Training to become a plumber is arduous, time-consuming, and involves the painstaking task of reading the codebook for plumbing by the Plumbing Heating Cooling Contractors Association (PHC). Technicians consistently refer to the codebook regulations for every job performed. According to Ernest IV, "It's a dry read, but it tells you exactly everything and how it should be done in plumbing. There is an equivalent for HVAC, known as NATE (North American Tech Excellence) that is standard for training technicians how to follow code."
The North Bay contains diverse jurisdictions for municipalities. City ordinances enforce specific noise regulations, types of fittings and codes for construction and plumbing. San Francisco has a unique set of rules. In contrast, Petaluma, Santa Rosa, Rohnert Park, and other cities enforce completely different codes tailored to their local needs.
In being consistent with living in a democratic republic, the local jurisdiction has the last say. Codes may be stricter, but can't be less stringent than state and federal regulations. For example, in Petaluma, all furnaces must be 90% efficient or higher. Furnace efficiency may have a different set of rules in Rohnert Park or Santa Rosa. City council committees decide what ordinances work best for their individual needs, regarding construction and plumbing. As a result, technicians in the Bay Area are responsible for knowing more than just one set of codes, unlike their counterparts in different parts of the state or country.
Professionals in plumbing and HVAC are exposed to hazardous substances such as lead, asbestos, mold, dust and other hazardous products. Technicians work with flammable products and biohazards including raw sewage. They must be aware of potential infection from bird or rodent droppings while working in confined spaces. Maneuvering awkward positions, standing on platforms, or lifting heavy objects increases the risk of musculoskeletal injuries. Workers are confronted with the dangers of electricity, extreme temperatures and noise. They risk eye injury from flying particles and potential slips, trips, and falls, especially when working in wet environments. The risk of burns from hot equipment parts, steam lines and the release of hot water or steam is a potential risk, as well as working with hand and power tools. The Ongaros skillfully train plumbing and HVAC technicians to follow effective safety procedures and rules in-house.
"We generally will hire some of our best people from completely different industries," says Ernest IV. "Then, we train them." Some schools in other parts of the country serve as immersive boot camps to introduce people to the trade. From there they become an apprentice for a couple of years. At Ongaro, instead of assigning an arbitrary timeline, tangible goals are set for trainees. For example, technicians may take on tasks that include replacing a faucet, a water heater, or installing ductwork for a furnace or air conditioner. The apprentice demonstrates mastery of specific skills before being vetted and fully licensed as a plumber or sheet metal worker.
Communicating well with customers is a top priority in the training process for all departments at Ongaro. It begins with the initial call for a quote or a service and continues well beyond the completion of a job. Ongaro's systematic process for talking with clients keeps in line with their strong company culture.
"We provide training on how to keep every call consistent. We ensure the initial questions are asked in a specific order needed," says Ernest IV. "That way, the customer feels informed and feels comfortable ahead of time. Whether a service call or equipment replacement, Ongaro & Sons' technicians complete a thorough consultation process with their customers. They find out what is important to the client, and usually provide several options for service. The worst thing you can have is miscommunication in which the technician feels one way and the customer another. We educate and present our customers with options, so they feel comfortable and confident that they're making the right choice." 
Company mission and values
Ongaro & Sons offers a money-back guarantee on all work they perform, and its goal is 100% satisfaction. They value their opportunity of being in the service industry, and their dedication to quality work reflects a huge commitment to customers. The long-term, trustworthy relationships the Ongaros have built over the years with their customers speak volumes about the integrity of the company.
Careful attention is given to protect the customers' property during all phases of installation and repair. They strictly follow applicable codes, manufacturer recommendations and industry standards in all buildings. They're also mindful that they are guests in their customers' homes and businesses. Shoe coverings and blankets are used to protect floors and carpets. What's more, as an essential business during the pandemic, the Ongaros also provided due diligence with safety protocols and professionalism when entering homes and businesses.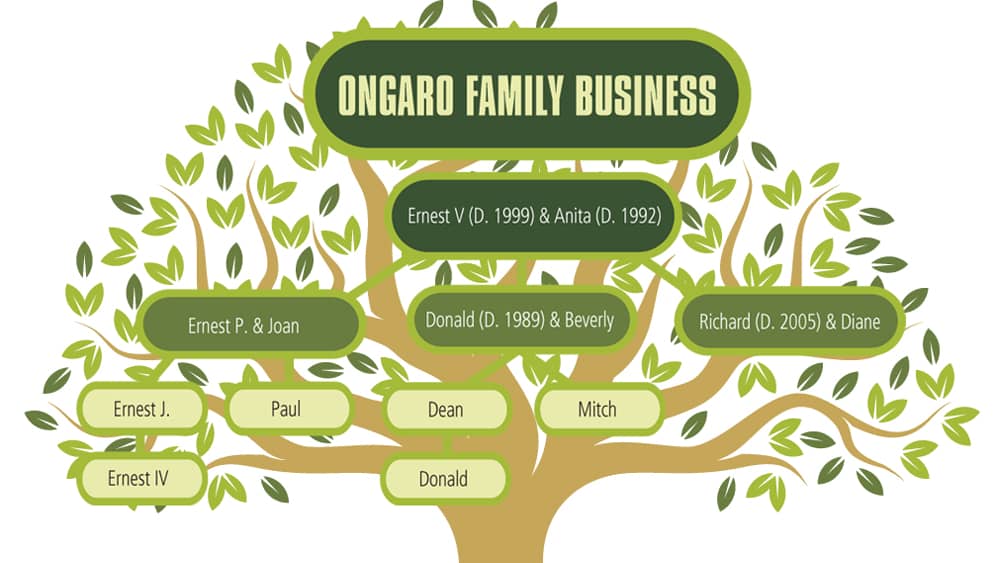 Parts and labor warranties go beyond industry standards. Using the latest technologies and Trane systems, Ongaro & Sons follows strict codes, manufacturer recommendations, and nationally-practiced industry standards. The customer's property and satisfaction are the top priority. Even extended parts and labor warranties go beyond normal recommendations.
As founder Ernest V. Ongaro once said, "It is much easier to explain the investment associated with a better quality product one time than to continually explain the poor performance associated with an inferior product over the lifetime of the equipment."
Offering routine maintenance is also key to the company's success. Ongaro & Sons encourage deferred maintenance by offering memberships that provide home visits a couple of times a year. "We come in the fall to inspect furnaces," says Ernest IV. "We visit in the spring before it gets hot to make sure air conditioners are ready because AC always goes out on the hottest day of the year. On the plumbing side, we inspect the pipes yearly to make sure there are no leaks and nothing that will go any time soon. The memberships save customers money in the long run. With a water heater or furnace install, we give that membership for a year for free. Nine out of ten times people decide to continue because they've had a good experience."
At the forefront of technology
In the tradition of focusing on long-term goals, Ongaro & Sons knows that electric power sourcing is the future, especially in California. "We're seeing everything switch to electric in California," says Ernest IV. There are a lot of people for it and a lot of people against it, he says, but that's the direction. Our company tries to be at the forefront of technology."
And in the forefront, especially in California, is the concept of a whole-house generator. This power source is permanently wired to a home's electrical system and is designed to start automatically—usually within 30 seconds—following a utility outage. As soon as the power comes back on, the generator shuts down automatically. The generator sits outside a house just like an outside air conditioning unit. Unlike the AC unit, the generator requires a separate fuel source, either natural gas or liquid propane, or sometimes both.
Last year, Ernest II and his wife, who live on the family ranch in Sebastopol, became the test subjects for the installation of a whole-house power generator. The PG&E shutoffs that extended for a couple of weeks left the couple without any electricity on their ranch. "My 80-year-old grandfather had a rolling generator. He was forced to roll it back and forth between the house and barn. We decided to install a generator at his house. In his case, it's propane or natural gas. Once the electricity shuts off, it detects that and it will automatically turn on."
In keeping with the company's "Ongaro Does It All" tradition, Ongaro & Sons is currently working on certification for the installation of electric generators and plans on offering electrician services in the future. "It's all a matter of when the stars align," says Ernest IV.
Next year, the Santa Rosa location will expand as the familiar green-and-white work vans move to a larger facility in Petaluma, which is scheduled for completion in February. The shop in San Anselmo, where the first generation of Ungaros began their legacy, will also remain open. How does it feel to expand during the company's 90th year in the business? "It speaks volumes to see a local family-owned business that's been around for nearly 90 years thriving and growing," says Ernest IV. "Being able to remain successful and expand is very exciting. To compare where we were when we started, where we are now, and where we are headed—it's amazing."
Fuel-Efficient Innovations
Even as a child, Ernest Ongaro IV knew his family business was responsible for what makes a house habitable, such as running water, climate control, waste management, and fuel for appliances. Unsurprisingly, Ernest has a wealth of knowledge on various topics, including running a fuel-efficient household. "Fortunately, we live in an area where people want to be more efficient," he says. "Weather is a conscious thing, and we want to do better for the environment. Water and electricity are expensive. Gas, not so much, but it's still a high utility cost. We educate the customers on what is most efficient for them."
Water heaters
Water heaters burn gas to keep it hot. It could be less efficient because you're paying for the gas to keep it running 24/7. Do you want it to use less gas or less water? A tank water heater burns gas continually to keep it hot. That could be less efficient because you're paying for the gas to keep it at 120 degrees. A tankless water heater may use a little more water while you wait for it to get hot. Ernest suggests using a five-gallon bucket and placing it in the shower until the water gets hot. It takes only two or three showers until the bucket is filled. Approximately 1.5 gallons of water is wasted while waiting for the water to get hot. That water can be used to water a garden or for other purposes. The same principle applies to other areas of the house. Alternatively, installing a recirculation line will circulate the water through your water line that circulates the water through your hot water line. So there's already hot water when you turn on the shower. Since it's a pump, electricity is involved. Suppose your primary concern is to get hot water right away without wasting water—that's a solution. It could be used for any water heater.
"Electric water heaters are notorious for being one of the most expensive water heaters to use," says Ernest IV. So instead, he suggests replacing a water heater with a heat pump water heater that uses electricity more efficiently. "Creating heat uses a lot of electricity, whereas, with a heat pump, you're not creating heat; you're absorbing the thermal energy from the ambient air around you and putting it into the water. So the act of moving the heat has a higher coefficiency of performance which is basic efficiency of that measurement."
"Smart" thermostats
On the heating and cooling side of things: A "smart thermostat" adds the advantage of reading a household's patterns and adjusting heating and cooling when a home is occupied. It reduces the use of heating and cooling systems when nobody is home for significant periods. If you leave for a trip, you can turn it off, and you're not using any fuel or electricity. The day you travel home, you can turn on your AC or heat with your phone app, and by the time you get home, your house is comfortable. "Every brand is different," says Ernest. "Honeywell sends an email that compares how many hours you spend cooling and heating. You get a comparison from the year before." About halfway through the summer last year, Ernest put insulation in his attic in his 100-year-old home. Even with the air conditioning, it was still getting warm in the house. This summer, it showed the fewer hours Ernest's air conditioner ran as opposed to last year.
For more information on innovative ways to conserve energy, visit the blog on Ongaro & Sons' website at ongaroandsons.com.
Supporting Physics and Science
Fourth-generation Ernest serves as a certified technician who has moved into managing the nuts and bolts of the company. Young Ernest IV grew up on a ranch and learned quickly how to rewire a barn or add a water line. Furthermore, his fascination with ancient history taught him that the Romans created a network of tunnels as part of a sewage system. Not surprisingly, as Ernest found his way through college, his final thesis was devoted to thermodynamics and heat pumps. He earned his degree in physics from Sonoma State University. After graduating, he established two scholarships at SSU—the Ongaro Family Scholarship for Physics and the Ongaro Family Green Science Award, promoting local, sustainable science development. In addition, the Ongaro Family Student Fund aids students in traveling to conferences in their field that they wouldn't be able to afford otherwise. For this year's project winners, go to scitech.sonoma.edu/news-events/science-symposium.