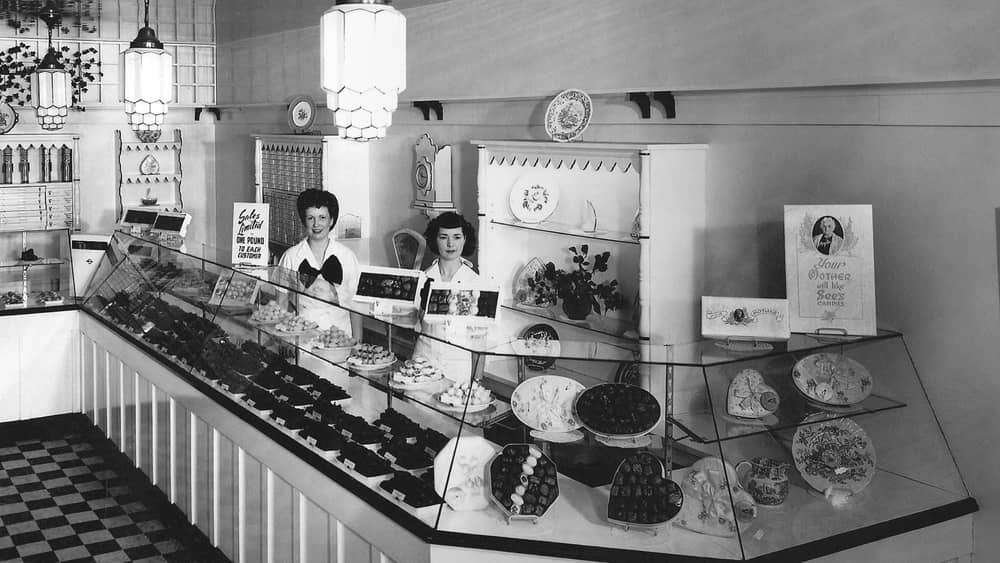 Creamy chocolate-walnut fudge and crunchy peanut brittle are perennial favorites for lovers of sweets. And that made them good bets for building a candy business in 1921 when Mary See began turning out batches of confections from her black-and-white home kitchen in Southern California. As her candies caught on, the fledgling venture turned into a sure thing, and the company was incorporated in November 1921. Since then, See's Candies has adapted to change and continued to grow, reaching sweet tooths at home in California and around the world, while making its centennial year in 2021 a time to celebrate.
Building a business
The See's story begins in the latter part of the 19th century, when Mary See and her husband, Alexander, operated a hotel on Tremont Park Island, one of the Thousand Islands on the Canadian side of the St. Lawrence River, which flows along the border between New York State and the Province of Ontario. The Thousand Islands was a fashionable resort area, and Mrs. See developed her recipes as treats for guests at the hotel, as well as her children, Charles, May and Bertha. Alexander See passed away in 1919, and by that time, Charles was working in Toronto, 178 miles west, as a sales representative for Merckens Chocolate. He dreamed of opening his own candy store and wanted to escape Ontario's frigid winters. So in 1921, he, his wife Florence and his mother headed to California. They settled in a bungalow in Pasadena, and Mary set to work producing candies, using only the freshest ingredients, while Charles began to build the company with Quality Without Comprise as his motto. From that small beginning, See's grew into a thriving business, and by 1925, it had five shops in Los Angeles, including one at Grauman's Chinese Theatre, a landmark on the Hollywood Walk of Fame.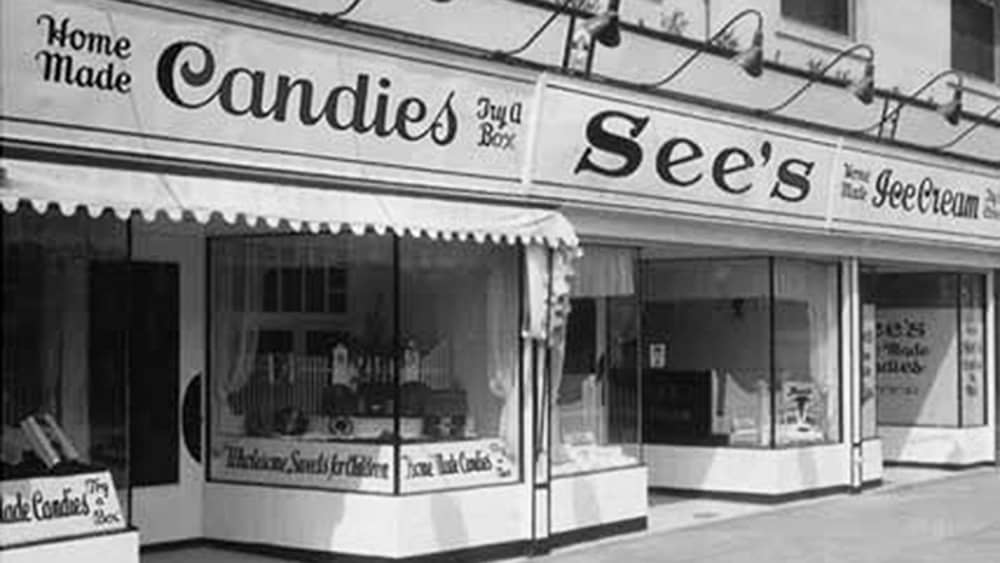 In 1929, the Great Depression created economic devastation nationwide, but See's survived by taking the innovative measure of reducing prices for prepaid orders of more than 50 pounds, paving the way for today's Volume Savings. In 1936, as the economy showed signs that it was on the way to recovery, the company started opening new stores called Mary See's Dainty White Candy Shops, and they totaled 18 by 1940. Three years later, the company was showcased at the Golden Gate International Exposition—the World's Fair at Treasure Island—where visitors could watch See's candy makers dip Scotch Kisses and Bon Bons by hand in the miniature kitchen of a See's Candies shop. The business was flourishing, and then hard times hit again in 1942 when World War II rationing resulted in shortages of butter, sugar and cream—essential ingredients in making candy. Charles See was determined to maintain the quality of the company's products, however, and rather than compromise, he reduced production and discovered that customers were willing to line up and wait for their favorite candies, which were a way to brighten their days in a dark era. During the post-war rebound, See's came to the North Bay, opening a shop at 150 Main St. in Petaluma in 1948. The company's reputation continued to grow, and in 1952, actresses Lucille Ball and Vivian Vance (who later made her home in Belvedere) visited See's Candy Kitchen on La Cienega Blvd. in Los Angeles to learn about packing chocolates for an episode of the iconic 1950s sitcom, I Love Lucy.
Enduring values
Charles See died in 1949, and his son, Laurance, became president and remained in the position until his passing 20 years later. Then, the family began to seek an outside buyer, and Warren Buffett and his investment partner Charles Munger came into the picture. Their company, Berkshire Hathaway, purchased See's Candies in January 1972, and Buffett, who calls it a "dream business" but stays hands-off, gained a reputation for munching See's peanut brittle at shareholders' meetings. The company's headquarters is located in South San Francisco, and Pat Egan, who joined as president and CEO in 2018, is at the helm.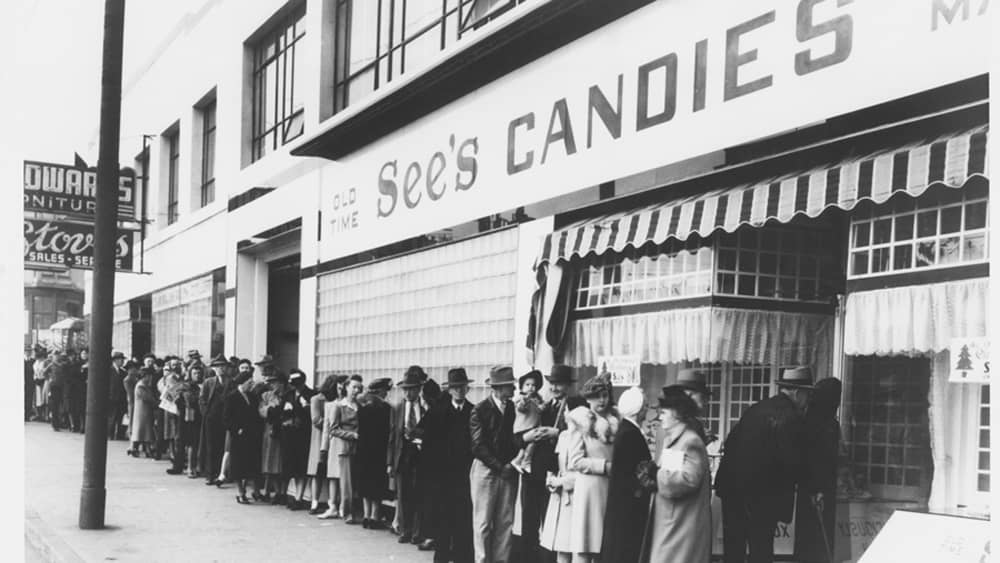 Egan spent the previous 12 years at two other Berkshire Hathaway companies, NV Energy as senior vice president of customer operations and Pacific Power as vice president of customer and community affairs. He also has a law degree from Willamette University, and while confections might not be part of his professional background, he brings enthusiasm for See's products, its people and business ethics to the role, along with his experience in providing outstanding customer service. "Quality without compromise is in everything I do. We have to make the best candy possible, and we do that every day," he says. He explains that great customer service is at the heart of See's Candies, and the company owes it to great employees who share its values. "It's uniform. We have these wonderful people, many of whom have had their whole careers with us," he says. Mary and Charles See laid the foundation for a company philosophy that puts people and quality first. "The centennial gives us the opportunity to make sure we take care of what's right."
Toothsome quality
From the very beginning, high-quality ingredients have been essential. Mary See used the finest products, and even as the selections of candies grew far beyond the initial trio of chocolate-walnut fudge, peanut brittle and Victoria toffee, the dedication to quality endured, and it continues. On the ingredient list today are 100% natural butter from Challenge Dairy, Domino pure cane sugar and chocolate from the Guittard Chocolate Company in Burlingame, which Frenchman Étienne Guittard established in San Francisco in 1868, after failing to strike gold in the Gold Rush. See's products don't contain any preservatives. "When we hit the pull date, we don't sell it. That's it," says Egan, comparing the concept of fresh candies to that of fresh bread.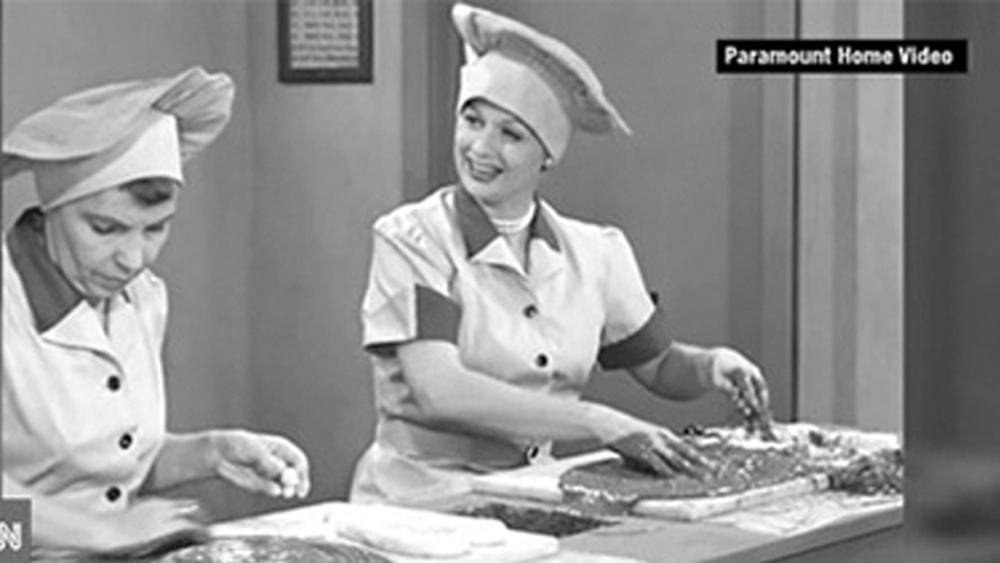 See's Bordeaux, in either milk or dark chocolate, and Scotchmallow is a favorite these days, and they're also the best sellers of all time, but See's is always adding new candies. "We're introducing one new product every month of our centennial," says Egan. In August, salted Dark Salted Caramel appeared for the first time. "The salted caramel is crazy good. It's been incredibly well-received; it will probably be year-round," he says. September's offering was Birthday Cake, a white chocolate confection with bright sprinkles to add fun and color. "In January, we kicked off What's your sweet idea?" says Egan, explaining that it allowed customers to make suggestions for a flavor for November. See's received 13,000 nominations and narrowed them down to the final four, which customers then voted on. The top pick was Coffee Scotchmallow. Voters didn't specify whether the coating should be milk or dark chocolate, though, so customers will vote to state their preference online. Chances are that North Bay voters will opt for dark, as that tends to be their preferred chocolate. However, choosing between the two may be difficult. "They're both good. These are two of the best I've tasted." His favorite See's candy is a Dark Peanut Butter Heart, which was introduced in February 2019. "My whole life, I've been a peanut butter fan," he says, but coffee runs a close second.
Evolution
See's owns and operates its own stores and doesn't have franchises, with Egan often visiting shops to find out what's selling well and what people have asked for. "Our best market research is our people," he explains. While the company is big enough to be known worldwide, it's small enough to respond to the requests and suggestions that managers get from customers. See's recognized the need to meet customers' needs early on and started offering candies by mail order in its second year. A delivery service followed in 1928, with shipping clerk Hugh Fry wearing a chauffeur's uniform and using a customized motorcycle with a sidecar to deliver confections to customers in Los Angeles, who included Hollywood celebrities and movie stars. In 1998, the company added e-commerce, and the service was well established by the time the pandemic struck and forced stores to close and move to online sales. "In 2020, our e-commerce sales jumped dramatically," Egan says, reporting that the company shipped 1 million orders last year and expects to ship twice that in 2021. "We want to be the best e-commerce company from a customer's standpoint," he says.
The use of technology goes beyond online sales. It's made a new inventory tracking system possible, and customers can now use Venmo to pay in shops and online, and PayPal is next. "We're evolving. We want the transaction to be as seamless as possible," says Egan. The online shop also provides new opportunities for corporate giving in See's Volume Savings & Business Gifts Services, by offering clients who purchase 50 boxes of candy or more the option of free custom sleeves printed with their own logos for boxes of candy, multi-recipient shipping and the assistance of a candy concierge to make ordering easy.
Even See's longstanding fundraising program, which is largely youth-oriented and gives kids a chance to sell candy to raise money for their schools and organizations, has an online option. The company added a new virtual program called Yum-raising in 2016, and it joins the traditional methods of fundraising See's offers. To get started, groups set up their own sites online, which takes just a matter of minutes, and then they can take orders remotely for candy. See's ships the orders and gives them 50% of the price of each item they sell. "That part of our business has grown significantly over the past year," says Egan. He's confident it will be part of the company's future.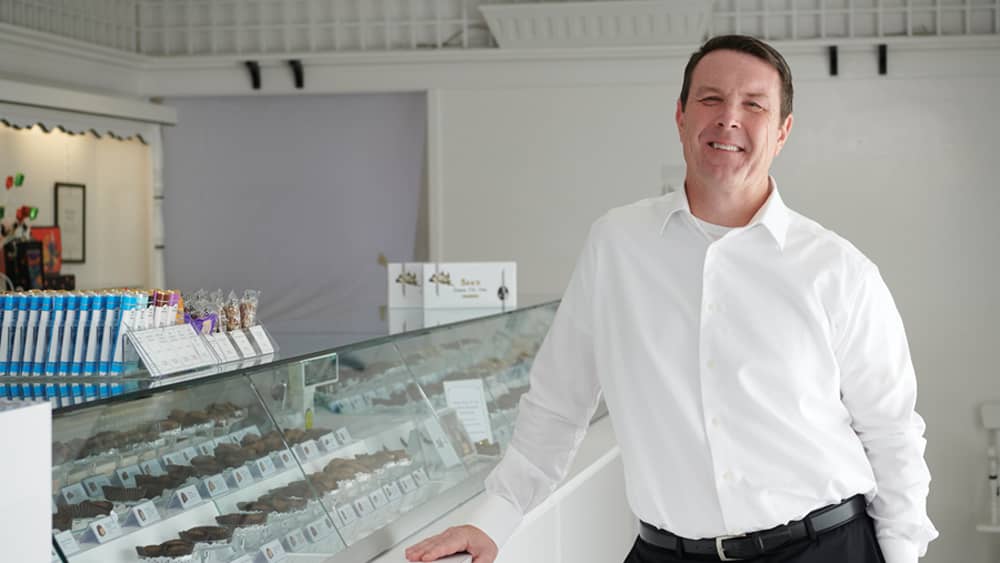 People who can't shop in person and those who want to share their love with people in other areas appreciate the chance to order online. Nothing, though, beats seeing the cases filled with an array of tempting candies, smelling the sweet aromas and tasting a free sample offered by a friendly employee in a real store. "We want our customers to be back in shops. It's the best experience," says Egan, and it appears that people agree because sales in stores have returned to 2019 levels. "Our marketing department is doing a fantastic job," he says. Despite the challenges of the past two years, See's has attracted new customers, with young adults 18 to 35 years old the fastest-growing demographic. Many of them likely grew up with See's, so the stores and candies are familiar and perhaps spark memories of special times.
Beautiful photography and attractive packaging with distinctive branding also play a role. The black-and-white checkerboard pattern that is part of the décor in every See's shop and an integral part of most candy boxes is a nod to Mary See's kitchen. "That will always be a theme," says Egan. The company does refresh the packaging from time to time, however, and has been adding the black-and-white checkerboard to the liner. The link to the company's origins is what the customer expects. "We're going to continue to maintain the balance between nostalgia and taking care of customers and meeting their expectations," says Egan. While the company is always looking to evolve a little, he explains, it will respect the history, and in most cases, the look and brand will retain its basic elements, which include Mary's See's portrait and the Pasadena cottage as well as the familiar black-and-white design.
Looking ahead
See's operates more than 200 stores across the United States, and the company's products are also available at U.S. military bases abroad. In addition, it has licensees who sell See's products in Asia and the United Arab Emirates. Its holdings continue to grow, and it recently opened two new stores in Northern California, one in Rohnert Park—increasing the number in the North Bay to nine—and the other in Sacramento. Egan reports that all the shops See's has opened recently have exceeded expectations. "We're very selective in the shops that we're opening," he explains. The company tests the response in an area by setting up a temporary shop first. When he visited the temporary shop in Rohnert Park, he found people lined up, and he credits the company's commercial real estate team with finding good locations with stores in a mix of urban and suburban communities, often with a mix of agricultural and small-town sensibilities.
The Rohnert Park shop opened in the Mountain Shadows Plaza on Golf Course Dr. on Sept. 22, and the grand opening drew a crowd. Employees in See's signature uniforms handed out the traditional free samples; black-and-white balloons added a festive touch; and Egan, wearing a black-and-white checked tie, cut the ribbon with a giant pair of scissors. He introduced store manager Rosaura Garcia, who has worked for See's for 20 years, and credited employees for the teamwork that makes See's success possible. "Our best marketer is people like Rosaura who meet people every day," he says.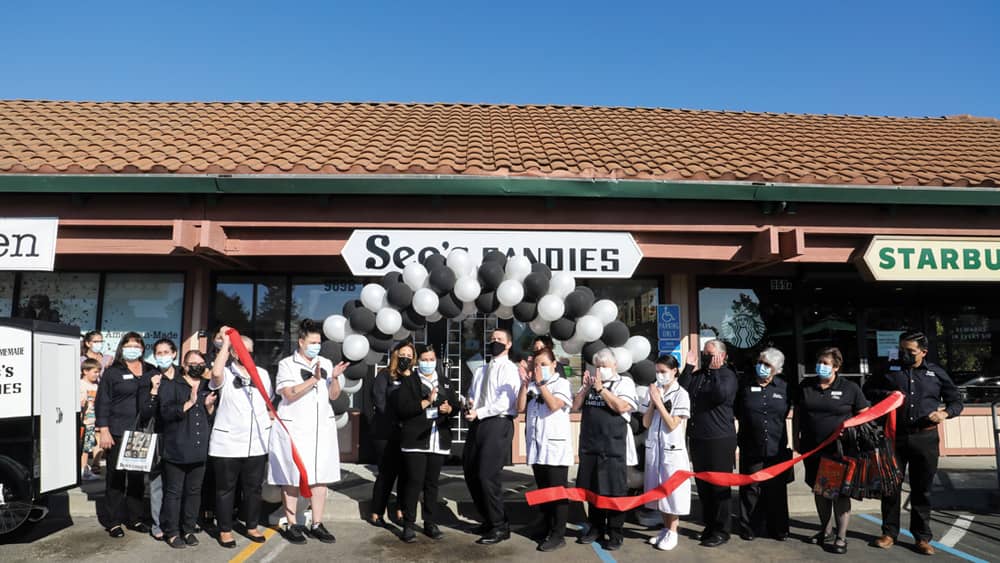 District manager Molly Stowers, who oversees the nine local stores, was on hand to help at the new shop's opening, and store managers Krista Higgins of Corte Madera, Jessica Kruljak of Petaluma and Monique Storck of Coddingtown assisted as well. Stowers was gratified to see so many people turn out in Rohnert Park, where word had spread, and people cheerfully lined up to get in the door on the shop's first day. She explains that her job is to support shop managers in running successful businesses and creating the best experience possible for both customers and employees. "While every day is different in my role, my favorite days are working with my teams in their shops and watching them put smiles on people's faces," she says. She adds that See's is an excellent place to work, and she finds this a particularly exciting time to be an employee because she can watch the company grow and innovate. "It's an honor and very humbling to work for a brand that has a legacy that is 100 years old," she says.
"We're thrilled to be coming to Rohnert Park. It's a big deal for us. When we open a shop, we want to stay there forever," says Egan, adding that See's intends to be a good member of the community. "The centennial has been incredible. This been our best year ever," he says, adding that he looks forward to more to come as See's sets course to make the second hundred years equally satisfying.
Where to Find See's Candies
Marin County
348 Corte Madera Town Center
Corte Madera Town Center
Corte Madera
120 Vintage Way
Vintage Oaks Shopping Center
Novato
373 Third St.
Montecito Plaza
San Rafael
Napa County
1301 Trancas St.
Jefferson Square, Napa
Sonoma County
333 S. McDowell Blvd.
Washington Square Shopping Center
Petaluma
969 Golf Course Dr., Ste. B
Mountain Shadows Plaza, Rohnert Park
432 Coddingtown Center
Coddingtown Shopping Center, Santa Rosa
2360 Sonoma Ave.,
Montgomery Village Shopping Center
Santa Rosa
9028 Brooks Rd. S
Lakewood Shopping Center, Windsor
E-commerce
sees.com