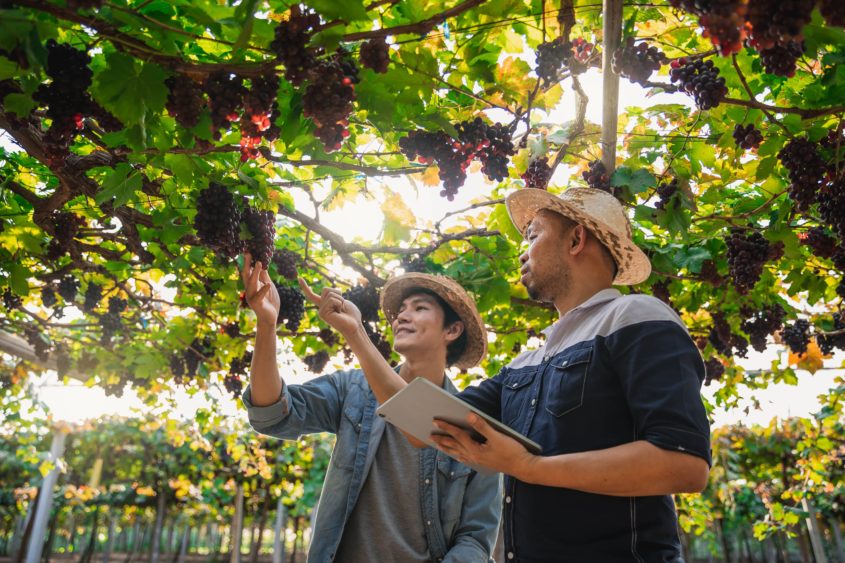 In 2021, most Northern California grape farmers had a good year, especially when compared to 2020.
After a series of unbelievably challenging years, Northern California wine-grape farmers finally caught some relief. The average price per ton of grapes was up. Napa County (District 4) received the highest average per ton ($6,090.55), up a whopping 32.5% from 2020, while Sonoma and Marin counties (District 3) received the second-highest average price per ton ($2,671), which was an impressive 10.7% increase over the previous year.
Taken in aggregate, the preliminary 2021 California Grape Crush Report (released in early February) shows that the average price per ton for all wine grapes sold throughout California reached its highest point ever recorded.
Before you pull out that expensive bottle of sparkling wine to celebrate the news, however, remember that comparing against 2020 must include some caveats. First and foremost, 2020 was a brutally dismal year. Battered by fires and drought, most grape-growing regions in California saw the average prices of a ton of grapes decline by double digits and the total number of harvested tons throughout the state drop off a cliff. Because 2020 was such an anomaly when compared with earlier years, exploring the differences between 2019 and 2021 seems appropriate when attempting to glean useful insights.
Looking at the changes between 2019 and 2021 tells a more nuanced story. For example, the average price per ton of the Napa Valley's most popular grape, Cabernet Sauvignon, was $7,865 in 2019, whereas in 2021 it had increased only a modest 2%, to $8,012 per ton. Surprisingly perhaps, the average price per ton of Pinot Noir in Sonoma/Marin counties had reached $3,911 in 2019 but dropped to $3,484 per ton in 2021 (an 11% decline).
For popular white grape varietals—Chardonnay and Sauvignon Blanc—Napa Valley growers saw respectable increases between 2019 and 2021 of around 7% for each, while Sonoma/Marin saw declines of roughly 6% for each over the same period.
In 2021, the highest price paid for a ton of grapes goes to a Napa Valley grower who sold 2.5 tons of Cabernet Sauvignon for an eye-popping $62,825 a ton. In Sonoma and Marin, some passionate soul purchased 2.6 tons of Grenache for $33,144 a ton.
To put these numbers into perspective, 1 ton of red grapes makes roughly 50 cases of wine, which is 600 bottles. That means that each bottle of the above Cabernet Sauvignon includes $105 worth of grapes, while each of the above Grenaches include $55 worth of grapes. Factor in the cost of processing, oak barrels, storage and bottling and it's quite likely that these wines will eventually be priced at stratospheric levels.
So what is this data telling us? One interpretation is that the Napa Valley appears to have rebounded from the 2020 Glass fire, whereas Sonoma and Marin are rebounding more slowly. Another possible explanation is that an overall market correction is taking place, and although some are willing to pay high prices for a select vineyard, the overall demand for expensive grapes is waning.
I was surprised to find that in Sonoma and Marin counties that Palomino (sometimes called Golden Chasselas), a white variety of grapes from Andalusia, southwestern Spain, where it often finds its way into sherry, fetched $6,913 a ton (the highest price for any white variety in District 3 in 2021). Only one producer I know of makes anything with Palomino grown in District 3. Perhaps there are others. I do know that back in 2017 the Carlisle winery made a delicious and exceptional hard-to-find wine dubbed "The Derivative," which included Palomino. I'm not sure they are the ones who purchased a single 5 tons of it in 2021, but if they did I'd like to get my hands on a bottle.
In Napa County, where Cabernet Sauvignon is king, indications are that a few other varietals of grapes found their own fans in 2021. Cabernet Franc brought in an average price of $9,456 per ton and a high price of $43,750. Another high-flyer, Petit Verdot, brought in an average of $6,961 per ton and a high price of $52,500 a ton.
The long-term future of wine-grape prices remains uncertain; however, given the bloodbath that was 2020, the year 2021 looks as if at least some wine-growers' prayers have been answered.