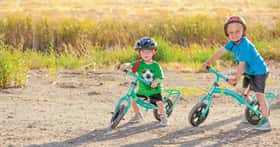 Students and parents across Sonoma County celebrated Sonoma County's Bike to School Day on Wednesday, May 4th, a celebration highlighting the importance of safe, active transportation to school, the joys of bicycling, and promoting accessible spaces for all active trips. This year marks the first Countywide, K-12 celebration of National Bike to School Day.
To date, more than 1,600 Bike & Roll to School Day events have been registered in 46 states and Washington, D.C., on walkbiketoschool.org. And the total number of events is expected to grow as celebrations continue throughout May, which is National Bike Month. Coordinated locally by the Sonoma County Safe Routes to School Program, and nationally by the National Center for Safe Routes to School, Bike to School Day is part of the movement for year-round safe routes to school and encourages walking and rolling to school as healthy ways for kids and families to make their school commutes.
To enable families to participate together on May 4th, many schools organized "meet up points" for bike trains or walking school buses. This highlights the community-building benefits of choosing student-powered transportation to school. Bike to School School Day is one component of the Sonoma County Safe Routes to School program, which also includes bike/ped safety education and evaluation. Sarah Hadler, Safe Routes to School Program Manager and Summerfield Waldorf School parent, reported "We had a wonderful turn out at Summerfield this morning—the bike train I led had 10 kids, 2 staff and 3 other parents! And, when we arrived at school, at least 40 bikes were in the bike rack!"
At Prestwood Elementary School in Sonoma this morning, 71 students bicycled to school – three times more than normal! At the time of this release, with only 17 of 48 participating schools reporting, we are seeing at least a 100% increase in the number of students bicycling to school, in comparison to the number of students who normally bike to school. Based on reports we've received so far, we hope to see even higher increases when all totals are in.
One student walking or bicycling to or from school just one mile, one day a week saves 100 lbs of CO2 a year – if all the students in Sonoma County were able to bike (or walk) to/from school one mile/day a week, it would save 3532 tons of CO2 a year. Also, more kids bicycling (and walking) to school means fewer cars, less congestion, and safer streets.
Bike to School Day is produced by the Sonoma County Bicycle Coalition Safe Routes to School Program. The Sonoma County Safe Routes to School program is supported by the Metropolitan Transportation Commission's One Bay Area Grant Program, Measure M, and Kaiser Permanente Northern California Community Benefit Program.
For more information about the Sonoma County Safe Routes to School program, go to www.sonomasaferoutes.org