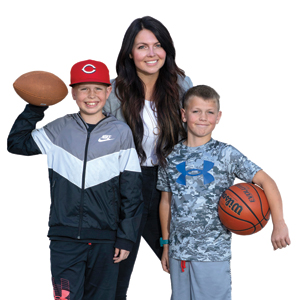 Nicole Humber's life changed in 2016 when the owner of Bravo Restoration Company, where she was working while going to school full time and raising two boys, decided to sell. She then scrounged up enough money and bought the company, becoming CEO and keeping everyone employed in the process. When she took over, Bravo Restoration had lost a little over $800K that year, but with her dedication and business prowess, she turned the company into one of the premiere restoration services for homes that have faced fire, smoke or water damage in the North Bay. When she's not relentlessly working, she's with her husband, Ian, and their two boys, Austin, age 12, and Bryce, age 9. She manages stress by competing in co-ed sports, while cheering on her sons in the myriad of organized sports they participate in, and truly enjoys every chaotic moment of raising two sons.
What did you want to be as a young girl?
I have always wanted to be something big, since I was raised by a single father and we did not have much of anything. I would dream of opening up my own restaurant (I made some great chicken tacos). Or, writing a lifetime movie on my life. When I visited my mom, I had our neighborhood friends run a lemonade stand with me. As I grew, I fine-tuned that thought process. I really enjoyed helping people and in my mind, the only way to do that was to not own a business. (I felt at that time it was selfish.)
If you could possess one artistic talent overnight, what would it be?
Singing. I 100% wish I could be a singer. I relate to songs and believe lyrics are the best form of expression on what you are feeling in a particular moment.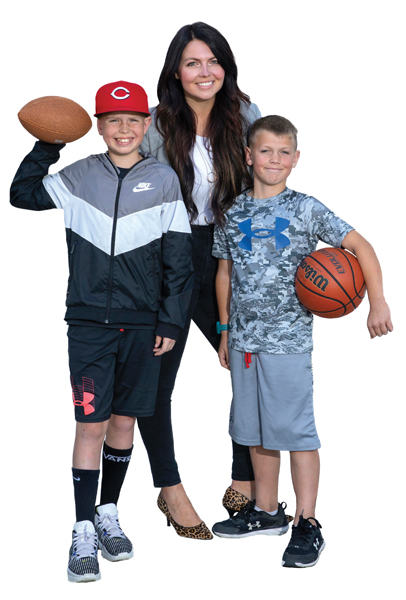 What do you think is the greatest challenge for women in business?

Speaking specifically to my industry, it can be difficult for various reasons. One I always get asked is, 'Oh you and your husband are the owners?' Uh, no just me. 'Oh ok, so your dad gave you the business?' Nope, purchased it from a previous employer. Then, it's the 'OMG, wow, that's great.' Hard not to feel that same reaction wouldn't happen if I was a male. Another reason is women just think and feel differently. Sometimes I want to be tough and non-caring and handle situations as I have seen done in the past, but I can't. I have empathy for the other side of things (not saying men don't) and it can be really difficult at times.
Most valuable life lesson your kids learned through sports?
Hard to pinpoint just one, but I would say learning respect for their coaches and teammates. They make sure to thank their coaches after practices and games, and they are encouraging to their teammates, even if they may have messed up.
Is raising two boys as chaotic as it seems?
Yes, it can be quite crazy at times between the boys and the business. I feel guilty that I'm letting one or the other down at all times. Having boys is really fun though, because they are silly, they like doing things, and are still affectionate and cuddly with their mama. We have some of the best conversations and yet I can still reprimand them when needed and they don't completely hate me.
What's your biggest extravagance?
Personally, I would say clothes shopping. I love new clothes and supporting local boutiques is my favorite. As for the business side, I love spending money on my team doing fun things, or finding ways to give them little extras to show love and appreciation.
In moments of self-doubt or adversity, how do you build yourself back up?
This question could not have been asked in a more perfect time. This has been probably the most difficult beginning to a year I have ever experienced and have had more self-doubt moments (can we say days instead? ha) then I have ever had before. Honestly, what I have done to dig myself out of this 'pity' hole was doing things I really enjoy, like going out and doing sales—literally walking into property managers' places and introducing myself—being extra positive out loud, and allowing myself a break from time to time. I am really hard on myself and there is nothing someone can say that I haven't already said or thought to myself or probably even worse. Every day I am learning my way through this and keeping my head up and knowing that I am capable of ANYTHING I put my mind to helps a lot as well.