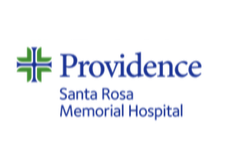 When it comes to treating a heart attack every minute saves heart muscle. These are the types of things you hear when you tour the new state-of-the-art cath (catheterization) lab at Providence Santa Rosa Memorial Hospital. The new lab opened its doors for its first heart stent procedure in April, commencing a new level of capability and solidifying Memorial as the destination in Sonoma County for high-quality cardiovascular, interventional radiology and vascular care.
When not treating emergencies, the cath lab care teams use these special hospital rooms to perform minimally invasive tests and procedures to diagnose and treat cardiac and vascular conditions. The new cath lab boasts technically advanced imaging equipment used to see the arteries and check how well blood is flowing to and from the heart and other areas of the body.
"In emergencies this new equipment lets us move faster and be more precise when every minute saved translates to less damage to heart muscle and other parts of the body, and a higher chance of full recovery for the patient," said Wendy Dunnagan, MSN, BS, RN, manager, Heart and Vascular Institute, Providence Santa Rosa Memorial. "That's a big deal for our care teams and certainly for our patients and their families."
The new Memorial cath lab, and the surrounding hallways and support rooms, took more than six years to get in place. Construction in hospitals is complex, requires a long list of permits and approvals, and, when it is done in a busy, functioning hospital, must be done in a way that minimizes disruption. The new lab is the first of three to receive a complete overhaul at Memorial. The other two rooms will be rebuilt in phases in the next 12-18 months, bringing them up to the same advanced standards and completing the transformation of our Memorial cath labs.
"This is a very exciting accomplishment for Memorial and a huge boost in cardiovascular care for Sonoma County," said Chuck Kassis, Memorial's chief executive. "This is part of our work to achieve the highest standard and most advanced level of health care for our community and truly live our organization's commitment to 'health for a better world.'"