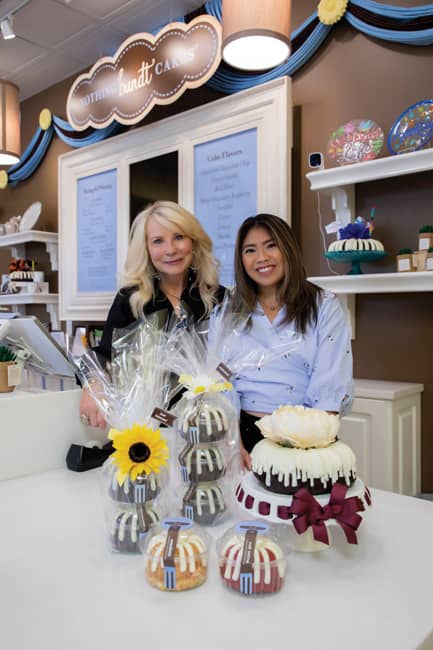 For most, finding a calling takes time and soul-searching. It's not always a spontaneous moment where the stars align, but it certainly can happen. For Jan Newton, a Nothing Bundt Cakes owner, it was love at first bite. "I went to a party and someone served a lemon bundt cake. It was the most incredible cake I had ever had," she says. "The next day I drove down to Scottsdale and went to the Nothing Bundt Cakes there, and I was sold. It was so cute, inviting and welcoming." Soon after, she became a franchise owner.
A spirited entrepreneur, Jan had operated businesses before. "In the Seattle area, another woman and I opened a craft beer taproom. We started it from the ground up, just us." She later sold her share of the business and moved to Arizona. "I had never considered a franchise [before]," she says. But she liked the idea of having the support of the parent franchisor, while also maintaining control of her individual business and being involved in the local community. Today, she co-owns two stores—one in Arizona and one in Santa Rosa. The latter is co-owned by her daughter, Waverly Newton-Kenny.
A self-proclaimed West Coast girl, Waverly grew up in Washington, Arizona and the Bay Area. She returned to Arizona for college, where she studied business. Later on, she became a support manager for Nothing Bundt Cakes' Northwest region. "I did that for about two years. Within those two years and through my mom, I saw what a wonderful franchise Nothing Bundt Cakes is and the joy owners bring to their communities through their own franchises," she says. "It's the same name on the door but at the end of the day, it's your individually-owned business, so you get to support the things you love in your community." In June of 2019, Waverly signed on as the owner of the Santa Rosa location with her mother as her business partner.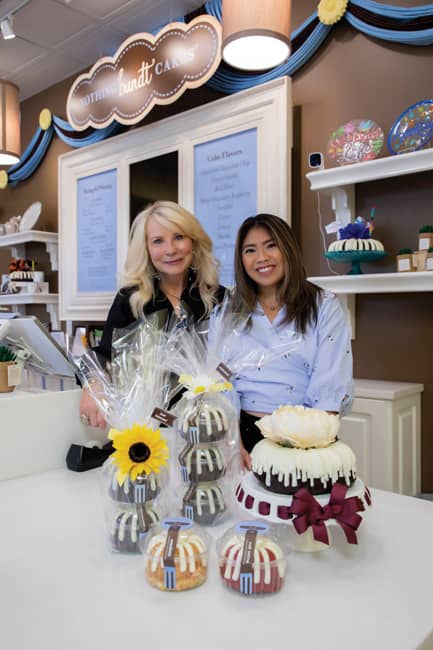 That was just the beginning of the story. The mother-daughter team is making waves in the community with its mission to give back and spread joy. "You can't give someone a Nothing Bundt Cake without getting a smile," Jan says. "They bring happiness to people. Not only with the way they taste, which is phenomenal, but they're beautiful and they're made with love." Jan and Waverly spread the joy by donating a cake to nonprofits and surprising healthcare workers for their hard work during the pandemic. "We [also] do a lot of fundraisers through schools, churches and nonprofit organizations," Jan adds.
It's very fulfilling to be involved in the community, Waverly adds. My favorite part is partnering and working with other entrepreneurs and local business owners, she says, and being involved in the Chambers. "It goes back to making an impact on where our businesses are—where we serve and where we live."
There is also the draw of the delicious cake, which never gets old. People always ask me if I still eat the cake, Waverly says. "Uh, yeah, absolutely I still eat it!" She adds, "There are those flavors that come out of the oven and I have to beg my baker to have one." Her favorite flavor is strawberries and cream, while Jan's is lemon.
Looking ahead, Jan and Waverly are determined to create a legacy and a lasting impact. "I pray and hope that our Nothing Bundt Cakes and the brand is still as successful and joy-giving [in the future] as it is today, and that when my children are grown, they have something they can be a part of," Waverly says. "That's what it comes down to—that legacy of saying 'we opened a business in Sonoma County, and this is what we were able to do with cake.' People don't usually think of cake as making a big impact, but it sure can, I promise you," she says with a smile.