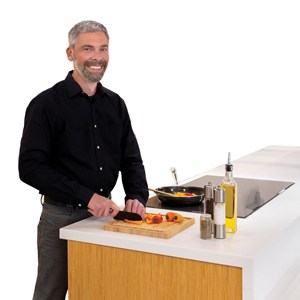 Energy and how it works has been a lifelong fascination for Geof Syphers, CEO of Sonoma Clean Power. "In high school, I raced cars at the drag strip in Fremont and worked in a machine shop, building a food packaging machine," he says. "I also built simple robots to clear dishes from the dining table."
Though his great-great-grandfather was born on the Rockpile Ranch outside Healdsburg, Syphers grew up in the East Bay and later attended college at Sonoma State University, where he studied physics. Before joining SCP in 2013, he was a construction manager for affordable housing, homeless shelters, libraries and fire stations. He also ran a number of energy-efficiency programs for PG&E and other utilities and taught classes in heating and cooling systems.
On the home front, Syphers is married to his college sweetheart, Marya. They've been together for 32 years and live in Cotati, where he likes to chef it up. One of his favorite dinners to make these days is a Bobby Flay meatloaf with fresh greens from his garden.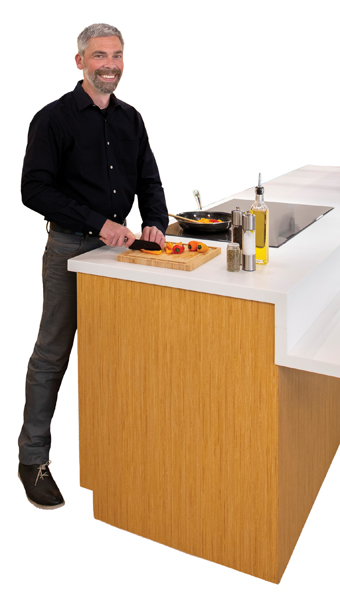 What's your earliest childhood memory?

Playing in the creek and catching crawdads.
Do you believe in destiny?
I believe in two somewhat contradictory things. One, what happens in life is out of our hands and it's driven by luck and by many things we don't control. And two, I also believe working with every ounce of our capability is valuable and changes everything.
What's your go-to spice when cooking?
Some of my favorite under-used spices include cardamom for dessert and green peppercorn for vegetables and fish.
What are others surprised to learn about you after they get to know you?
That I love bacon and a good rib-eye steak. Not sure why, but maybe they think all environmentalists are vegetarian. Not me.
What's the secret to a happy marriage?
Knowing that I don't have any secret knowledge and being open to learning new things every day. Also, expecting that my wife and I will be different people today—and different from yesterday—is important.
What do you say to the naysayers of climate change?
Nothing. I don't have time for people who don't "believe" in heat or drought. Anyone who lived through the Tubbs fire, or any of the fires that followed, knows what's happening.
Name a fear or professional challenge that keeps you up at night.
Sonoma and Mendocino counties are just beginning to feel the effects of the climate crisis and already we've lost over 6,000 homes and 50 lives in the past five years. Water flows in Coastal Mendocino and from Southern Mendocino to Northern Sonoma County are no longer certain. My fear is that it's going to have to get even worse before we make really big decisions to fix things.
Do you think the climate crisis can be solved during your lifetime?
No. The bad news is that the climate crisis is not going to be solved quickly. The good news is that life is going to be fine—eventually. Humans do not have a good track record for limiting our impacts. But I'm generally hopeful that humans can adapt to a different climate and survive long into the future, but that will mean large-scale adaptation and migration.
If you could visit any person in history, who would it be and why?
My mother's father in his youth. My earliest memory of my grandfather is from about 1976, and I admired his ability to live in the middle of a remote desert. But now that he's gone, I long to learn more about how he raised kids in Yosemite National Park, survived long winters in the high country there, and how his ideas about the environment changed over time. I recall him burning trash in a homemade incinerator because "this keeps it out of landfills." This seems weird now, but he also was the first person I knew to use solar hot water, solar power, and live truly off the grid. It would be incredible to talk to him now and see what his advice is for all of us.
Share a few random things about yourself.
Every day I have to eat a pasture-raised egg, learn something new and smell the rosemary. I also have to feel like my work helped one person in a meaningful way. And I care about achieving results—about actually solving the climate crisis.