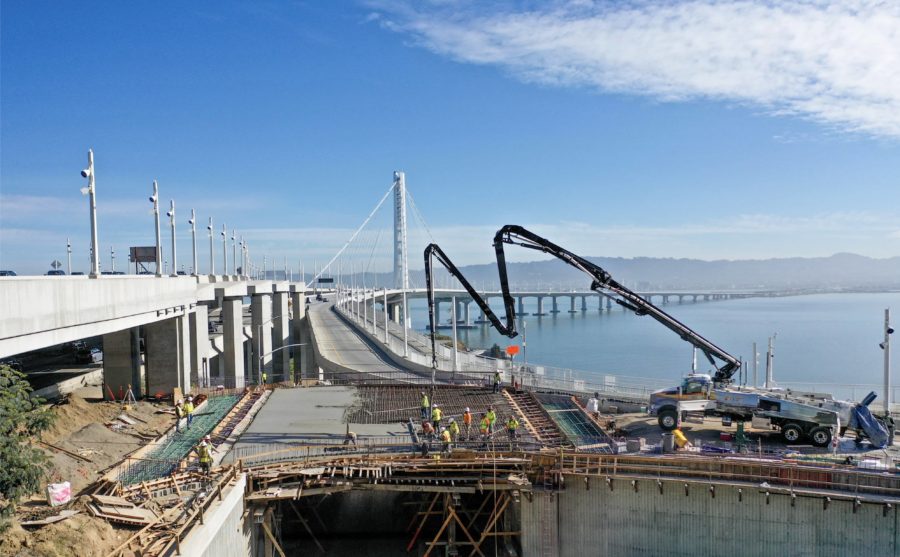 "We owe our thanks to all of the readers who have noticed the hard work, teamwork and dedication displayed by our employees throughout the North Bay."—Gregory Choma, marketing manager, Ghilotti Construction
Driving southbound on Highway 101 in Windsor, there is a piece of land—once home to Windsorland Mobile Home Park—which has remained untouched for several years. In this area, there's a large piece of equipment with the name Ghilotti Construction chiseled on it. It's not uncommon to see the name Ghilotti at construction sites in the North Bay. This little bit of recognition is a far cry from where it all began for James Ghilotti.
Ghilotti Construction was founded by a young man named James Ghilotti in 1914. He had taken a risk and emigrated from Italy to the United States to seek out a new life—one that would provide him and his family with better opportunities, and one that would eventually provide a family legacy thereafter. He settled in Marin County and opened a stone masonry business. He initially began buying field stone from different Sonoma County ranches and used them to build walls all around Marin County. Eventually, his business expanded, and went from building stone walls to building highways and bridges. By 1950, James Ghilotti's four sons took over the family business, and Ghilotti Bros, Inc. focused on a business involving grading, paving and concrete. In 1992, Richard Ghilotti went off and form Ghilotti Construction Company, which is headquartered in Santa Rosa. In 2014, Ghilotti Construction celebrated its centennial anniversary. Today, it's considered one of the largest general engineering contractors in the North Bay.
This year marks the sixth time that Ghilotti Construction has been chosen as the Best Contractor/Builder in NorthBay biz magazine's BEST OF 2022 readers' poll. "The Ghilotti Construction family is extremely proud and appreciative of this recognition," says Gregory Choma, marketing manager. "We owe our thanks to all of the readers who have noticed the hard work, teamwork and dedication displayed by our employees throughout the North Bay."
Ghilotti Construction has offices in Ukiah, Santa Rosa, Marin, American Canyon, Livermore and Sunnyvale. However, the company works simultaneously in 13 different counties, including Colusa, Lake, Mendocino, Sonoma, Marin, Napa, Yolo, Solano, Sacramento, Contra Costa, Alameda, San Mateo and Santa Clara. The company specializes in services such as total site preparation (grading, excavation, paving, hazardous and materials removal); wet utilities (water lines, storm drainage, septic systems); soil stabilization (moisture conditioning and cement treatment); residential/commercial concrete and structures (bridges, curbs, sidewalks); estimating/project management (scheduling and aggressive timelines) and emergency response, such as fire debris removal.
Over the years, Ghilotti Construction has stayed busy, with several projects going on at one time. A few major milestone projects include rebuilding the Sonoma Raceway in Sonoma County, reconstructing the infrastructure and multiple residential neighborhoods at Mare Island in Solano County, sitework for the Buck Institute for Research on Aging in Marin County, winery expansions in the Napa Valley, large regional shopping centers in Petaluma, Walnut Creek, Livermore and Pleasanton, as well as regional hospital and medical care facilities in the North and East Bay counties. Ghilotti Construction has recently performed the sitework for several major high-tech campuses that have changed the face of Silicon Valley and beyond.
What is on the horizon for Ghilotti Construction? Currently the company is working on several projects including the widening of Highway 101 North and South from Lakeville to Penngrove in Petaluma, The Southgate Project on Yerba Buena Island, Lagoon Valley in Vacaville and many more throughout the Bay Area. One thing is for certain: things are not slowing down anytime soon as far as work is concerned and James Ghilotti's legacy will continue to live on in generations to come.
[Photo courtesy of Ghilotti Construction]