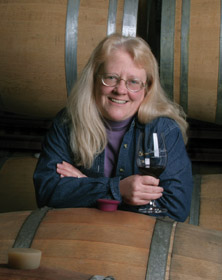 "Every [winemaking] decision has to be carefully thought out and given the detailed attention it deserves." —Carol Shelton, winemaker
Located in an industrial business park in Santa Rosa, Carol Shelton Wines is most certainly off the beaten path. However, the name is well-known throughout the country. Step inside, and no doubt guests are amazed by the vast collection of ribbons, plaques and framed awards covering the walls. "This is only half of them," says Winemaker Carol Shelton with a laugh. "We only have room to put up the golds, and we have several years' worth of gold medals still waiting for space!"
A seasoned winemaker, Shelton has been in the business for more than 45 years. Her journey into winemaking began in 1978, when she received a bachelor's degree in fermentation science from the University of California, Davis. She was one of the first 10 women to graduate from the program. Afterwards, she took several harvest jobs in California and spent some time in Australia as well. She then worked for a major Sonoma County wine brand for several years, winning more medals than anyone in the country for the time she was there.
Despite her numerous awards, being a female winemaker in a male-dominated field was a challenge. Shelton recalls being told not to do any cellar work and was often questioned about her winemaking decisions.
Despite these setbacks, Shelton pushed forward, determined to prove herself by winning the esteemed Golden Winery Award at the California State Fair, which was given to the winery with the most award points. After more than a decade of persistence, she finally won in 1996.
However, her excitement soon dissipated when she arrived at work the following day and saw a large bouquet of flowers on her boss's desk, congratulating him and the winemaking team. "My name was not on that congratulatory note," Shelton says. After more than 19 years with the same winery, she decided it was time to move on.
Shelton credits her husband, Mitch Mackenzie, for encouraging her to follow her dreams. "He kept telling me that the only way I would truly be appreciated is if I started my own brand," she says. "Without him, I probably would have just gone to another winery and gritted my teeth." Two years later, Mackenzie, a software engineer, left his employer to join Carol Shelton Wines as general manager. "My saving grace of being a female fighting my way in a world of men is that I've got a good man behind me, too," Shelton says with a smile.
Today, Carol Shelton Wines is a leading name in the industry. Shelton attributes her success to the quality of her wines, her focus on Zinfandel and her approachable prices. "Zin-lovers are a whole different breed," she says. "They're down to earth and they will tell you how much they love your Zin." She adds, "The wines are also accessible. They're not $200 up on a lofty shelf. They're in Bottle Barn, Whole Foods, Molsberry's and Oliver's. And when they keep winning medals, that helps a lot, too."
When asked about her winemaking philosophy, Shelton says it comes down to balance and attention to detail. "A lot of it is not letting any one component of a wine over-dominate, but taking what the vineyard gives you, showcasing it, and supporting it in any way you can by making very careful choices for yeast strains, oak and acidity levels. Every decision has to be carefully thought out and given the detailed attention it deserves," she says.
As for the future, Carol Shelton Wines has exciting plans. The winery will move to a new location in Windsor with plans for a production facility, an amazing hospitality area and even a potential restaurant. It's currently scheduled to open in August 2023.
Despite countless awards, Shelton is honored to be recognized as Best Winemaker by NorthBay biz readers. "I've been named 'Winemaker of the Year' by a couple of different publications, and that's based on our ratings and the success of our wines," she says. "But this is a personal vote by the readers of the magazine. That means more because that's my fan base."
Shop Carol Shelton Wines online, at select retailers, or visit the tasting room on Coffey Lane in Santa Rosa.
[Lead photo courtesy of Carol Shelton Wines]