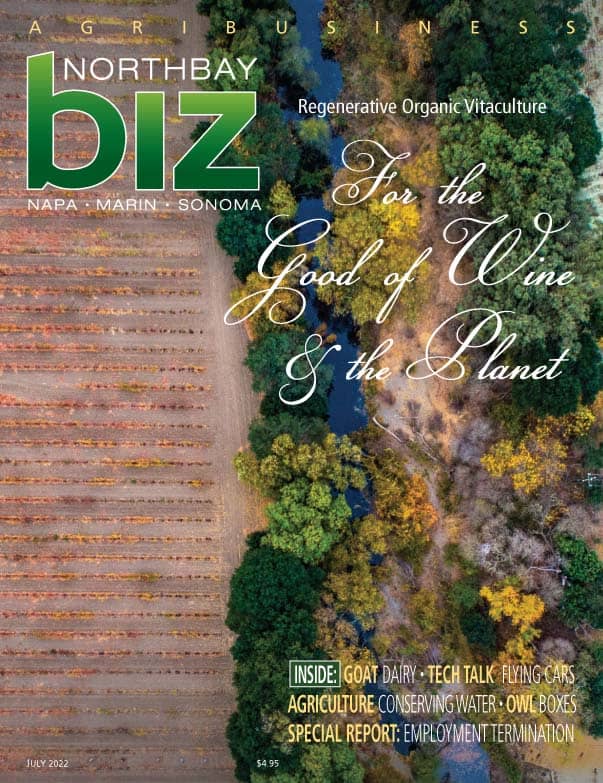 What a busy and productive time it is here at Amaturo Sonoma Media Group! We have begun the important work to integrate this magazine, our digital consulting division and four existing radio stations with three more North Bay radio stations. Among this trio is 100.1FM KZST, the undisputed market leader for more than 20 years. Within a population of roughly 399,000 Sonoma County adults, KZST alone reaches 90,000 listeners each week. Our most important task is to retain all the great aspects of these stations, rather than fiddle with them unnecessarily. As one of those Type A+ personalities, this will be especially difficult for me; thank goodness I'm surrounded by such a strong team of folks who know how to restrain me when appropriate!
Do you find yourself recalibrating your workday and work practices as we move away from the stifling pandemic and restricted workplace freedoms? Once again, we're enjoying the opportunities to meet face-to-face, but this recalibration doesn't come without the necessary effort and urgency to get back to business as usual during a time of great uncertainty.
Tech and business trends have changed how we work and so has COVID-19. And now, the United States' economy is in a disturbing state of imbalance. What many investors believed was an impenetrable technology market has been shattered by their realization of an inevitable economic slowdown. We're not buying our precious Peloton bikes, bingeing on Netflix episodes or signing on to Zoom meetings three times a day anymore. The technologies that helped us stay connected aren't in demand like they were two years ago, which has dramatically crippled their financial performance. This is true for Microsoft, Nvidia, Apple and Salesforce.com and other fine operations that seemed beyond concern nine months ago.
All in all, more than $3 trillion (yes, you read that right, trillion) has suddenly evaporated from the technology market. Few doubt that the investment dollars will return to the sector, but when and where are the only questions.
This month's issue
Welcome to our annual agribusiness issue! For farmers and ranchers, summer is often a time for watching and waiting. Our vineyards are lush and green, once again, as the grapes grow and ripen. Of course, the work to manage this growth and the energy and resources necessary to fulfill the upcoming harvest season are ever-increasing.
Our cover story this month is about regenerative organic viticulture, the latest thing in wine-grape farming that's not so new. Regenerative farming is a return to more natural processes that rely less on petroleum-based fertilization and chemical pest control. Written by VineWise columnist Tim Carl, you can read more about it and the efforts of Tom Gamble, owner of Gamble Family Vineyards, in Oakville, and other growers who are committed to a return to farming practices that are sustainable for generations to come.
Sustainability is also a priority for a local producer of mushrooms. In Judith Wilson's story, "The Magical World of Mushrooms," learn how David Law, proprietor of Gourmet Mushrooms, Inc. got into the business 45 years ago. Over the years, the company has earned a reputation for cultivating mushrooms that are delicious and flavorful, using sustainable practices.
The gorgeous state of California includes 8 million acres of agriculture. These farms and fields consume 80% of the total water pumped into California each year and feed most of the other 49 States. The state's agricultural bounty includes more than 400 commodities, according to the California Department of Food and Agriculture. And more than a third of our nation's vegetables and two-thirds of its fruits and nuts are grown here. Some of the top commodities include dairy products and milk, almonds, grapes, pistachios, cattle and calves.
Of course, it takes water to farm and ranch to maintain the country's food supply. In the feature, "Saving Every Precious Drop," farmers and ranchers speak out about how the drought is impacting them and what they're doing to conserve water.
As California continues to grapple with a historic drought and a changing climate, everyone must take steps to conserve water. I hope the stories on these pages inspire each of you to get involved with conservation efforts for our mutual good.
How are you and your organization preparing itself for the inevitable environmental changes we are facing? Share your thoughts and ideas with me at Lawrence@NorthBaybiz.com.
In the meantime, I hope you enjoy this month's issue, devoted to all things ag. As you enjoy dinner with your family this evening over a glass of vino, be sure to remember that the bounty of this state is all due to the work of farmers and ranchers.