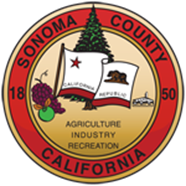 The Sonoma County Board of Supervisors unanimously approved a tentative agreement on Tues., July 12, to acquire the former Bank of America building in downtown Guerneville, ensuring residents in lower Russian River communities will continue to have uninterrupted access to critical services.
The Board of Supervisors allocated up to $3 million to purchase the building, where the county has leased office space since 2006. Two county agencies, the Department of Health Services and the Probation Department, share the building with West County Community Services, a local nonprofit.
"With this acquisition, the county will secure an important piece of property for our future," said District 5 Supervisor Lynda Hopkins, who represents West County. "Taking ownership of this building will avert any disruption to existing services when our lease expires next year. But it also creates an exciting opportunity to improve the delivery of services to residents in West Sonoma County by turning the building into a satellite office for other county agencies, a key element of our ongoing efforts to reimagine the central County Government Center.
As part of the Resilient Infrastructure pillar of the county's five-year Strategic Plan, the Board of Supervisors is seeking to establish regional service centers in west Sonoma County, the Sonoma Valley and Cloverdale by 2023.
The property, located at 16390 Main St. in Guerneville, includes a 7,784-square-foot office building and adjacent parking lot with more than 30 spaces. The size and location of the building, with convenient access to public transit, has made it a central hub for health and welfare services in West County. During floods and fires, the building has also served as a local assistance center, a one-stop shop where residents and businesses can obtain disaster services.
The county Health Services and Probation departments lease approximately 2,900 square feet of the building, while West County Community Services leases approximately 3,000 square feet. Bank of America leases approximately 180 square feet for an ATM cash machine and equipment room.
The building is owned by Patricia Veale and Clement Carinalli, trustees of the Veale Family 2020 Revocable Trust, who accepted the county's offer to buy the property earlier this year. On Tuesday, the Board of Supervisors authorized the Department of General Services to execute the contingent purchase agreement, pending the completion of due diligence investigations.